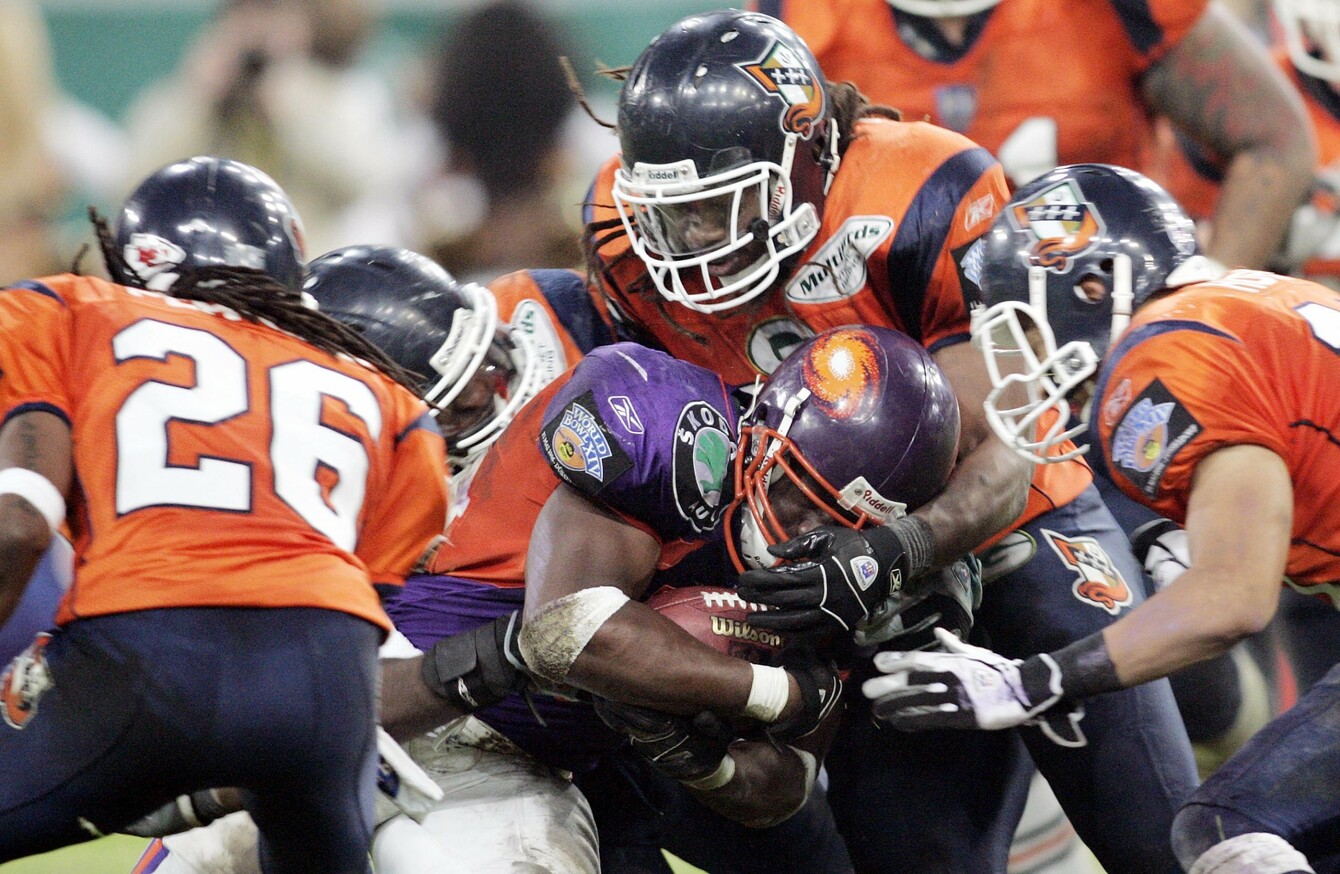 Frankfurt Galaxy defeated the Amsterdam Admirals in the 2006 World Bowl.
Image: MARTIN MEISSNER/AP/Press Association Images
Frankfurt Galaxy defeated the Amsterdam Admirals in the 2006 World Bowl.
Image: MARTIN MEISSNER/AP/Press Association Images
LONG TIME READERS of The42's NFL content will probably know how much self-control it took not to make this week's column 800 words of "OH MY GOD THE RAIDERS ARE GOING TO WIN THE SUPER BOWL."
But while I'm absolutely booking flights to Houston for the first weekend of February — especially after that performance over the defending champions — I spent most of the weekend thinking about ways the NFL could improve it's rating problem.
For those who have not been following, ratings are down across the board in the NFL and thousands upon thousands of newspaper column inches and TV minutes have been dedicated to figuring out why.
Some argue that there are too many people watching Redzone, others that older viewers are offended by Colin Kaepernick kneeling for the anthem. More say it's down to poor refereeing, while others insist it's down to terrible scheduling of matches.
In truth, it's probably a combination of many of those factors — though the Kaepernick one seems particularly bizarre — but, for me, it's overwhelmingly obvious that the product on the field isn't good enough.
That shouldn't be surprising as 32 teams trying to fill 53 roster spots — not to mention practise squads, scout teams, etc — is always going to dilute the product.
Think about your own favourite team, how many good to great players do they have compared to the average to poor ones?
I don't know who you support but I bet there's a lot of the latter and not many of the former.
What separates the NFL from the other major American sports is that, when they're replacing those below-average players, teams usually end up calling on guys who haven't played in a while or were let go by another team.
What the NFL doesn't have, and what it is crying out for desperately, is a developmental league in the style of NBA's D-League or MLB's minor leagues.
And here is where America's biggest sport could kill two birds with one stone. Re-establish NFL Europe — growing the support for the sport here — and use it as a developmental league.
NFL Europe 2.0
The argument against NFL Europe's return is usually that it couldn't sustain enough teams for each NFL franchise but if there was a will, there would almost certainly be a way.
One simple solution is a pan-European league with each new franchise serving as a feeder team to the NFL's eight divisions.
You could easily have teams in London, Berlin, Munich, Paris, Madrid, Warsaw, Rome and — why not? — Dublin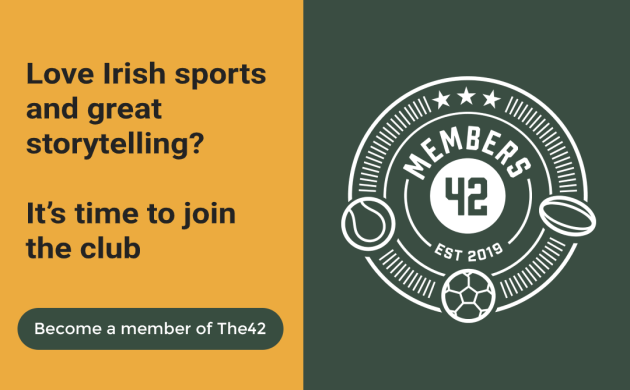 Teams would play in one division, playing each other home and away before a four team playoff decides the ultimate winner.
What makes it work for the NFL as a proper developmental league, however, would be to have each squad consist of 60 players, 12 from each of the four teams in the division they represent with 12 free agents not assigned to any team.
Getting the numbers wouldn't be difficult. There are just over 70,000 college football players compared to 1,700 in the NFL.
And this way the European teams would only have to pay the 12 players not coming directly from the division they represent. Those 48 would be funded by their own organisations.
Obstacles
Of course, the previous incarnation of NFL Europe was supposed to be something of a developmental league and it did have partial success as Kurt Warner and Jake Delhomme both reached the Super Bowl after getting their careers back on track on this side of the Atlantic.
But the last NFL Europe folded because the league failed to get bums on seats.
The key to success this time around — because the NFL has, as three sold-out London games shows, already sold the sport to European fans — would be playing in smaller stadiums with a maximum capacity of approx. 20,000 to allow for a demand for tickets without having the disheartening sight of near empty stadia.
Timing is also important.
If the new NFL Europe was to take place between May and August, when most other European sports are on their summer break, it could help maximise TV coverage and it would also be in NFL Europe's interest to negotiate free-to-air deals to help build support.
Or, to put it another way.
Would you rather watch the Dublin Dynamos featuring 48 players from AFC West teams take on the London Monarchs featuring 48 players from the NFC East — some of whom could easily go on to be Super Bowl winners — or the Jags play the Colts again?
I know which I'd prefer and I know which is better for the NFL long term.