THE REDZONE IS coming to you quite late today because I decided that the San Francisco 49ers' visit to Seattle was definitely worth staying up for. Afterall, along with Denver, these two were early season Super Bowl favourites so, whoever came out on top here, was setting down a good marker for the season.
Little did I know the weather would have such a big impact on my circadian rhythms.
Late in the first quarter, after both teams had stuttered in the early stages, lightning struck Seattle and the teams were taken off the field for an hour. At this stage I considered going to bed but decided a strong mug of coffee was a better solution.
Some four hours later, the game finally came to an end and the Seahawks had put another massive beat down on their divisional rivals. They have now outscored the 49ers by 71-16 in their last two outings and it's becoming really difficult to see past Seattle in the race for Super Bowl XLVIII.
Last night the Seahawks defence showed why they're the best in the NFL, forcing five turnovers and keeping the potent 49ers offence limited to one Phil Dawson field goal. Anquan Boldin who put in an offensive-player-of-the-week performance with over 200 yards on 13 receptions in the 49ers' first game of the season, and who has burned the Seahawks secondary previously, was held to just one catch for all of seven yards.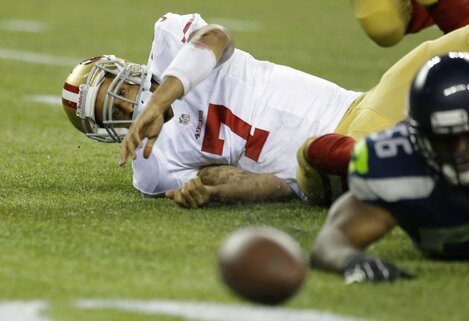 49ers quarterback Colin Kaepernick was in uncharacteristically poor form last night.
Image: Elaine Thompson/AP/Press Association Images
On a purely selfish note, Colin Kaepernick who had won two fantasy football league games for me last week with over 30 points had just 5 this week.
In possession of the football, Seattle and Russell Wilson still haven't quite clicked into gear but it's unerring to think this outfit can only get better and they are already one of just three undefeated teams in the NFC.
Da Bears
One of those teams is the New Orleans Saints, whose game in Tampa was also weather-affected, and who needed a last-minute field goal to overcome a spirited Buccaneers team who probably don't deserve their 0-2 record.
The other is the Chicago Bears and I've been very impressed with the Windy City's ability to win games this season that maybe would have gotten away from them with Jay Cutler at the helm before. He still has a number of issues – two interceptions and a fumble made for ugly viewing – but Cutler completed 72% of his passes on Sunday.
I hate to keep going on and on about the Bears and Cutler but does an average quarterback performing well in a contract year remind you of anyone? Beating two playoff teams in two weeks is as good a start as any team could hope for. There's still a long way to go for the Bears but don't sleep on them, they could surprise a lot of people.
Now, speaking of sleep, is it too early to go to bed yet?