JUST WHEN YOU thought we might return to talking about poor officiating, shoddy offensive line play and kickers losing games for their team — you know, all the stuff we love about the NFL — the league found itself on the front pages once again.
This time, Cam Newton's ridiculous assertion that it was funny to hear a woman talk about routes, rightly drew indignation from the sporting media and beyond.
Let's be clear, this wasn't a "you never played the game so you wouldn't understand" joke. Newton was laughing at Jourdan Rodrigue of The Charlotte Observer only because she was a woman.
[For what it's worth, Rodrigue's tweet from five years ago saying she liked racist jokes also deserves condemnation, but it doesn't mean Newton gets a pass.]
The thing is, some of the best NFL writers, reporters and broadcasters in the business are women. Mina Kimes, Melissa Jacobs, Jenny Vrentas, Aditi Kinkhabwala and Pam Oliver are right up there with Robert Mays, Bill Barnwell and the rest.
Newton has since apologised but this was a controversy entirely of his own making. All he had to do was answer the question asked of him, in much the same way he stepped up to the plate — if you'll forgive the mixing of sporting metaphors — against the Patriots last week; a result lost in the midst of his sexist comment.
His Carolina Panthers take on the Detroit Lions at 6pm today, perhaps the one redeeming game in an awful slate of fixtures that even Redzone may struggle to make exciting.
Sunday – 6pm
Buffalo Bills @ Cincinnati Bengals (-3.5)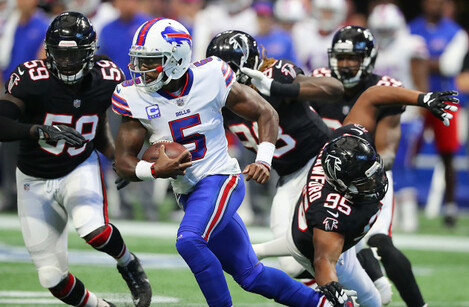 The Bills ended the Falcons undefeated run last weekend. Source: Curtis Compton/PA Images
One result that was not overlooked this week was the Buffalo Bills win over the then-3-0 Atlanta Falcons. For a team that many, this writer included, thought would be closer to the top of the NFL Draft than the AFC East, they've played well. The Bengals have been part of some of the ugliest games this season and still have serious offensive line problems.
Verdict: Bills against the spread.
New York Jets @ Cleveland Browns (scratch)
If you're watching this game, it can only be because you've somehow decided it was one you should gamble on. That said, we could see the NFL debut of Myles Garrett and while the Browns have been atrocious this season, he's the type of player who can single-handedly win a game.
Verdict: Browns
Carolina Panthers @ Detroit Lions (-2.5)
The Detroit Lions are literally centimetres from being 4-0 but a lot of pundits are picking the Panthers in this game based on their shootout win over the Patriots last Sunday. But look at the image below and tell if it's good offence or good defence that causes this to happen?
Verdict: Lions to cover. 
San Francisco 49ers @ Indianapolis Colts (-1.5)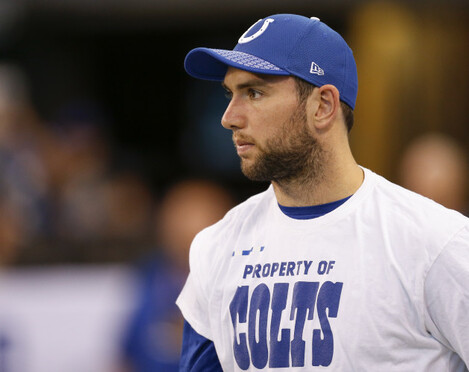 Andrew Luck's return can't come quickly enough for the Colts. Source: Sam Riche/PA Images
At least the Browns game has the return of Myles Garrett, anyone watching this voluntarily is a sadist.
Verdict: 49ers against the spread.
Tennessee Titans (-3) @ Miami Dolphins
Every time I've picked the Titans to win this year, they've lost and vice-versa. There's a real chance, if Jay Cutler continues to do Jay Cutler things, this game becomes Matt Cassel versus Matt Moore. For the Dolphins, they'll be glad to get home after three weeks in LA, New York and London.
Verdict: Dolphins against the spread. 
LA Chargers @ New York Giants (-3)
Before the season started, I predicted that both these teams would reach the playoffs and they've rewarded my faith in them by combining for zero wins through four games. There are a lot of problems on both teams, but the decline of Eli Manning and Philip Rivers — players whose careers will be forever intertwined — has been notable.
Verdict: Giants to cover.
Arizona Cardinals @ Philadelphia Eagles (-6.5)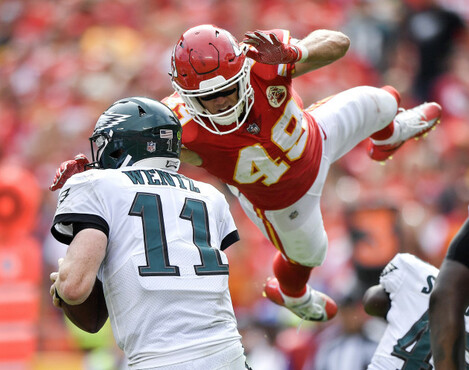 Will it be the Eagles and Carson Wentz flying this week? Source: John Sleezer/PA Images
Don't let their 2-2 record fool you, the Cardinals are bad. Both their wins — against the Colts and 49ers, teams with a combined record of 1-7 – came in overtime, while their losses were in two-score games. The Eagles haven't exactly faced a murderer's row of teams yet but they'll have more than enough in this one.
Verdict: Eagles to cover.
Jacksonville Jaguars @ Pittsburgh Steelers (-8.5)
I don't know what either of these teams are. Is the Jags defence the sack machine that destroyed Houston and Baltimore or the one that couldn't stop the Jets? Is the Steelers offence the one that sparked to life last week against the Ravens or the one that couldn't beat Mike Glennon's Chicago Bears?
Verdict: Jags against the spread.
Sunday – 9.05pm
Seattle Seahawks @ LA Rams (scratch)
Given that Seattle have lost five of their last six against the Rams, Pete Carroll is just as happy as the LA fans that Jeff Fisher is no longer on the opposite sideline. The Rams are scoring in excess of three touchdowns more per game this season than last but haven't faced a defence as good as the Seahawks to date.
Verdict: Seattle.
Baltimore Ravens @ Oakland Raiders (-2.5)
The Raiders need a big game from Marshawn Lynch. Source: Paul Kuroda/PA Images
Despite a fractured bone in his back, there's still a small chance Derek Carr could play in this game though it's unlikely. EJ Manuel will hope to face the same Ravens defence that make Blake Bortles look like Joe Montana in London but it could be the Baltimore rushing game that decides this one.
Verdict: Ravens against the spread. 
Sunday – 9.25pm
Green Bay Packers @ Dallas Cowboys (-2.5)
A repeat of the best game from last year's NFL playoffs — outside of the Super Bowl, of course — but the Dallas Cowboys are not playing at anything like the level they were last season. Ty Montgomery's rib injury will have an impact but, against the 26th ranked defence in the NFL, Aaron Rodgers could have a field day.
Verdict: Packers against the spread.
Monday – 1.30am
Kansas City Chiefs (-1) @ Houston Texans
Before the start of the season, who'd have believed the Texans and Chiefs would provide the most exciting quarterback match-up of week five? The big question ahead of this game is how many injuries are too many for Kansas City to cope with as Dee Ford and Laurent Duvernay-Tardif join a lengthy list of those ruled out on a short week.
Verdict: Texans against the spread.
Tuesday – 1.30am
Minnesota Vikings (-2.5) @ Chicago Bears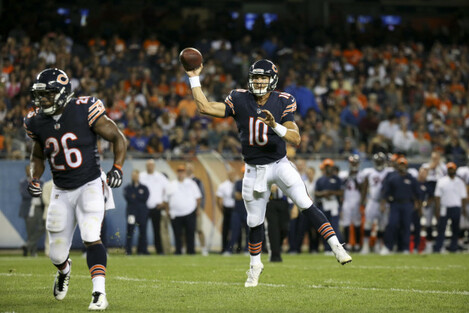 Mitchell Trubisky will make his first start for the Bears this weekend. Source: Armando L. Sanchez/PA Images
The Mitchell Trubisky-era in Chicago starts in prime time and the host broadcasters, ESPN, must be as happy as Bears fans to see it as this game looked very unappetising otherwise. The Vikings have looked okay without Sam Bradford but they'll be glad to get him back for this one.
Verdict: Vikings to cover.
Subscribe to The42 podcasts here: