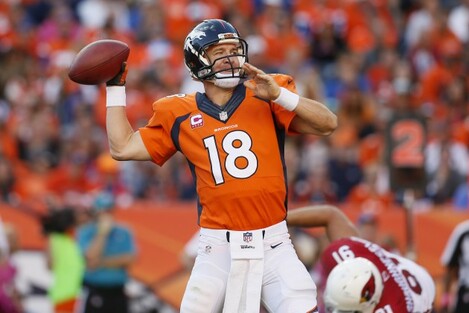 Peyton Manning is on course to break Brett Favre's NFL record this year. Source: AP/Press Association Images
DENVER QUARTERBACK PEYTON MANNING notched another milestone on Sunday with his 500th career touchdown pass in the Broncos' 41-20 NFL win over previously unbeaten Arizona.
Manning threw the historic touchdown pass in the first quarter, connecting with tight end Julius Thomas for a seven-yard score.
The five-time NFL Most Valuable Player joined Brett Favre as the only other quarterback to throw 500 TDs and, by the end of the contest, Manning was just five short of matching Favre's record of 508.
Manning connected with Demaryius Thomas on a pair of scoring passes, including an 86-yard strike, and threw a 12-yard scoring pass to Julius Thomas in the fourth as he finished the game with a career-high 479 passing yards.
The Broncos outscored Arizona 17-0 in the fourth quarter to pull away for the win.
"I do think about how many people helped me throughout my career, and when something like this happens, how grateful I am for that support," Manning said of reaching yet another NFL benchmark.
"Football is the ultimate team game. One man has to accept the honor, but I really accept it on behalf of a lot of coaches and teammates."
Another superstar quarterback, New England's three-time Super Bowl winner Tom Brady, silenced doubters as he led the Patriots to a 43-17 triumph over Cincinnati — the only other team that went into the fifth week of the season unbeaten.
Brady and the Patriots had been under intense scrutiny all week in the wake of a 41-14 loss to Kansas City on Monday.
"It was a long week," Brady admitted. "A lot of guys dug really deep this week — coming off a tough loss like we did."
Brady threw two touchdown passes for the Patriots. He completed 23 of 35 passes for 292 yards, becoming the sixth quarterback in NFL history to throw for 50,000 yards midway through the first quarter.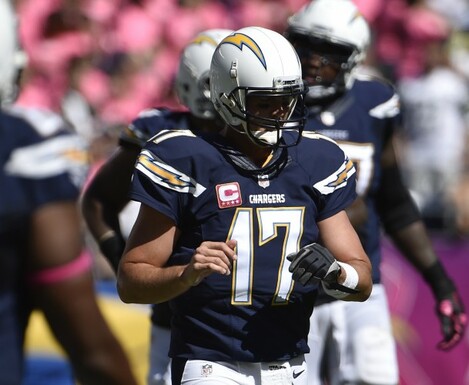 Philip Rivers dissected the Jets on Sunday. Source: Denis Poroy/AP/Press Association Images
Quarterbacks were in a less welcome spotlight in San Diego, where the Chargers romped past the hapless New York Jets 31-0.
San Diego's Philip Rivers passed for three touchdowns and was rested late with the game in hand.
Meanwhile, the Jets' Geno Smith and Michael Vick combined to go 13-of-32 for 74 yards and one interception.
Jets coach Rex Ryan pulled second-year signal-caller Smith at halftime, with New York trailing 21-0.
Vick, however, fared no better, completing nine of 20 passes for 47 yards and enduring two sacks.
Saints scrape by at home
New Orleans bounced back from an embarrassing loss to Dallas with a 37-31 overtime victory over Tampa Bay. The Saints scored 17 unanswered points and Khiry Robinson ran for an 18-yard touchdown in overtime to seal the victory.
The Cowboys also worked overtime for a win, Dan Bailey's 49-yard field goal lifting Dallas 20-17 over the Houston Texans, who had scored the last 10 points in regulation to force the extra session.
https://vine.co/v/OKexrOXvKXz
Buffalo's Dan Carpenter nailed a 58-yard field goal with four seconds to play to lift the Bills to a 17-14 victory at Detroit.
Bills cornerback Ron Brooks was stretchered off the field in the first quarter with a neck injury after he was up-ended covering a punt return.
Indianapolis quarterback Andrew Luck passed for a touchdown and ran for another score, overcoming four Colts turnovers in a 20-13 victory over Baltimore.
In other games, Cleveland rallied from a 25-point first-half deficit to edge Tennessee 29-28.
Pittsburgh beat Jacksonville 17-9, Philadelphia defeated St. Louis 34-28, the New York Giants defeated Atlanta 30-20, Carolina defeated Chicago 31-24 and San Francisco got five field goals from Phil Dawson in a 22-17 victory over Kansas City.