New York Jets (-1) @ Buffalo Bills – 1.30am, Friday
Source: AP/Press Association Images
YOU CAN'T WIN a Super Bowl in the first few weeks of the season, but you can go a long way towards ensuring you don't make it to the championship game.
Both these AFC East sides come into week two on the back of losses and know that teams that start the season 0-2 have only a 12% chance of making the postseason. Coupled with the fact the Patriots are already one game ahead of everyone in the division and this is already a game that neither team can afford to lose.
The Bills offence last year revolved around Tyrod Taylor's deep passes but, in last week's loss to the Ravens, the quarterback only managed two passes in excess of 10 yards. With Sammy Watkins nursing a foot injury, the signs are not good for that changing this week.
The Jets looked okay against the Bengals who will probably end up being a playoff team but were made to pay for mistakes in the passing game and on special teams.
Verdict: After week one, there's many more reasons to believe that New York will be a playoff team than the Bills. Jets by 3.
Cincinnati Bengals @ Pittsburgh Steelers (-3) – 6pm, Sunday
Source: AP/Press Association Images
There's probably no more fierce rivalry in the NFL at the moment than this particular AFC North match-up. It helps that both teams are good. It also helps that both teams' players seem to genuinely hate each other.
Last year, nearly $750,000 in fines were handed out in this game alone with Ben Roethlisberger, Le'Veon Bell, Antonio Brown and Andy Dalton all getting injured. That's before you get to Vontaze Burfict who'll miss Sunday's game because of his hit on Brown in the playoffs last year.
The Steelers started this season in impressive fashion while the Bengals were a bit more workman-like in their win over the Jets. Both teams have question marks on defence and explosive offences so this has the making of the game of the weekend.
Verdict: This could well be a catch game for Steelers but there was a swagger about them on Monday night that bodes well for Sunday. Pittsburgh by 3.
Seattle Seahawks (-3.5) @ LA Rams – 9.25pm, Sunday
Source: Joe Mahoney
Punt
Punt
Punt
Interception
Punt
Punt
Punt
Punt
Punt
Punt
Interception
Punt
Turnover On Downs
End of Game
That's how ineffective the LA Rams offence was last weekend against a 49ers team widely regarded as having the worst roster in the NFC.
The Seahawks were not much better against the Miami Dolphins but got the job done even though Russell Wilson was badly impeded by an ankle injury. He is set to play this weekend but looked far from 100% against the Fins.
Verdict: The NFL wanted a team in LA so badly it didn't stop to consider just how bad that team might be. However, the Rams are sneakily effective at upsetting the Seahawks winning three of the last four. Rams by 3 or less.
Green Bay Packers (-2) @ Minnesota Vikings – 1.30am Sunday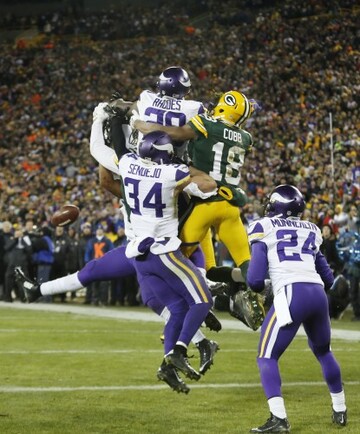 Source: Matt Ludtke/AP/Press Association Images
Another team starting off in a new home this weekend are the Minnesota Vikings. The so-called bird killer stadium (because of all the glass, FYI) is being touted as the most advanced stadium in the world.
The Vikes had hoped to move into it with their team poised for a playoff run. However, the loss of Teddy Bridgewater before the season even started has tempered expectations somewhat. That said, their defence looks particularly mean and will be responsible for most of their wins this season.
The Packers looked great at times against the Jaguars but also laboured a bit. Aaron Rodgers continues to do ridiculous Aaron Rodgers things but his habit of scrambling when he could give plays a little more time to develop will haunt him against better defences.
Verdict: If the Packers score more than 18 points in this game, they'll win. That Vikings defence though. Minnesota by 3 or less.
And the rest (picks against the spread in bold)
Baltimore Ravens (-7) @ Cleveland Browns
New Orleans Saints @ New York Giants (-4.5)
Kansas City Chiefs @ Houston Texans (-2.5)
Tennessee Titans @ Detroit Lions (-5.5)
Miami Dolphins @ New England Patriots (-6.5)
Dallas Cowboys @ Washington (-2.5)
San Francisco 49ers @ Carolina Panthers (-13.5)
Tampa Bay Buccaneers @ Arizona Cardinals (-6.5)
Jacksonville Jaguars @ San Diego Chargers (-3)
Indianapolis Colts @ Denver Broncos (-6)
Atlanta Falcons @ Oakland Raiders (-4.5)
Philadelphia Eagles @ Chicago Bears (-3)