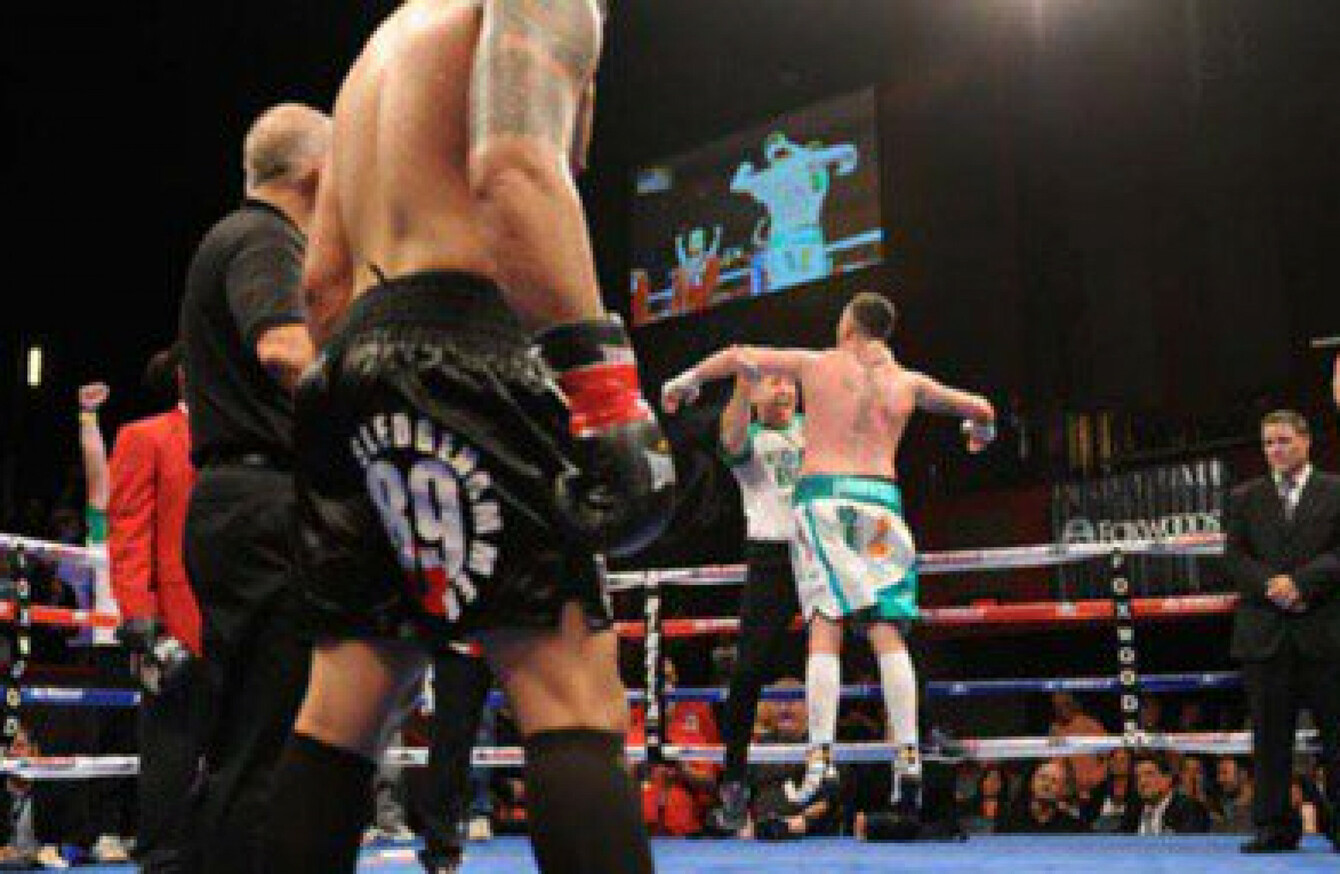 Image credit: Emily Harney Photography.
Image credit: Emily Harney Photography.
HERE'S A SENTENCE the likes of which you won't have come across before: a 33-year-old garda from Wexford is now the 65th best heavyweight boxer in the world, and climbing.
The odds were stacked against Niall 'Bas' Kennedy in his ninth professional fight on 15 September.
The Gorey man was the away fighter in Foxwoods Resort Casino, Connecticut, where he faced Alexis Santos, whose 18-1(15KOs) record alone illustrated the vast disparity in experience between both fighters.
Hard-hitting Santos was the at home in more than a mere geographical sense, his scrap with Kennedy headlining a bill organised, promoted and broadcast solely by the Massachusetts native's promoter, Lou DiBella – a revered boxing man of unfeigned integrity, sure, but one who surely expected his fighter's New England heavyweight title to remain in its state of origin when he tempted Kennedy across the Atlantic for a shot to nothing.
And then there was the most profound of concerns: Kennedy's newborn baby, MJ, whose name adorned the waistband of his father's trunks on fight night, remained in the National Maternity Hospital some 3,000 miles away.
Fast forward 48 hours, and the new arrival would meet his altogether more trivial equivalent, as the New England heavyweight title belt made its way to bedside on Holles Street.
"The little man is doing well", says Kennedy, who can now finally revel in the glow of his two greatest achievements to date. "He was 12 weeks premature, so he's not supposed to be here until the end of October. His little lungs and all haven't developed fully, but he's starting to come on now really well, so we're delighted with him.
"It was hard, because he was born only five weeks before I flew away. I already have a full-time job outside of boxing, so you're coming from work to go to training – I train twice a day – and then I had to try and get to the hospital as well, so it didn't make things easy.
"We had considered cancelling. I was worried I wouldn't get this sort of opportunity again, so I talked with my wife, and she said: 'Sure he's going to be in the hospital anyway, and for a few weeks.' So we sort of worked on it and decided to take it – it was too big a chance, and if I was to win it would propel my career forward massively.
Now, at that, Paschal Collins [Kennedy's trainer and manager] had said to me that maybe we should consider giving it up for the time being. But I thought to myself, 'if MJ is fighting his battle in hospital, I can fight in the ring.' I was of the opinion that my fight would be a lot easier.
"I was home Monday," the Wicklow Town-based garda adds. "I'm on night shifts at the minute. Look, that's the way life is, like. I flew into Dublin Monday morning, got in at half-nine, and I was in the hospital for 10 o'clock. I spent the day in there with himself, then drove home and went into Gorey Boxing Club to meet the chaps and show them the belt.
"Back to work Tuesday, then."
Kennedy's split-decision victory after an absorbing 10-round back-and-forth was richly deserved, but in spite of a strong start in which the Gorey man's swift right hook to the body and sharp jab were particularly potent, it appeared as though the fight had begun to slip away from the visitor at the turn of the contest.
'Boom Boom Bas' conspicuously wilted in the fifth, with Santos, by then the obvious aggressor, seemingly bound to take control of the contest after a stronger-still finish to the sixth.
Suddenly, however, Kennedy's work to the body started to pay dividends, and with the aid of a physical reminder as to what he had left at home, the challenger consciously willed to fruition a second wind.
"This will probably sound… Like, I didn't realise the magnitude of the fight until I got to America," Kennedy says, sounding surprised by his own admission. "With the baby in hospital, it just took a back seat, and I didn't really think through it until I got to Foxwoods Casino.
"I got there, went inside, and suddenly I'm thinking, 'Jesus, I'm on billboards here in the fifth biggest casino in the world.'
"And I'll tell ya, I'd had a bad fifth and sixth round. I remember going back to the corner. I wasn't tired, but I just had mentally dipped. I lack a little bit of self-belief, to tell you the truth, and I started doubting meself because Santos had had two good rounds.
I had drawn 'MJ' on my two forearms, and I looked down and I said to myself: 'You promised your son that you were going to give this everything. Don't leave here disappointed in yourself.' I went back out for the seventh round with the opinion that if this lad wanted to beat me, he was going to have to knock me out.
But a dicey 10th and final round notwithstanding, the stylish Kennedy out-boxed and largely out-fought his adversary, with Santos also losing a point in the ninth for what was his umpteenth low blow.
Following a standing ovation for both men, those both in the arena and watching on Facebook live awaited the judge's scorecards with angst, whatever their allegiance. But not Kennedy.
"I actually thought I won the fight six rounds to four, and then with the point deduction I thought it was comfortable.
"And Alexis Santos had said that he thought I'd won fight, and his coach had said they [Santos' team] thought I'd won the fight. So we weren't really in any doubt.
"Now, seemingly Lou DiBella was going mental at the side of the ring, running around. Packie [Collins] turns to me and says: 'Niall, if they start calling out this decision against you, don't be a gentleman. You're always nice to people, but show them how disappointed you are if this doesn't go your way.'
"So when they called out the second judge's scorecard, I turned to the referee and Santos and said: 'are you serious, like?'
"The referee says to me: 'I'm not judging the fight!'"
With two of the three judges having scored the contest for Kennedy and Santos respectively, the result would be determined by the third. Kennedy stood head bowed, hands pointed towards the 'MJ' imprinted upon his white and green trunks, as he awaited the words of dreadlocked MC David Diamante.
Those words – 'AND THE NEW…NEW ENGLAND HEAVYWEIGHT CHAMPION' – when they did arrive, engendered bedlam.
During his elated post-fight interview, Kennedy told Iceman John Scully: "I have my beautiful son in hospital fighting a battle, so I'll fight any battle in this ring, against any man." He added: "We don't know how good we are yet, but I promise you, it'll take one man with massive balls to stop me."
He laughs as he recalls his guttural spiel some week-and-a-bit later:
My son was on my mind throughout the fight, and he was on my mind after the fight. But the way I speak after it, I hope no one ever shows him that. I'm like a clown! It's nearly like one of the Traveller call-out videos, the way I'm talking in the end. I looked like an eejit.
"Jesus, I hope no one comes up to me and repeats that, because I tell ya, I cringe over it."
It was a career-altering result for the 33-year-old prospect, only boxing isn't Kennedy's career. A full-time officer of the law, 'Boom Boom' dons the emblem of An Garda Siochána on his trunks every time he takes to the ring, and is overtly proud to represent his fellow gardaí on a sporting platform.
He's perfectly capable of providing for his young family by relying solely upon his day (or night) job. His urge to box, then, is born of an altogether different instinct: he's on a thrill ride, and yet finds it therapeutic.
"I lost my best friend at 19, and I've had dark days with depression and stuff, especially a few years ago," Kennedy says. "Boxing took me out of that, and it has always been good to me.
"And then I decided after losing in 2015 to Dean Gardiner [Irish Elite semi-finals], I said, 'Right, sure – I either pack in boxing or I give pro boxing a chance for a couple of years.'
"It's more a case of… I've never seen the best of myself. That always frustrated me. I probably didn't always train or give the full commitment when I was an amateur. To be honest with you, I just don't want to have regrets when I finish boxing, like, so I said I'd turn pro and give it a go, and it's going really well.
"It's definitely strange. I've done it since I was a baby, like – it's all I've ever known. I started boxing in Gorey Boxing Club at seven years of age, and it's something that I've always loved. Losing my best friend all those years ago got me in a bad place for a long time. I suppose boxing pulled me out of that."
As to why boxing – of all sports – evokes that sort of catharsis in spite of its often excruciating nature, Kennedy suggests that the associated mental preparation, and not just fighting itself, is directly translatable to the battle with one's own mind.
It's this knowledge which partially fuels him during the 130-mile round trip from home to Paschal Collins' Celtic Warrior Gym in Blanchardstown, and back again.
Exercise in general releases positive endorphins and all that craic, but with boxing, you have to concentrate for so long, you're sort of training yourself to get your head straight and to respond to adversity – to get through this sort of stuff, like. When you're in the ring, you're going to go through some serious stuff in there. In boxing you have to be ready for that.
"And then giving back to the town, and giving back to Gorey Boxing Club now – it's making me proud, you know?
"The thing about it is I'm in the novice stage of my career as a pro. I'm not making any money on it, like. None. I'm very lucky with some of the sponsors that are helping me, so I'm not losing too much money. But I've invested heavily in this at the minute.
"So if you're in bad form… Like, I remember as an amateur if I was in bad form – I used to train down the road – sure I wouldn't even get off the couch if I didn't feel like it, or if I was tired after work. But the way it is now, if I don't put it in, I can't get it out.
"The minute I get into the car, even though I don't want to be training, I'm thinking to myself, 'Jesus, there's no point in driving 65 miles to Dublin and not putting in a solid effort. And having another 65 to drive home as well!"
Kennedy waxes lyrical about manager and trainer Collins, with whom he teamed up in 2015 and retains a special bond. He's at pains, too, to mention his colleagues in the gardaí, who have facilitated what has thus far been a sensational beginning to his second gig.
"I'm very lucky that work have been very supportive of me", he says, "from bosses down: Assistant Commisoner Fanning, who I know very well, Superintendent Hogan, Inspector O'Keefe, my boss Sergeant Corrigan, and John, Sharon and Ben from my own unit – they've been so, so good to me. Wicklow Garda Station have been fierce supportive of me as well, and I just can't thank them enough. It means the world to me.
"Ah, no, I'm lucky. I'm in Wicklow 10 years – it's a lovely town. Wicklow people are brilliant people. I'm lucky in that they're very like people from Gorey. It's not a wealthy town, but it's full of hard-working, good people. I get on well with the kids in Rathnew and Wicklow Town, and I'm lucky that I get to do the school talks so I've gotten to know a lot of the kids as they grow up along.
"All the well-wishers from all over Wexford too. I feel blessed to have that support, really."
So many kind words from people i dont no what to say im very honoured and proud that ye have all been so kind thank u so much #teamboomboom

— Niall Kennedy Boxer (@niallbaskennedy) September 16, 2017
Kennedy is well back into the swing of things at Wicklow Garda Station, at this stage, and so with hospital visits to boot, can't quite wrap his head around a 10th fight quite yet.
Indeed, the prospect is made slightly more difficult by the fact that he's yet to sign on the dotted line with a prospective backer, most recently operating on the equivalent of a freelance basis for Murphys Boxing, the Stateside promotional company founded by Ken Casey – lead singer of Dropkick Murphys.
There's another hitch, too: having propelled his way up the world rankings in just nine contests, Kennedy finds himself in at the deep end, and yet the pool of potential opponents has shallowed. His attitude towards it all is rather straightforward, however. Whatever happens from here, he's going to make the very most of it.
"The mad thing about it is, unfortunately, I have no contract signed with any promoter, so we're hoping that gets sorted with Murphy's Boxing," Kennedy says. "Ken Casey is a gentleman and he's looked after me, so I'd like to stay loyal to them. The way I want it to be is I'll finish my career with Packie Collins as my manager and trainer, and then if Ken wants to finish it out with me in terms of promotion, that'll be perfect for me. I don't really want anything else, like.
"I think, though, just having spoken to Packie after the fight, that I've gotten myself into the top 60 in the world, but there's nobody else in the top 60 in the world with the small amount of fights that I've had, like. Everyone else has 15, 16 fights, whereas that was only my ninth fight.
So I've gotten myself into an almost scary position without gaining enough experience. I personally don't mind where it goes – I'll do whatever I'm told – but I wouldn't mind a couple of eight-rounders to get them established, maybe a couple of 10-rounders. I'm not putting myself down, but I don't want to feel like I'm running before I can walk, if you get me.
"I'm still only a nine-fight novice, but I'm in the elite end of it now, nearly. I dunno, it's just exciting. Let's see how we get on. No one knows where it'll end up, now."
Subscribe to The42 podcasts here: