WITH EIGHT IRISHMEN set to line out for London Irish next season, it may be tempting to suggest a new trend is emerging: an Irish invasion of the Aviva Premiership.
Yet, of the 17 Irishmen currently playing in the Premiership, the reality is that the majority are either recent Irish Academy graduates or are nearing the end of their careers.
Niall Morris, who made just eight appearances for Leinster between 2008 and 2011, was among the first of the current crop to arrive in the Premiership.
It proved an inspired decision for the then 22-year-old and the fullback has gone on to make 60 appearances for Leicester Tigers.
Morris even pierced Joe Schmidt's province-centered focus with a call-up to Ireland's training camp for last year's Autumn internationals.
"I think the easy option would've been to stay with Leinster in Dublin, because my friends and family are all there", Morris told TheScore.ie.
"It was a difficult decision at the time, but I think it's worked out and I've got the games that I wanted when I first arrived. In England, the RFU control the league a little bit differently and the frontline players probably don't get as much rest as they do in Ireland. Whether it's the week before or after an international, the frontline players are playing. From that point of view, the league's probably a bit more competitive than the Pro 12. I've really enjoyed it here and don't regret moving away.
"There's a fantastic group of players and they're all great lads. In my first couple of years, Geordan [Murphy] was here as a player so it was great to learn off him and watch him in training to pick up a few things. This year, he's been a coach and has been really good – considering he hasn't coached before. Geordan's got so much experience and any time I've got a question, he always knows the right thing to say and is always eager to help."
As well as Morris' move to Leicester giving him a chance to gain valuable playing time, the 25-year-old also won his first piece of silverware, the Premiership title, last season.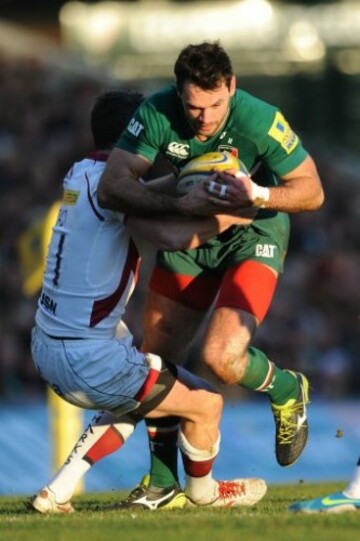 Source: Joe Giddens
12 months on, Leicester will compete in the play-offs for the tenth successive season. It's perfect timing for Morris, who has just recovered from a three-month lay-off with a dislocated thumb.
"I've had a couple of run outs in recent weeks, so hopefully I'll get another few before the end of the season. Before starting against Sale last Saturday, I only played 12 minutes off the bench in the previous two games so my priority is just getting back into the team. The guys who have been playing have been doing a great job, so I just need to put them under pressure and stay in the team.
"We've got a good record in the play-offs and they're one-off games. Hopefully, we can get everyone fit for it – even if it's away from home. We'll be as confident as we can be and we'll do our best to win it. Winning the final last year at Twickenham was my favourite memory of my time here so far. Obviously, to start the game and score the opening try was brilliant. All my family were there to see it, too. It was the first piece of silverware in my career, so I was delighted."
Naturally, Morris' fine performances for Leicester have placed him firmly on the radar of Joe Schmidt and the 25-year-old was part of the Emerging Ireland squad that played in the Tbilisi Cup last summer.
On the three game tour, Morris bagged two tries and the fullback's former coach, Schmidt, brought the Dublin man into Ireland's 42-man training camp for the Autumn internationals.
"I was delighted to get called in and I had known Joe from my time at Leinster. I already knew how great a coach he was: his record speaks for itself. It was really good to be involved and was beneficial for me as a player. From my point of view, being able to play over here has been the best thing for me. If I had stayed at Leinster, I don't know what my game time would've been with all the great players there.
"I've been really happy since I've come over. Platform wise, in Ireland, I think people focus on the players over there because they're that good. Maybe, if I can play as well as I can, I'll be in with a shout in the future."