IN HIS 2002 autobiography, former Ireland international Niall Quinn memorably wrote: "I learned my trade at Arsenal, became a footballer at Manchester City, but Sunderland got under my skin. I love Sunderland."
Evidently, Quinn was somewhat of a slow burner when it came to developing as a footballer. He had by far the best goalscoring run of his career between the ages of 31 and 34 at Sunderland, becoming a firm fan favourite on Wearside in the process.
Yet you wonder if a player such as Quinn could be as successful nowadays — would English clubs have the patience to persevere with the big striker at present, or would they promptly replace him with an expensive foreign import the moment the goals dried up?
In recent times, The42 have spoken to several relevant figures, including Ireland underage coach Tom Mohan and Bray U19s boss Maciej Tarnogrodzki, about the increased challenges facing young Irish footballers, and everyone seems to agree that the system is problematic at best.
Quinn plays down the idea that coaching at underage level in Ireland has become flawed and feels that, more than anything else, the considerable internationalisation of the Premier League over the past two decades has made it exceedingly difficult for Irish footballers to thrive in England's top flight
"I don't think we're going wrong," he tells The42. "I just think that, to get into a Premier League team in my day, you had to be better than English, Scottish and Welsh lads. Now, you have to be better than the Europeans, the Far East players… It's incredible. It's truly an international league. We have some very good players — Seamus Coleman being the standout one.
"Wes Hoolahan has done well. It took a long time for him to come into Premier League life and play in it as he has — it's a pity it didn't happen for him (earlier). If it was many years ago, we might have seen him go to an even bigger club than Norwich.
"(James) McCarthy is a very good Premier League player who could kick on. So it's not all doom and gloom.
"The problem is we don't have two or three fighting for their place like we would have had many years ago.
"So a different type of requirement is needed. You have to try to (go with) spirit when you put your squad together. You've got to try something that gels them all together, so they can almost outplay their combined abilities — that's what Martin (O'Neill) effectively has to do. He has to overachieve with the resources at his disposal. And when the players buy into that, it can happen."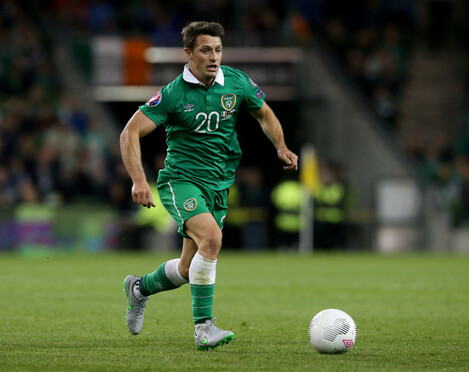 Current Irish international Wes Hoolahan began life in the League of Ireland and only moved over to play football in Britain in his mid-20s. Source: PA Wire/PA Images
Yet while Quinn feels the decline of Irish football in recent years has been exaggerated, the former striker — who scored 21 goals in 92 appearances for the Boys in Green — acknowledges that there are serious problems with the manner in which young Irish footballers are currently being handled.
The situation is not unique to Ireland, of course. English football fans and critics often complain that their young players' opportunities have become increasingly limited in the modern Premier League era.
However, even the similarly flawed English system manages to produce the odd Harry Kane, Saido Berahino or Raheem Sterling.
By contrast, there is currently not one Irish player under the age of 23 getting regular Premier League football, which seemingly emphasises the increasing marginalisation of Irish players from the top level of the game.
But Quinn argues that, instead of trying to make it at the top clubs, young Irish players are often better off preparing for the possibility of disappointment and starting off at a lower level of the game.
"In the overall context, there's a couple of things I strongly believe in," he says. "There has to be a viable alternative to young footballers heading off to England before their education is complete. We're losing too many young talented players who look really good at 14, 15 and 16. It's too easy for them to go through the British system and get all washed up.
"It's very hard then when you sacrifice your education and suddenly, your dream isn't fulfilled. It's a catalogue of disasters in that field. Young people need to think: 'I'm far better off doing my Leaving Cert, becoming a man and then going to Stevenage on an apprenticeship.'"
As a former chairman of Sunderland, Quinn understands the intricacies of the system and the pressure that young players are being put under by agents, among others.
Nevertheless, the Sky pundit feels clubs should not be blamed for the status quo, and instead, suggests the youngsters themselves, along with their parents, need to be made more aware of the many potential perils of moving to a big English club at a young age.
"We have had some astonishing figures thrown at us lately. Only three percent of young Irish players who go over get a second contract. These are the things that the parents need to know when their kids are being targeted by clubs. I did it myself — it's the system. I'm not giving out about the clubs. I'm giving out about the way we've allowed ourselves to be easily bought. We're easy prey and we're easy, therefore, to get rid of.
"But if the clubs pay £1million for a player, because they score goals in the League of Ireland aged 18 or 19, and other clubs were watching him, then they're not going to treat the player as badly and say: 'We won't bother with him, he hasn't cost us anything.'"
Sky TV customers can save over €100 per year on the Sky Sports package by upgrading now. Visit ww.sky.ie for more details"