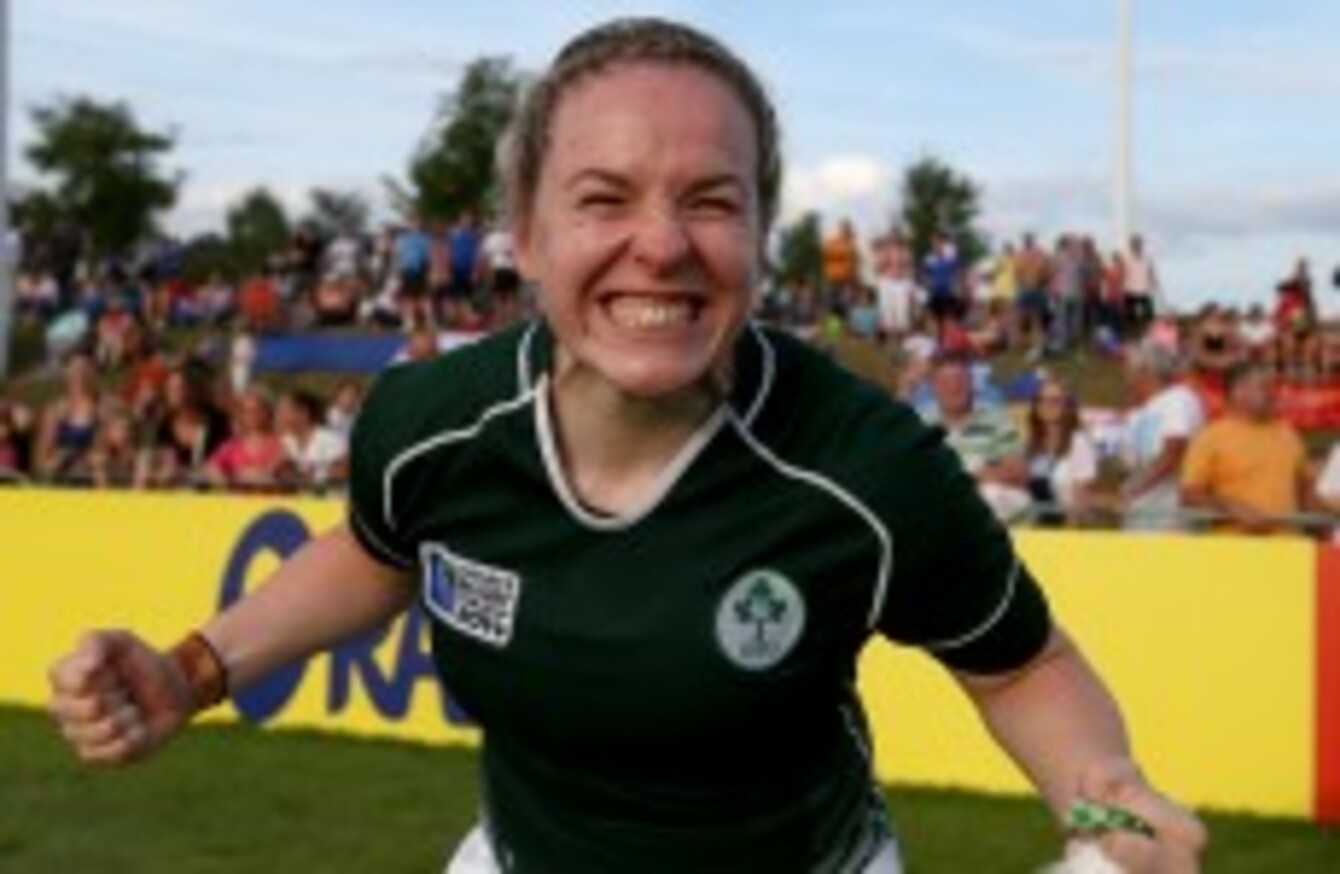 Briggs celebrates yesterday's historic win over New Zealand.
Image: Dan Sheridan/INPHO
Briggs celebrates yesterday's historic win over New Zealand.
Image: Dan Sheridan/INPHO
FROM HUMBLE BEGINNINGS in Dungarvan, County Waterford, Niamh Briggs has developed into a star of global women's rugby.
Following a superb try-scoring performance in Ireland's World Cup opener against the US on Friday, the 29-year-old fullback kicked seven points and set up Alison Miller's crucial try in yesterday's historic 17-14 victory over New Zealand.
Not that Briggs' and the Irish squad's ambitions end with that success.
"For us, it's only step two in the five-step process of the ultimate goal," points out Briggs, who plays her club rugby for UL Bohemians in Limerick. Victory over Kazakhstan on Saturday will send Ireland into a first-ever World Cup semi-final.
Briggs began playing rugby with local club Dungarvan in 2007, having been brought up in a GAA family – older brother Shane is the current captain of Waterford's footballers.
After swiftly adapting and excelling in rugby, Briggs made the move to Clonmel RFC a year later in order to play senior rugby. In 2010, the Garda was re-stationed to Limerick and opted to join a highly-professional set-up at UL Bohs.
I'll never forget the very first session in Bohs, I turned up and there were 22 girls at training," explains Briggs. "Ian Costello [now an assistant coach with Munster] pulled us in afterwards and said, 'This is not good enough, everybody needs to be training.'
"That kind of attitude really helped me to understand what's needed. You have the likes of Fiona Coghlan, Caroline Mahon, Jeannette Feighery - all these girls who were seasoned internationals.
"You could go in and hit a bag in training and they'd rile you out of it in front of everyone because you didn't hit it hard enough. They had a mantra there that you should train the way you play."
The standards in Annacotty proved a "wake-up call" for Briggs, who had only just returned from playing for Ireland at the 2010 World Cup in England. The sight of Coghlan "absolutely pummelling" into contact sessions on the wettest, coldest nights inspired the same "attitude and enthusiasm for the game" in Briggs.
One of the areas the Waterford native looked to address in her training approach was place-kicking, which has proved so important for Ireland in the current World Cup.
Briggs stands at an 80% success rate after two games, slotting eight of her 10 efforts at goal. Having taken to place-kicking when she moved to Clonmel in '08, the evolution has been fascinating.
It was a natural progression. It was one of the easiest parts of the game, coming from a GAA background, to be able to kick. In the women's game, kicking isn't very big, so it's hard to get coaching in it.
"But after the 2010 World Cup, I really felt like I let myself down in that aspect of the game. I spoke to Ian Costello, and he's done a lot of work with me. I was always pressing myself via YouTube videos of Jonny Wilkinson, ROG, Jonny Sexton, these guys, trying to emulate them.
"I kind of had a natural instinct for it, but sometimes couldn't get the consistency. That's where Cossie and Greg McWilliams [Ireland's attack, backs and skills guru] have really helped me in the last few years, that consistency in return rates. I'm delighted it seems to be going well for me at the moment."
That said, the perfectionist in Briggs is not content.
I missed one in the US game, I missed one yesterday, both very kickable. I'm not there just yet, but I'm striving for it."
Wilkinson's kicking routine involved envisioning a can of beer in a fan's hand behind the posts, and then attempting to hit the vessel with his kick. Leigh Halfpenny closes his eyes and transports himself back to home village Gorseinon before each attempt at goal.
Does Briggs share repeated habits such as those? She has read Wilkinson's book, studying the craft and its component parts, as well as speaking to other place-kickers.
"I've often had chats with Ian Keatley [Munster's out-half] about it," answers Briggs, there are loads of different things. You pick a target usually and, for me, it's very much a mental thing then, because I feel if I can get my mental side right, more often than not the kick will go over the bar.
"You do pick a target. I'm definitely not at the standard of Jonny Wilkinson where I can pick a beer can. It's usually something behind the goal, a billboard or a tree, or something like that. I focus on that and go through my set routine."
"I usually just try to talk myself into a calm demeanour and then you have key points that you keep reiterating to yourself. They're the ones I say before every kick and that's usually in my head."
The 70th-minute penalty against New Zealand yesterday with the game tied at 14-14 [video above], received an enforced version of Briggs' key points. The result was a game-winning three points for Ireland.
Before the last kick yesterday, I actually said them out loud to really focus in on it."
Briggs credits McWilliams with a steadying influence over her place-kicking, pointing out that both she and Ireland's coaching staff view place-kicks as often being "the winning or losing of the game."
"Greg is all about getting the best out of players," says Briggs. "You can see that from the way we attack. He comes on the pitch and he's calm and cool. Before that last kick yesterday, he was almost having the chats with me, to try and calm me down."
Away from the tee, Briggs has been inspirational for Ireland too. Her kicking from hand has been especially important, gaining Ireland vital territory and frustrating the US and Kiwis as the ball flew beyond their covering defenders.
In a game where the end-over-end punt has become the norm, Briggs' classical spiralling style of kicking is a breath of fresh air.
Her intelligent counter-attack and accurate pass sent Miller clear to score in the left-hand corner against the Black Ferns, while Briggs' cover tackling has been as reliable as ever in covering any busts of Ireland's formidable front-up defence.
Putting it all together, Briggs is contributing in a major way to Irish women's rugby, which has been consistently improving and impressing in recent years. This group can inspire a new generation of female rugby players, something Briggs would love to see.
It's great to see that the game is evolving all the time and that's what we want – more girls playing rugby.
"We want more girls to be out playing and enjoying it. I'm not sure about inspiration and role models, but in terms of trying to get people playing, it's brilliant if we can do that."