WHILE THERE ARE seven uncapped players in their Six Nations squad, a handful of probable starters are now in the sevens programme and they have England and France away this year, Ireland Women still possess a core of winning quality.
As they look towards the beginning of their Six Nations title defence on Saturday against Wales at their new home in Donnybrook [KO 1pm], there are reasons for confidence.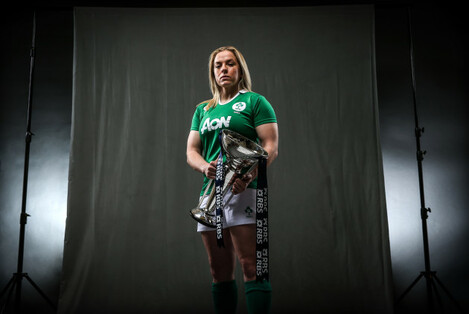 Briggs and Ireland are defending their title. Source: Billy Stickland/INPHO
Having won two of the last three Six Nations and reached the semi-finals of the most recent World Cup, Ireland Women have set an altogether new standard for themselves.
Whatever about the retirement of legendary players, the balancing act involved between sevens and 15s this year, and a high turnover of players, this Irish set-up is more ambitious than ever.
"I really want to win," says captain Niamh Briggs, the heartbeat of this side. "Every time we play, we want to win. It would be nice to be able to put 'consecutive Six Nations winner' beside your name."
The prospect of Olympic qualification in the shortened code later this year means the likes of Jenny Murphy, Ashleigh Baxter, Alison Miller, Jeamie Deacon and Hannah Tyrell are in Australia this week preparing for the next leg of the World Sevens Series in São Paulo later this month.
That takes away the basis of a backline for head coach Tom Tierney, though he can still call on the experience of fullback Briggs, out-half Nora Stapleton, scrum-half Larissa Muldoon and centre Jackie Shiels this week against Wales.
Add in exciting talent like outside centre Aine Donnelly and Connacht's Sene Naoupu and it's clear that Tierney still has backline quality.
Up front, world-class players like tighthead Ailis Egan, lock Marie-Louise Reilly, back rows Heather O'Brien and Paula Fitzpatrick, and the dynamic Sophie Spence are supplemented by newer faces like the multi-talented Lindsay Peat and Munster's Elaine Anthony.
Sene Naoupu during Ireland's 15-5 Six Nations warm-up defeat to Wales. Source: Craig Thomas/INPHO
The energy added by the new players is something Briggs has welcomed wholeheartedly this season, but she underlines that the experienced core must ensure they improve rapidly.
"It's important that we keep raising our standards and that the girls coming in meet them, rather than us dropping down, because we don't want to go back," says Briggs.
Tierney handed starting Test debuts to six players in last November's clash with England – Ireland's first-ever autumn international – and says that expanding the player base has been a major part of his role alongside IRFU director of women's rugby, Anthony Eddy.
"We made a very conscious decision to go and look for players, bring them into the system and autumn was a huge learning curve for them," says Tierney, whose position is now full-time.
Ireland lost 8-3 to the English in agonising circumstances in front of a big crowd at the Stoop in that first foray into November Tests, with Briggs saying the result was extremely hard to take even if the game meant that a host of new players now know they can "acquit themselves" against the reigning world champions.
This year, Ireland are set to play England and Canada at home in the November Tests – with a possibility of a third fixture – in another clear sign of the progress the women's game is making.
"To have something to focus on in that November international was absolutely brilliant and it took a lot of pressure off the Six Nations preparation," says Tierney.
Be part
of the team
Access exclusive podcasts, interviews and analysis with a monthly or annual membership.
Become a Member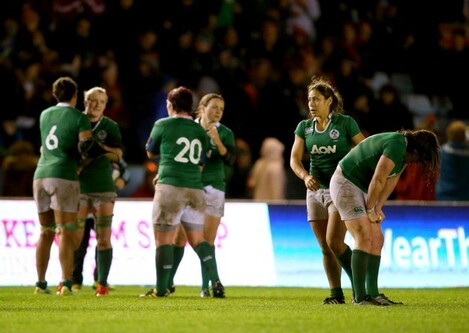 Ireland came close to beating England in November after a huge defensive display. Source: Dan Sheridan/INPHO
"The fact that it has started going into a World Cup in 2017, it will be in line with the men's fixture list. It's a huge step forward for the women's game."
Mention of the 2017 World Cup, to be hosted in Dublin, is particularly pertinent. While 2016 is the year where sevens must take priority with the Olympics in view, next year will see the majority of playing resources flooded into the 15s game.
On home soil, with massively improved playing depth in Irish women's rugby, there is no reason why Tierney's side should not view the tournament ambitiously.
While the forthcoming Six Nations and the 2017 version are naturally of major importance to Ireland, the World Cup is a vital part of the IRFU's strategic planning.
"It has to be," says Tierney. "It's a very important time and the key for us is to make sure that we have as many players as possible playing at a standard that they can take the step up to international level.
"That is one of our strategic goals this year – that we get as many players into centres, training camps and squads as possible, so that we have a pool of talented players that can cover both forms of the game, sevens and 15s, but also that come the World Cup we have depth in every single position."
It's a complex picture for Irish women's rugby in the short-term of course, but Tierney is hopeful this Six Nations will show that the player base has increased not just in quantity but also in quality.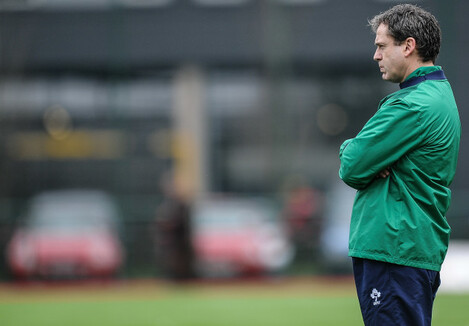 Tierney feels Irish women's rugby has better depth than ever. Source: Craig Thomas/INPHO
Around the seven uncapped players in this squad and those who only debuted against England in November, Briggs will be a key figure. Her kicking and running games from fullback are vital tactical tools, while her leadership is of paramount importance.
"You're in and it's a little bit easier, things settle down a little bit," says the Waterford woman of her second season as captain. "I've always been the type of person that will do my talking on the pitch rather than off it.
"It's quite easy to be a captain when you've got a squad that wants to win and get better, because you're only there for the coin toss really."
Self-deprecating as always, but there is little doubt that Briggs will make a notable impact with her actions on the pitch.
The circumstances may not be ideal this year, but Briggs and her squad won't be making excuses as they look to retain their Six Nations title.
"It's going to be difficult for us obviously, away to France, away to England – we need to get a big scalp – but the nature of the competition is that everyone is going to take points off each other.
"We have Wales up first and that's the most important thing for us. If we get a win, then we can maintain the momentum. If not, we have the ability to recover and get a win in the next game. It's just dealing with different pressures at different times."