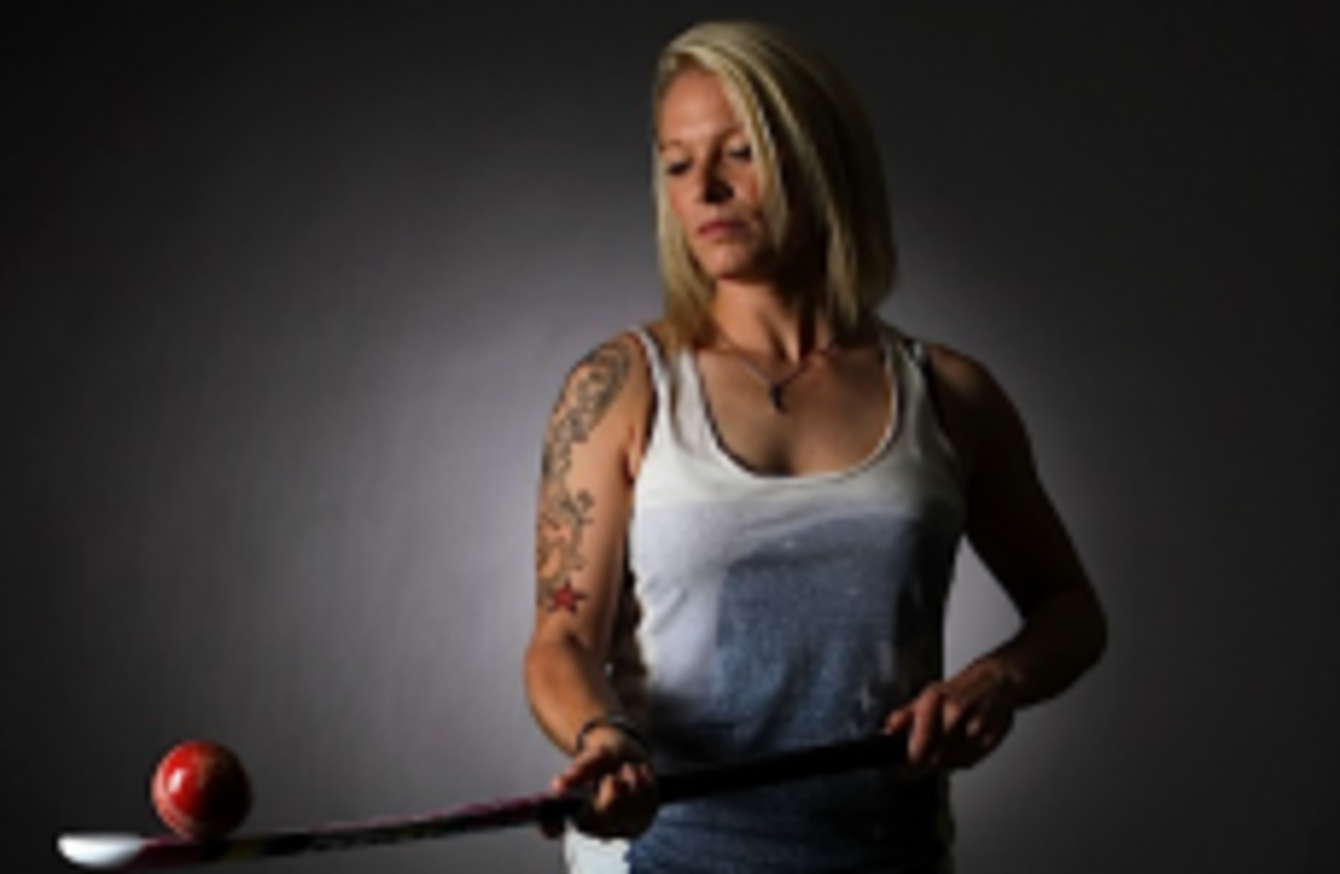 Image: Myak Homberger via Sports International Magazine
Image: Myak Homberger via Sports International Magazine
THE JOURNEY ANALOGY is often used in sports. It's a neat metaphor, particularly when a fork in the road takes you in a different direction. Nikki Symmons, Ireland's most-capped female athlete, prefers the term 'transition'. And over the last year, she's had quite a few of them.
In the last twelve months, the hockey player totted up a litany of personal milestones. She went public about being gay. She was awarded a scholarship and moved to Lausanne to study for the distinguished Masters in Sports Administration and Technology at the International Academy of Sports Science and Technology (AISTS). She began a new job with the International Hockey Federation in Switzerland. And she was reluctantly forced to take a break from the sport that she's given so much to for so long.
But her 'transitions' didn't go unnoticed. SportAccord, the union for Olympic and non-Olympic sports federations, have nominated the 31 year-old for a prestigious Sports Hero award, an honour bestowed upon 'an individual connected to sports who has inspired youths through his/hers achievements, actions or words'. Other nominees include former England rugby star Jonny Wilkinson and iconic US skier Lindsey Vonn.
"It's kind of crazy but pretty amazing. It's just great to be recognised and going through a transition out of being an athlete it's great to still be up for awards and promoting hockey as well. I've done a lot in my own career but never quite got to the same level as the other nominees. To be alongside them…I mean Lindsey has just won the World Championships again which is unbelievable and the other athletes nominated, for the most part, are all Olympians and I'm not. But it's also great to be recognised as an athlete – that you don't have to be an Olympian to be a high achiever."
As much as Symmons has long been an inspiration for many owing to the 200-plus caps for her country, last November it wasn't her hockey that drew admiration.
Appearing on RTE2′s Second Captains Live, she spoke publicly about being gay for the first time.
"I had been pretty much 'out' for a good few years with my friends and probably a lot of the hockey people would've known too. But I guess the public didn't and it was never a question that anyone asked which was nice. No one ever pushed that question. But I felt I was at a stage of my life where I could make a difference and I was very comfortable with who I was."
"You just want it to be normal and not have to talk about it. That's why I was asking myself 'Do I do it?' 'Do I say anything?' 'Why should I have to say something?' There were all these questions in my mind. Then I thought about how if I could help just one person to be comfortable with themselves and just to be them, that it would be an accomplishment in itself. So I said, 'Right, let's just talk about it'. I felt that I maybe came across as if it was easy. But it's always going to be difficult."
But Symmons enjoys a challenge. Switzerland was another one. The Masters programme at AISTS is an immensely-respected qualification with its close ties to the IOC and other sports bodies as well as the various networking opportunities afforded to the fortunate few who are selected each year. But it was something Symmons was passionate about. So, she rolled her sleeves up and immersed herself in another 'transition'.
"It was a pretty tough decision, to be honest. But it was time to move the other side of my career on and I knew I really wanted to give more back to sport. As a teacher, I loved it but knew there was something else, more international stuff that I wanted to do. I didn't want to just forget about all that and become a 'normal' person! I wanted to keep pushing the boundaries and maybe change the channel slightly. I never reached my goals as a sportsperson – I never went to an Olympics or a World Cup – but I still got all those caps which I would never give back. But the experience I have and the fight and determination I have – that's what I bring over to the other side of sport and I want to keep putting myself out there."
SEE SPORT
DIFFERENTLY
Get closer to the stories that matter with exclusive analysis, insight and debate in The42 Membership.
Become a Member
Then there was the hockey. There's an irony to Symmons taking a step back from competing owing to her employment with the sport's administrative body. But if playing is in the past, she's working towards building a better future for the sport. Something that has made her appreciate hockey in a different way.
"The toughest thing about the Masters was that we kept talking about the Olympics! I had been so torn about whether I should keep going with the hockey and try and make that goal of Rio 2016. But then I decided to go to Lausanne and everything was about the Olympics when I got there! But I made it through and it brought the love back for sport in a way and now I'm working with hockey again. I didn't think I'd do that but now I'm so happy there and helping to promote hockey and athletes.
"I do miss playing but I think it was time. You hear of other athletes that fall out of love with playing and I never thought that would happen me. And then, all of a sudden, I just thought 'Okay, it's time to take a break, take a step back'. And that's what I've done. Who knows? I might go back. But at the moment this is working well. I'm creating a nice life and it's great over here because it's the home of sport. I've had many meetings at the IOC, working with the various federations so it's really great to be close to all of that.
In her role as Digital Coordinator, Symmons is charged with gaining more exposure for the sport, tapping into her wider appreciation for and experience of the media.
"I didn't quite expect it to happen so quickly but I think I'm going to be here for a while now. I'm comfortable in this job and we've got a huge strategic plan for the next 10 years. We've got a big partner in StarSports – an Indian TV company and that's huge for us. I'm in the thick of that and I'm also doing a lot of Athlete Ambassador Programmes so we're trying to build profiles and trying to create hockey superstars. It could be easier for me to go to Fifa or Uefa and have so much money to do whatever you want. But I tend to keep going back to hockey for some reason and battling various things. But it's keeps you going and keeps you motivated."
Let's face it. Symmons was never one for the easy option.
To support Nikki in the SportAccord 'Sport Hero' category, just go to the following link, scroll down to her name and click 'Vote'. The closing date is 24th March at which time the shortlist is reduced to four names. These athletes will then head to Sochi for the awards ceremony where the winner will be announced.