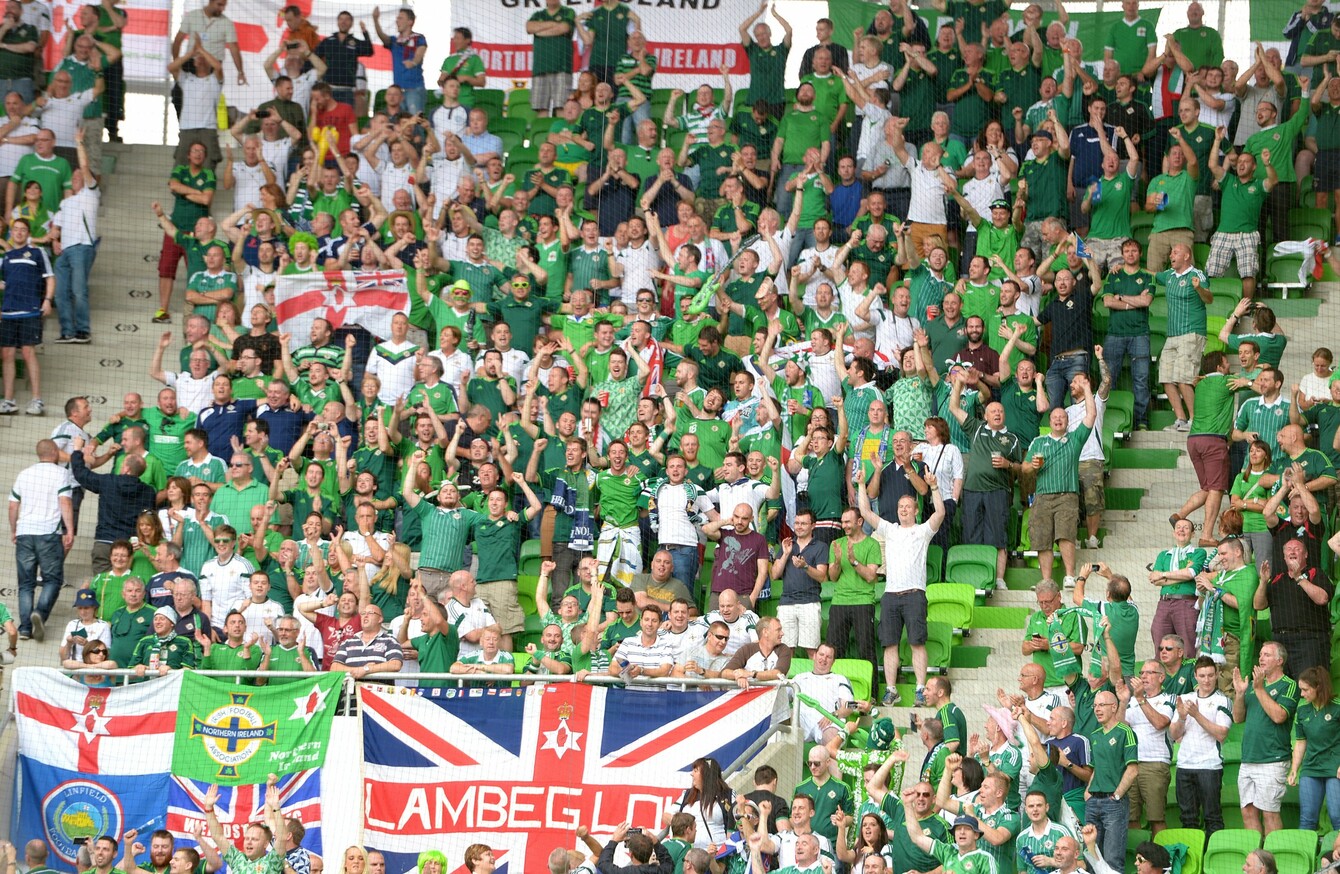 Tens of thousands of Northern Ireland supporters will travel to France for Euro 2016.
Image: PA Archive/Press Association Images
Tens of thousands of Northern Ireland supporters will travel to France for Euro 2016.
Image: PA Archive/Press Association Images
FOR THE FIRST time ever, both the Republic of Ireland and Northern Ireland will compete at the same major tournament this summer.
Excitement is building north of the border, with Euro 2016 being the first tournament in 30 years that Northern Ireland have qualified for, and their first-ever European Championships.
Marty Lowry is the editor and moderator of popular Northern Ireland fan page Our Wee Country, which started as a fanzine distributed at home games before moving online. He is not overly optimistic though that Euro 2016 will bring the people from nationalist and unionist backgrounds together. 
"I don't think so – for people in their own areas it will be great," he says. "In the city centre pubs it could kick off if somebody was to cheer a goal against your team."
But things are slowly changing in the north. This summer the Titanic visitor centre in Belfast will have dedicated fanzones with the matches of both Northern Ireland and the Republic of Ireland being broadcast on large screens with organisers hope to create a family-friendly, carnival atmosphere.
Although Lowry, who will be among the estimated 30,000 Northern Ireland fans travelling to France, admits that he has an affection for the former Northern Ireland captain Martin O'Neill, he says he will be disinterested in the Republic of Ireland's results in Euro 2016, despite him wanting O'Neill to do well on a personal level.
"I'm not really interested in their scores. I'll be a bit indifferent. I'll be keeping an eye on the England and Wales scores," Lowry says.
Current Northern Ireland manager Michael O'Neill comes from a nationalist background, but his success with the team on the pitch has helped him become a firm favourite with the fans from both sides of the political divide. But it hasn't been an easy rise for the former Shamrock Rovers manager with defeat away to Luxembourg in 2013 a particular low point.
That victory for Luxembourg was only their fourth victory in a World Cup qualifier and their first at home in 41 years.
"He's fantastic – I respect him a lot. After we lost to Luxembourg, it was so depressing and I was thinking he's got to go, but he stuck it out."
The IFA recently commissioned a survey that discovered 71% of people across Northern Ireland will be supporting the team in France. Speaking to The Guardian, Michael O'Neill reflects on a time when it was much harder to play for Northern Ireland. "Football was divisive in the past. The national team was divisive. The era I played in was divisive," he said.
One of the biggest issues still surrounding the Northern Ireland team is the use of God Save the Queen as their anthem, and Lowry agrees that it should be changed after a switch of anthem for English teams was debated in Westminster.
"I don't think we should play it. A sizable minority don't like it. If the English change it, we will have to also. It's ridiculous, we're not playing as Great Britain."
"I know of some people who won't go into the ground, who stay on the concourse until the anthem is played."
In the Commonwealth Games, Northern Ireland use the tune of Derry Air as their anthem, but Lowry believes that as of yet, there is no credible alternative to God Save the Queen.
Source: PhilCoulterMusic/YouTube
"Derry Air or Danny Boy hardly has any inspiring words. Maybe they could use that tune with different lyrics," says Lowry.
Despite Marc Wilson being ruled out of the tournament with injury and Darron Gibson not making the 23-man squad, there still will be two players born north of the border representing the Republic of Ireland this summer in Shane Duffy and James McClean, although Lowry appreciates their reasons, he is not entirely happy with the way the situation is handled.
"I understand their reason why [they play for the Republic of Ireland], but it pisses me off and pisses a lot of other people off too."
"The IFA spend time and money on these players and as soon as the Republic come, they are leaving. James McClean won seven caps for the Northern Ireland U21s. With Jack Grealish, the FAI got a taste of their own medicine."
An all-Ireland team is not on the agenda at the moment and with money to be made by two separate associations it is unlikely to change in the near future. Lowry believes that there may be too many obstacles to overcome for the amalgamation to ever happen.
"A 32-county team would be fine. But in rugby, how many internationals are played in Belfast?
"There will be issues of anthems, flags and where the games would be played. We are the original IFA, with the headquarters in Belfast.
"It's like me playing rugby for Ireland – I would be uncomfortable with the Soldiers' Song [Amhrán na bhFiann].
"[The FAI] would want the absorption of the Northern Ireland and airbrushing of its history. It won't happen. Look what has happened in the past – the FAI encouraging players to deflect."
With anticipation building on both sides of the border, Lowry still remains realistic of Northern Ireland's chances in France. "We might get a draw against Ukraine or Poland. To get a point, I will be happy."
The42 is on Snapchat! Tap the button below on your phone to add!