UNLESS YOU'VE BEEN glued to the internet all weekend, there's a chance that some weird and wonderful sporting tidbits might have slipped through the cracks. Here's a run-down of some of the stories you may have missed.
1. #ONE-IN-A-MILLION Meet basketball player Gabrielle Gary of McCutcheon High, Indiana. Yes, she did this. No, we don't know how.

YouTube Credit: MTCSportsNetwork
2. #TEKKERS Has Nicolas Gaitan been watching the Matty Burrows trick-shot reel again over Christmas? The Argentinian produced this moment of magic in Benfica's 3-1 win against Estoril last night.

YouTube Credit: Wikemidia
3. #WIND PROBLEM If you've any sort of passing interest in golf, you'll know that organisers are having a bit of a nightmare trying to get any holes played at the Tournament of Champions in Kapalua, Hawaii. The competition was due to start on Friday but due to viciously high winds, they're still waiting to get started.
See exhibit A; we're pretty sure the flags aren't supposed to bend like that.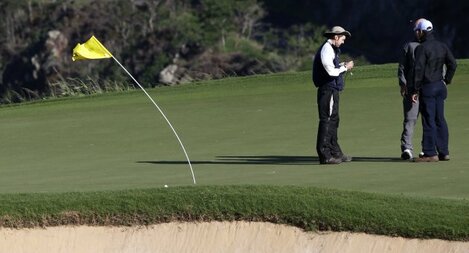 4. #MAMBA Guess who's back on the Twitter? Yup, it's Kobe Bryant.
"The antisocial has become social," the LA Lakers star tweeted on Friday, adding the hashtag #mambatweets. He's already passed the half-million mark of followers but nobody's keeping count, are they?
5. #BAND OF BROTHERS Jose Mourinho's attempt to drop Real Madrid goalkeeper (and captain) Iker Casillas for a second successive game backfired spectacularly in yesterday's 4-3 win against Real Sociedad. Reserve goalkeeper Antonio Adan played just six minutes before he was red carded, forcing Mou to bring Casillas off the bench.
Casillas didn't seem too interested when stand-in skipper Cristiano Ronaldo tried to give him back the armband a few minutes later.

YouTube Credit: TCProduce