UNLESS YOU'VE BEEN glued to the internet all weekend, there's a chance that some weird and wonderful sporting tidbits might have slipped through the cracks. Here's a run-down of some of the stories you may have missed.

1. #WORST.FREE THROW.EVER. A game between Western Carolina University and Appalachian State produced this piece of atrocious play.

YouTube credit:
wcu62TV
(h/t: SBNation)
2. #FLIPPING THE BIRD Nate Diaz was in the middle of his UFC fight with Benson Henderson when Fox cut away momentarily to footage of an empty octagon. It turns out the trash-talking American had given his opponent the middle finger as the pair were locked together on the ground.
It's not the first time Diaz has done something like this to try and rile his opponent but it didn't do him much good as Henderson won by unanimous decision.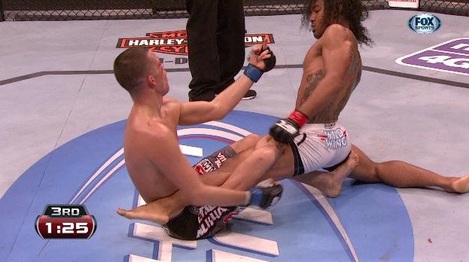 Credit: Deadspin
3. #IT'S BEHIND YOU Colchester United's Brian Wilson gets himself into a good position to clear Matt Derbyshire's goalbound effort but commits the cardinal sin and turns his back on the ball – allowing it to clip his heel and trickle in.

YouTube credit:
ThrasherAnthony666
(h/t: 101greatgoals)
4. #OVERSIZED Michael Furrh  drives the ball 146-yards… with a 14ft driver. Supposedly it's a world record. The question we want to know is, why?

YouTube credit:
CaddieClub
(h/t: WorldofSport)
5. #BOX OFFICE Two Hollywood names showed up at the Etihad Stadium on Saturday for the Manchester derby and even got to meet Geoff Shreeves. Both claimed they're big 'soccer' fans… you judge for yourself.

YouTube credit:
Beanyman62Sports
(h/t: YahooSportsBlog)