UNLESS YOU'VE BEEN glued to the internet all weekend, there's a chance that some weird and wonderful sporting tidbits might have slipped through the cracks. Here's a run-down of some of our favourites…
1. Nigel Owens doesn't need your help to make a decision
Nigel Owens is a great referee, not least because he loves to make an example of anyone who dares show him even the tiniest lack of respect. Treviso scrum half Tobias Boates was the guilty party in Thomond on Saturday night, waving his hands about in exasperation after a penalty (correctly) went against his side.
"This is not soccer," Owens informed Boates as the coup de grace in a polite but stern dressing down. If only he'd been in charge of yesterday's Manchester derby, eh Wayne?
YouTube Credit: ballsoddshaped
2. Sports stars have no fashion sense
Yeah yeah, this is hardly "news", but we couldn't really miss the opportunity to showcase Big Ben's hat. I mean, you've just been knocked out of the playoffs by a TebowTime miracle and this is what you choose to wear to the postgame press conference?
Steven Taylor is hardly much better, mind you (warning: contains disturbing images of a waistcoat).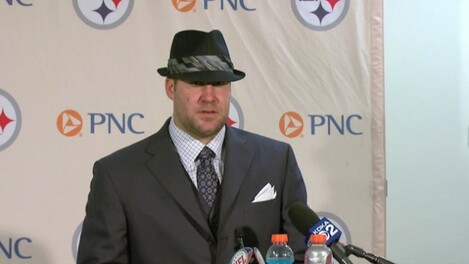 Be part
of the team
Access exclusive podcasts, interviews and analysis with a monthly or annual membership.
Become a Member
3. No prawn sandwiches for Fletch and Ashley
Darren Fletcher and Ashley Young eschewed the plush corporate hospitality suites at the Etihad Stadium yesterday to slum it in the away end with the travelling United support. The real question is — did they join in with the United "Poznan"?
YouTube Credit: seddiman
4. Aindreas Doyle plots a career change
Does Wexford footballer Aindreas Doyle want to be a spy or a political satirist? He's covering all bases judging by these covert snaps taken in Tesco on Saturday. Can't a man go shopping in peace anymore?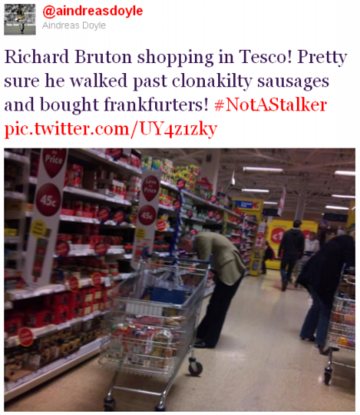 5. Pancakes are not your friend
If you think you're unfit after a Christmas of excess and gluttony, spare a thought for ice hockey player Dustin Penner of the LA Kings who has been suffering from pancake-induced back spasms over the last few days. Let that be a lesson to the rest of you.
I woke up fine, sat down to eat and it locked right up. It never happened to me before. I couldn't stand up. I was probably at the third stage of evolution.

I just leaned over to dip into some delicious pancakes that my wife made. It's just like it [the pain] wraps around you and squeezes.