Offaly 0-8
Sligo 0-8
Kevin O'Brien reports from Bord na Mona O'Connor Park, Tullamore
A STOPPAGE-TIME Sligo equaliser dealt a major blow to Offaly's hopes of survival in this Division 3 relegation clash in Tullamore.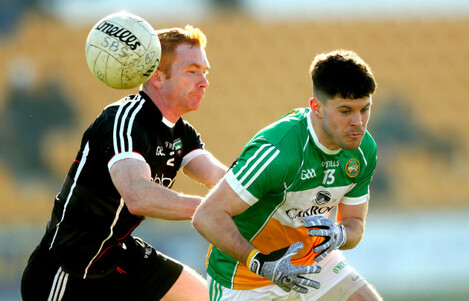 Source: James Crombie/INPHO
Offaly were two points in front after 61 minutes but late frees from Adrian Marren and Niall Murphy sealed a share of the spoils for the visitors.
With Wexford already relegated, Offaly sit in seventh place on three points, with Sligo and Derry in joint-fifth on four points.
The Faithful were mired on zero points after their opening three games, but their battle to stay up will go to the final day – just like in 2017.
Offaly play Westmeath in the last game of the league campaign, while Sligo host Derry. For the Faithful to stay up, they must beat Westmeath and hope there's a winner in Markievicz Park.
In a poor spectacle with plenty of errors on either side, Offaly had Conor Carroll and Peter Cunningham sent-off and Nigel Dunne black carded, while Sligo had Stephen Coen dismissed and Adrian Marren black carded.
Source: James Crombie/INPHO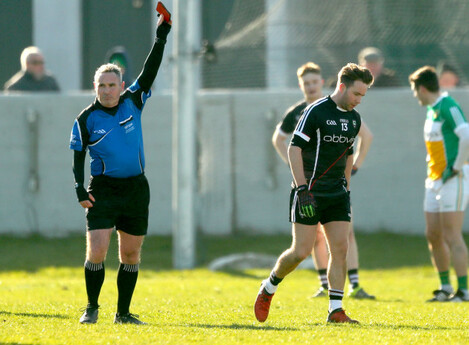 Source: James Crombie/INPHO
Offaly led Sligo by 0-4 to 0-2 after a drab opening-half where both counties were reduced to 14 men.
Offaly's Carroll was sent to the line when he picked up a black card for a 24th-minute pull-down, having already being booked in the opening quarter.
Then referee James Molloy sent-off Coen after the Sligo forward struck Declan Hogan in an off-the-ball incident at midfield.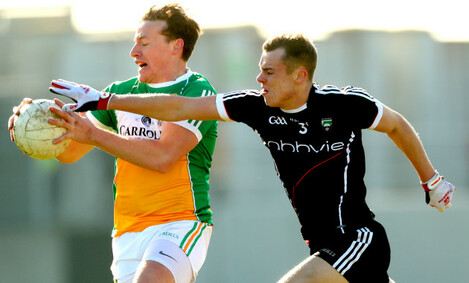 Source: James Crombie/INPHO
After scoring just twice in the first-half, Sligo were far more effective against the breeze.
Cian Breheny, Patrick O'Connor, Neil Ewing and substitute Sean Carribine clipped over efforts as they moved onto level terms at 0-6 to 0-6 by the 53rd minute.
Dunne and Bernard Allen curled over a free each for the home team, while Adrian Marren pegged one back for the Connacht side.
Offaly lost midfielder Peter Cunningham to a second yellow late on, before Sligo were awarded a contentious free in the 73rd minute that Murphy converted.
Scorers for Offaly: Nigel Dunne 0-4 (0-2f), Bernard Allen 0-3 and Anton Sullivan 0-1.
Scorers for Sligo: Liam Gaughan, Charlie Harrison, Adrian Marren (0-1f), Neil Ewing, Patrick O'Connor, Niall Murphy (0-1f), Cian Breheny and Sean Carribine 0-1 each.
Offaly
1. Paddy Dunican (Shamrocks)
3. Paul McConway (Tullamore)
6. James Lalor (Raheen)
22. Shane Nally (Ferbane)
5. David Dempsey (Ballycommon)
2. Declan Hogan (Tullamore)
7. Niall Darby (Rhode)
8. Peter Cunningham (Bracknagh)
9. Michael Brazil (Tullamore)
10. Conor McNamee (Rhode)
11. Anton Sullivan (Rhode)
12. Cian Donohue (Rhode)
13. Bernard Allen (Tubber)
14. Conor Carroll (Raheen)
15. Nigel Dunne (Shamrocks)
Subs
21. Jordan Hayes (Edenderry) for Donohue (53)
18. Cian Johnson (Ferbane) for Dunne (black card, 61)
20. David Brady (Edenderry) for McConway (62)
17. Shane Tierney (Daingean) for Sullivan (71)
Sligo
1. Aidan Devaney (Calraigh/Naomh Iosef)
2. Ross Donovan (Clarsigh An Orthear)
3. Luke Nicholson (Naomh Mhuire)
4. Charlie Harrison (Naomh Eoin)
5. Keelan Cawley (Cuil Irra/Leathros)
8. Adrian McIntyre (Tuarloistreain)
7. Gerard O'Kelly Lynch (Naomh Mhuire)
6. Kevin McDonnell (Caislean Ui Conchubhair)
9. Niall Murphy (Cuil Irra/Leathros)
10. Neil Ewing (Droim Cliabh/Ros Ceite)
11. Patrick O'Connor (Naomh Fearnain)
12. Liam Gaughan (Tuarloistreain)
13. Stephen Coen (Naomh Mhuire)
14. Pat Hughes (Gaobhach)
15. Adrian Marrern (Curraigh)
Subs: 
20. Cian Breheny (Naomh Mhuire) for Cawley (ht)
21. Kyle Cawley (Noamh Mhuire) for Hughes (ht)
22. Sean Carribine (Caisleain Ui Conchubhair) for Nicholson (52)
26. Darragh Cummin (Calraigh Naomh Iosef) for Marren (black card, 67)
14. Hughes for O'Connor (72)
The42 is on Instagram! Tap the button below on your phone to follow us!