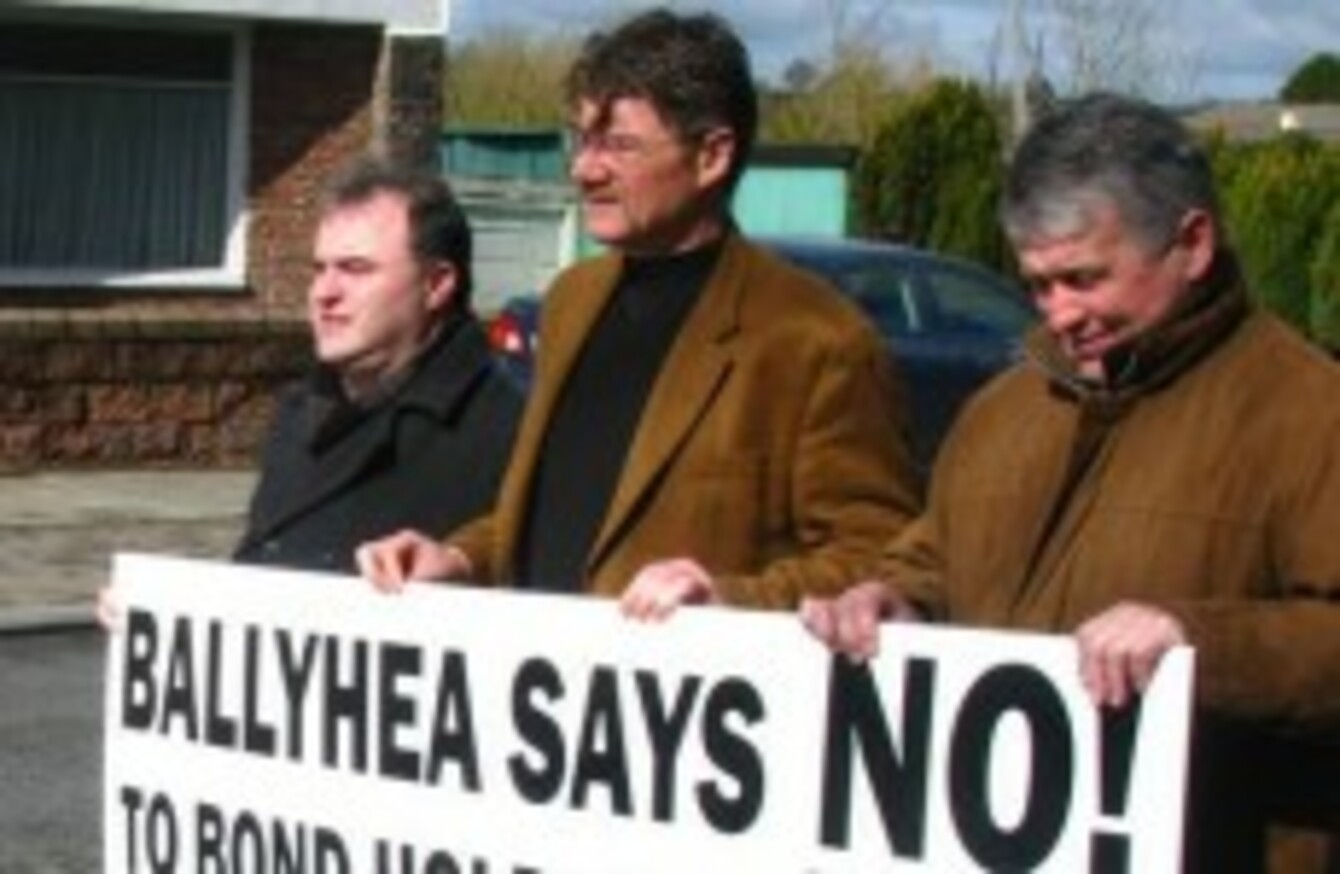 Diarmuid O'Flynn, centre, on one of the weekly marches in Ballyhea.
Image: Twitter
Diarmuid O'Flynn, centre, on one of the weekly marches in Ballyhea.
Image: Twitter
RATHER THAN RALLYING the people of Ireland in opposition to the EU/IMF bailout as he might have hoped, Diarmuid O'Flynn's 153-mile run from Ballyhea, County Cork to Dáil Eireann served only to remind him that talk is cheap.
On Tuesday morning, O'Flynn, who is one of the Irish Examiner's chief hurling writers, set off on a three-day run which culminated with him hand-delivering an anti-bondholder petition to the government following a short march in Dublin this morning.
The past 72 hours have been among the most physically demanding and exhausting of his life, as he told The Score.ie when we caught up with him ahead of this morning's march from the Garden of Remembrance to Kildare Street.
Yesterday's third and final leg of the run, from Portlaoise to Dublin, had to be completed by a team of relay cyclists who offered to take up the mantle after his legs simply couldn't take any more.
"At this stage I'm just hobbling," said O'Flynn earlier today. "I wouldn't say I was legless – I still had the legs, they just weren't working very well."
However, with just over 500 signatures gathered on the digital petition by the time it was submitted this afternoon, it seems that all the hard work and physical punishment might not have been worth it after all.
"To be honest though, if I'd ended up crawling all the way to Dublin, I don't think it would have had any impact in terms of encouraging people to join me. I don't think there's anything at all that will shake the Irish people."
We're a great nation for complaining but not so much for action.
The most galling thing about this apathy and disinterest, in O'Flynn's eyes, is the fact that the people of Ireland don't seem to realise that we haven't quite hit the bottom insofar as financial hardship is concerned.
"There are an awful lot more squeezes coming down the road. Already this week, we've heard about water charges and property taxes. They'll hit the weakest in society who are also those with the weakest voice. Nobody seems to notice and nobody seems to react and it goes on and on and on until we hit the wall."
His growing anger and frustration became evident earlier this week when he described himself in a tweet as "baffled by the apathy [and] baffled by the lack of national coverage" which his protest has received. Since February, he has been involved in organising weekly protests against the terms of Ireland's bailout deal in his native Ballyhea.
Though obviously disillusioned by the traction which his campaign has gained across the country, he was quick to pay tribute to those who have worked alongside him for the past few months.
"I'm very proud of my own community and what we've done," he said. "I couldn't have asked for any more effort from them."
I couldn't bring myself to pick up the phone this morning to ask them to make the trip to Dublin to keep supporting something that is doomed to failure.
Read: National sports journalist sets off on run to deliver bailout petition to the Dáil >