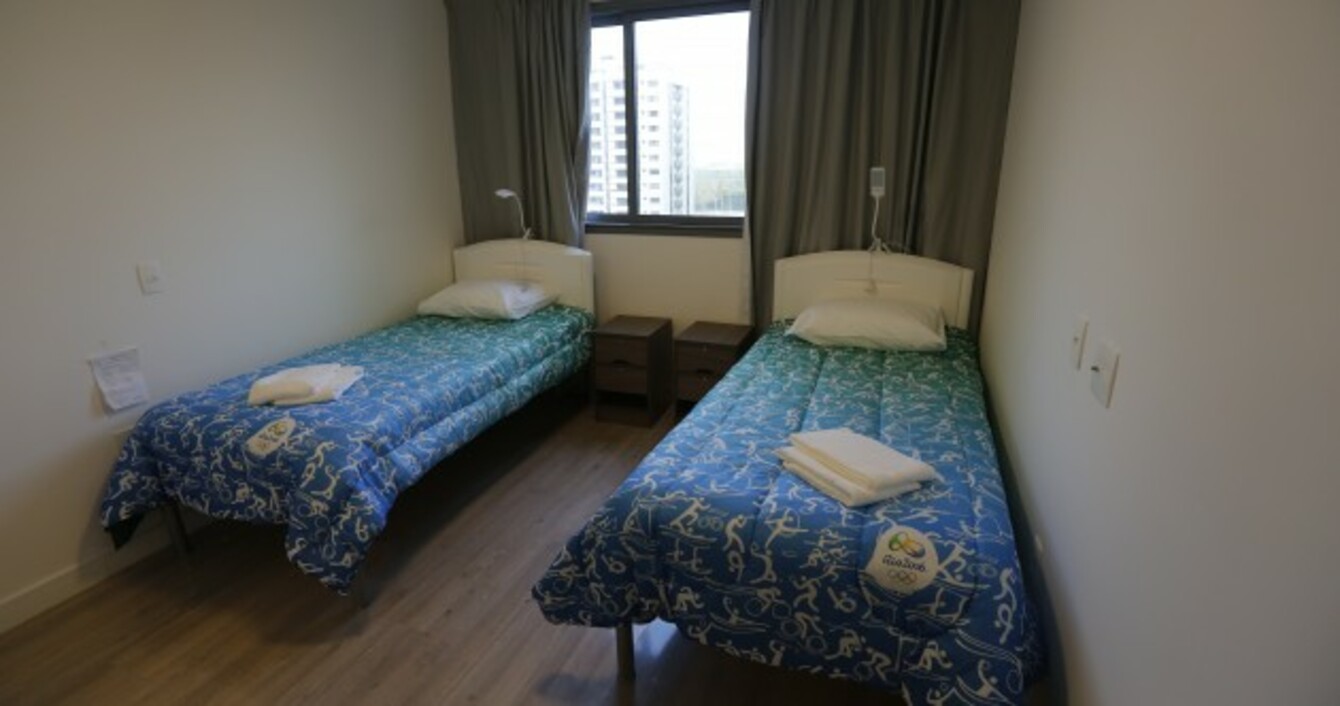 Beds in the athlete's village.
Beds in the athlete's village.
TEAM IRELAND'S CHEF de Mission has downplayed concerns over the state of the Olympic Village in Rio as the Irish athletes begin to arrive in the city.
Australia refused to moved into their accommodation last weekend, claiming it was 'uninhabitable', but Kevin Kilty insists they have experienced no such problems with the facilities.
The first wave of the 77-athlete strong Team Ireland touched down in Rio at the start of the week and there have been few complaints.
"We've had no major issues," Kilty told The42. "I arrived here on Sunday morning and we've been taking our first athletes in since. Any issues we've had have been very, very minor; things being in the wrong place and they've been fixed within a few minutes of a phone call.
"Of course you're going to find little problems. Imagine walking into your house for the first time after signing for the keys and not experiencing some teething problems.
"We're not getting any complaints at all and any of the issues for other teams or in other buildings aren't impacting us."
Over 600 construction workers have been working around the clock to ensure the village is ready for the 17,000 athletes and officials it will house for the duration of the Games.
Blocked toilets, leaking pipes and exposed wiring were among the problems reported by the Australian team but Kilty believes Rio's athlete's village is one of the best he's seen.
"I can't speak for Australia, I haven't been in their building but all I can say is that the experience we've had here has been very positive," he continued.
"We're experienced with this stuff, we know what to expect and have briefed our teams, leaders and athletes well.
"It is the Olympic village, you're not turning up to a five-star Trump resort here with a concierge and bell boys everywhere. It's an Olympic village, it's very functional but that's what it is.
"You have a shower, bed and bathroom and a fantastic dining centre and honestly I'm not just saying this but this is one of the best villages and I've been to many Olympic Games."
Kilty and his staff have been busy equipping Ireland's accommodation block, which they will share with New Zealand, with reminders of home, motivational posters and a social area.
"It's all about getting the team spirit up," he added. "We have a big 60-inch television on the wall downstairs and a physiotherapy area for the athletes. We have WiFi working in all the apartments now and we're generally just making sure the building is welcoming and very much Team Ireland.
"The hockey team arrive later tonight and we're looking forward to receiving all the athletes and their coaches over the coming days."
The42 is on Snapchat! Tap the button below on your phone to add!