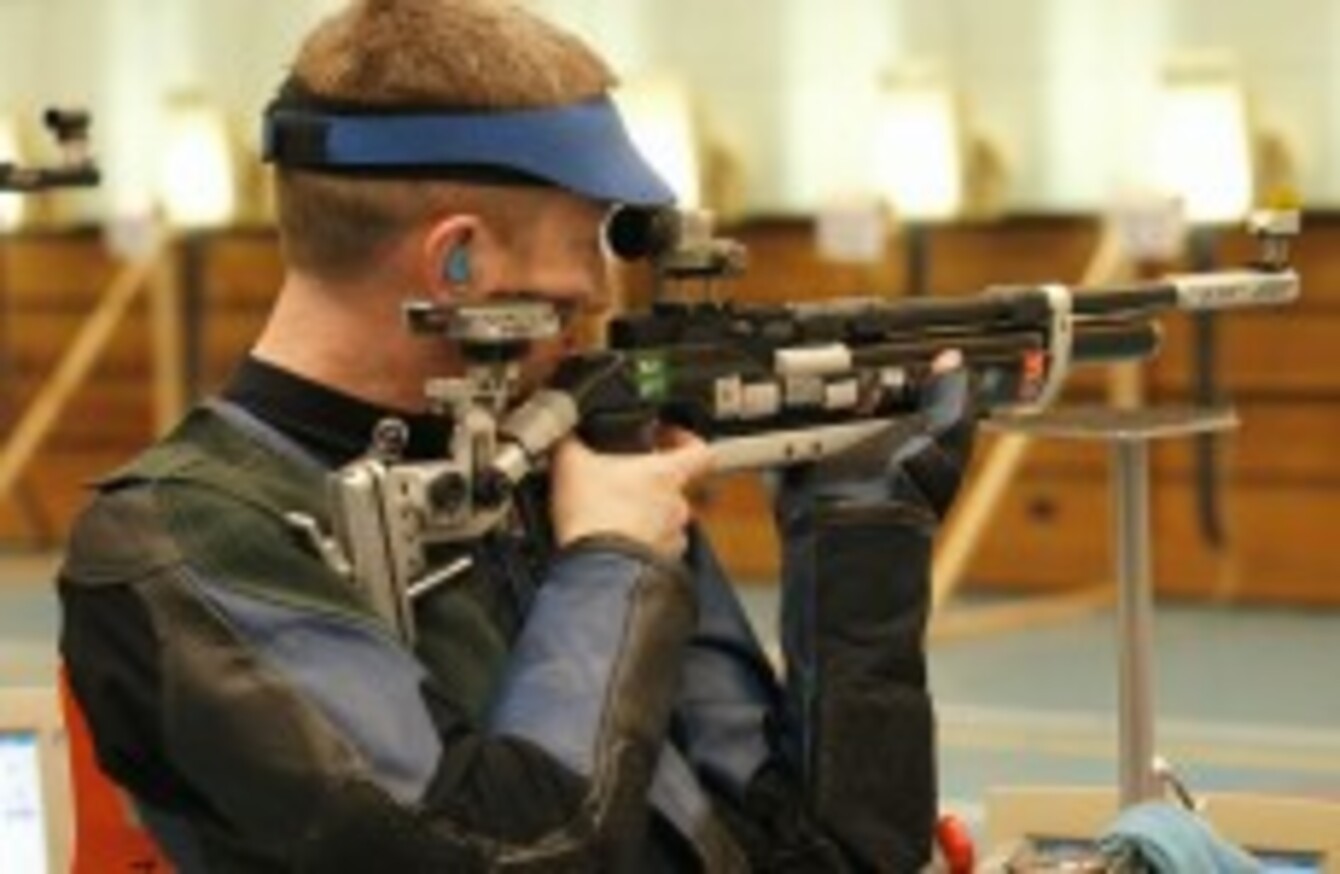 Ray Kane on his way to 6th place in the men's air-rifle
Image: Mark Dennehy
Ray Kane on his way to 6th place in the men's air-rifle
Image: Mark Dennehy
INTERSHOOT IS AN annual event in The Hague, ideal for Olympic preparation and Ireland's shooting team came away with a success which belies their paltry resources.
The team claimed two new Irish records and five out of the six managed to better the minimum qualifying score for the Olympics.
One of those records was Ray Kane's rifle score of 590 out of 600. It earned him a sixth place finish, but the five who led him were all full-time shooters, given full funding and resources to back them during their exploits.
The Irish are all part-timers, struggling to force together the means for needed to compete at an elite international level.
The group must take the time to travel across Europe for tournaments (never mind training and practice) out of their spare time and holiday allowances from their regular day-job.
Looking on longingly at the resources afforded to other national squads is Mark Dennehy. Dennehy arrived back from the Netherlands reporting of how the host nation owned their own dedicated transport for shooters and equipment. Or how the English team crossed the channel with the largest contingent, full time coaches and staff bulking up their entourage beyond Ireland's wildest dreams.
Dennehy and his team, meanwhile, are left to simply let their pistols and rifles do the talking.
Their coach, Matt Fox, had to remain in Ireland due to travel costs. Indeed, only one non-shooter travelled with the team as staff to cover the mounds of paperwork and logistics duty associated with transporting firearms.
Irish mens air-rifle team celebrate bronze at Intershoot  - Ray Kane on left, Paul O'Boyle on right, Mark Dennehy in back row)
Essential activities such as cooking duties are taken up by the competitors themselves, negating much needed rest time. To properly underline the added strain of this activity, Dennehy rhetorically asks:
"Do you know how much seven adults working 12-hour days in subzero temperatures at a rifle match can eat, and still lose weight?"
The answer is a lot, but despite the uphill struggle, Ireland still managed to get within a whisker of their heavily backed rivals. Dennehy amongst those coming away with a bronze medal in the men's air-rifle competition. The Netherlands were only 20 points better off and, silver-medallists, England just 12.
That gap, Dennehy says, could be closed with just a minor boost in funding. Currently the income is a nominal fee from the Olympic Council of ireland – not enough to cover one, never mind seven competitors – and nothing from the Irish Sports Council. That state of affairs has left Dennehy with the peculiar emotional mix of anger and pride as his cohorts keep trudging on despite it all.
"There's a part of me that wonders" Says Dennehy," in only our free time outside of our full-time jobs, we're close enough to full-time fully-funded Olympic teams. That gap could be closed with just money, and not that much money at that."
"And that part of me is desperately proud of what us little Irish shooters can manage to do."
Paying out of their own pocket to represent Ireland on an international stage inevitably leads to talk of this summer's Olympic games.
There are plenty of hurdles to overcome before that becomes a prescient matter. Next week they travel to Finland for the European Championships and, in April, they will get to test their skills on the Olympic range at the World Cup  in London, before hopefully returning for the big show in August.
As things currently stand, that is just a foolhardy dream. An aspiration that is making them haemorrhage money every time they do Ireland proud.
Yet they have no intention of doing anything else.