WELL HOW DO  you quite sum up a day like that, a day-long mass of alcohol-fuelled bedlam where your jaw hurts in the morning from all the laughing you did and you're desperately grateful for your camera so you can consult your pictures to remember exactly what happened?
You all know how the game went obviously; we got stuffed 3-1 and our limitations were exposed as I feared they would be at the rareified air of an international tournament.
If I'd watched that at home on television I'd be in a ridiculously foul mood today.
However, having been over here in Poznan at it and having had the truly unique experience of an afternoon on the march with the Green Army I can honestly say I'm only a little disappointed and am looking forward to the Spain game, fully expecting to be beaten again but eager to sample the craic of the day-long build-up again.
As always on the Irish football away trips the action for the day centred around the main square in the city (why is it that every city I've visited in the world from Bogota to Bangkok possesses a big square in it but Dublin doesn't?) packed full of thousands fans with bags of cans with the green outnumbering the red and white of the Croats by at least five to one.
Any walls, windows and fences had huge tricolours draped from them displaying all sorts of slogans, some proudly advertising where in Ireland they were from, many more containing cheeky slogans, personal favourites being the variety of slogans about the fact that we have two players called LONG + COX and another bearing the slogan 'Angela Merkel thinks we're workin'.
The singing and chanting was non-stop with a conductor hoisted on some poor lads' shoulders for half the afternoon leading the Green Army with a megaphone with the usual songs hailing past heroes like McGrath, Giles and, er, Gary Breen, mixed in with a few new ones, with a song about our feelings for Angela Merkel and a chant delivering the damning verdict in John Terry's upcoming court case featuring heavily.
Shoes off…
A highlight of the day was a variant on the old favourite 'Stand up for the Boys in Green' where pretty much everyone in the Irish part of the square sat down with everyone sushing, which slowly reached into a crescendo when everyone jumped up with the chant 'Jump up for the Boys in Green' — it was one hell of a sight, thousands of people jumping up and singing at the same moment. It later evolved further, as these songs can do, into 'Shoes off for the Boys in Green' with everyone jumping up and down waving their shoes in the air.
Pretty much everyone was sporting a green jersey of some sort with then the usual nutters taking their allegiance a step further with a few lads dressed head to toe as oompah-loompahs and one brave soldier wearing an all-in-one figure-hugging tri-colour morph suit.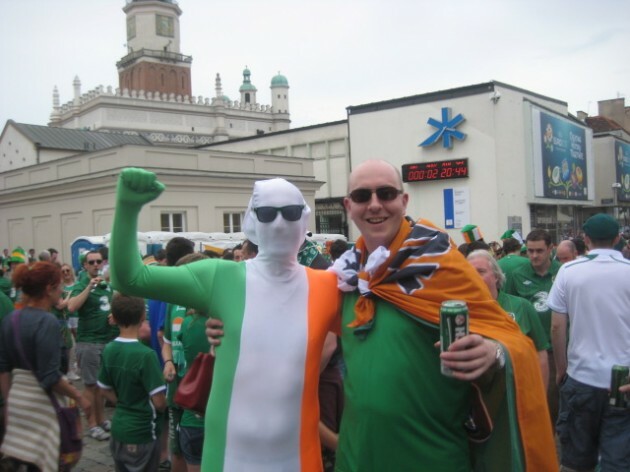 It was a carnival atmosphere all day with the colourful, friendly Croats adding hugely to it, particularly exemplified by that part of the footballing world's love of flares which always make for spectacular viewing. The locals passing through I could see were viewing the scene with a mixture of amusement and bewilderment, struggling to take in the fact that thousands of these colourful loud foreigners were on the absolute lash in their city's main square yet happy that these exotic visitors seemed to be having the time of their life in Poznan.
As can be expected there were many people in various states of drunkenness, some still going from the night before, and one of my mates woke up a lad who was asleep on the street in the main square who it transpired had lost all his mates, his phone and couldn't remember where he was even staying. So we adopted him as 'the stray' — as we named him — a situation we didn't regret until a few hours later when he vomited into my bag of cans.
Unsurprisingly I bumped into many people from past stages of my life, people from old workplaces, school, social circles and one lad who I worked with years ago who had just jetted in from Australia where's he's been living the last few years, a reunion which was tempered by the fact that I couldn't remember his name, something which, sadly, I think we both became aware of but neither of us said it.  Although there is a lad staying in my hotel who calls me Liam so I feel his pain.
No need for me to comment on the game for you here, you all saw it and all suffered it enough already.
Suffice to say for the 90 minutes and more the Green Army sang up, sang loud and did the Irish fans' good reputation proud.
Now I'm going back to bed for a siesta — my head is thumping!