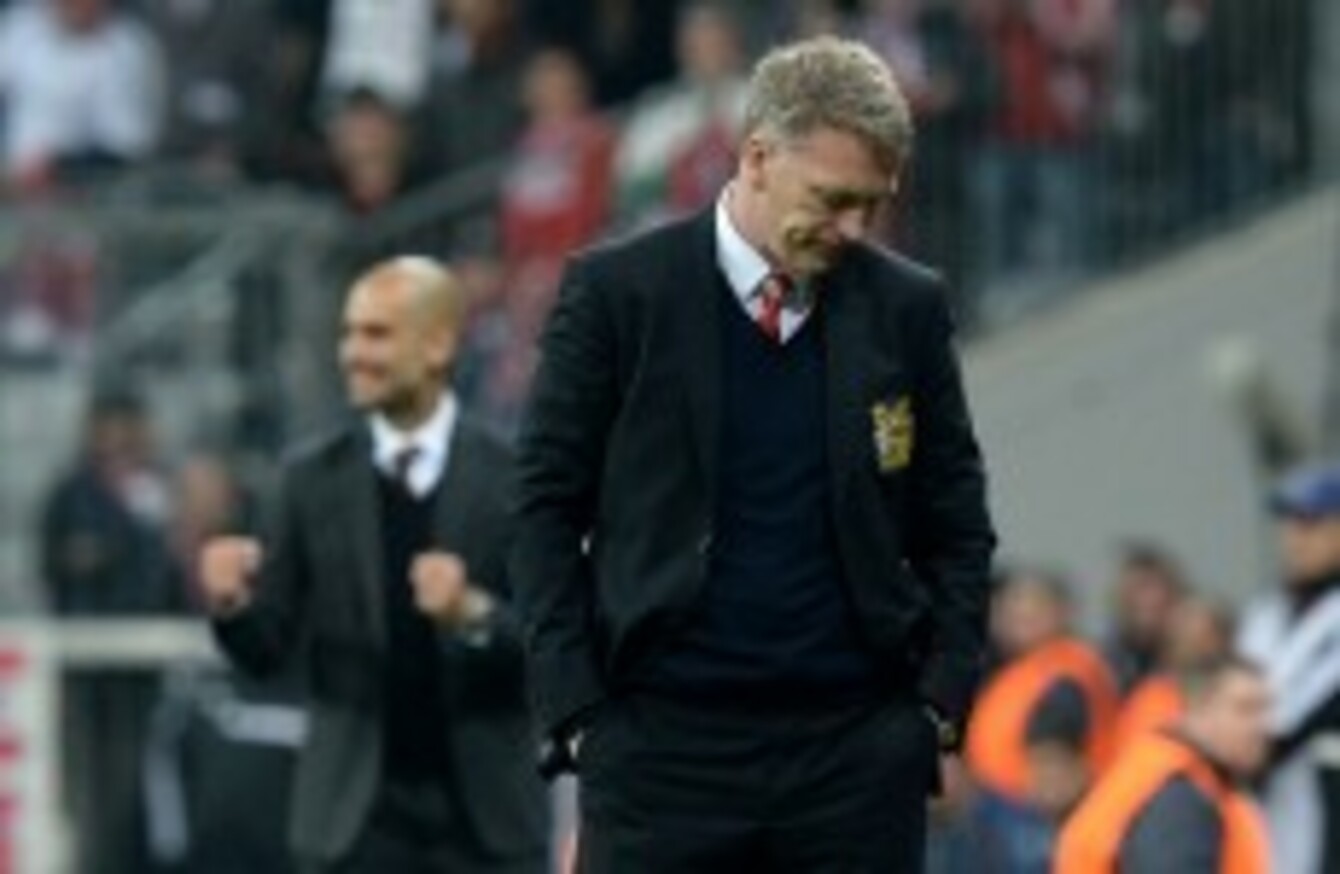 David Moyes shows his dejection during his teams 3-1 defeat against Bayern Munich.
Image:
PA Wire
/Press Association Images
David Moyes shows his dejection during his teams 3-1 defeat against Bayern Munich.
Image:
PA Wire
/Press Association Images
UNDER ALEX FERGUSON, it was once memorably remarked that Manchester United "just don't know when they're beaten". Under David Moyes, however, it seems they are in fact acutely aware of when they're beaten.
During Fergie's reign, the tendency to snatch improbable victories from the jaws of defeat became a recurring theme, whereas there was a defeatist air about their loss to Bayern Munich last night. While they performed better than expected and were right to adopt such a cautious approach given the context of the situation, Moyes' assertion that he was "pleased" with United's performance will rankle fans accustomed to the exceptionally high standards of Ferguson-era United, especially amid a game that encompassed the limp concession of three decidedly avoidable goals. Accordingly, it's almost impossible to imagine Moyes' predecessor speaking in such positive terms about a comprehensive Champions League loss.
Moreover, the general consensus after last night's defeat was that Manchester United's season was effectively 'over,' and it's hard to argue with this widely-held belief. The Red Devils are out of the title race as well as all cup competitions and are set for a rare trophy-less season — something that has previously occurred just three times since the turn of the century (unless you count their defeat of Wigan in the Community Shield at the start of this season).
And when it was suggested that United's campaign was as good as finished after last night's loss, Moyes failed to challenge this point and instead unconvincingly argued that big players would be attracted to the club despite the anticipated lack of Champions League football on offer.
And whatever about these contentious remarks, the fact that Moyes has neglected to deny the comments that their season is over is telling. Even if the ex-Everton boss deep down believes that United no longer have anything to play for, it is arguably unwise to publicly say as much, which Moyes is effectively doing by accepting reporters' assumptions on the topic.
Instead, he should be insisting that Europa League qualification is important and promising that his side will fight for every last point this year — from next season on, the competition's winners will gain entry into the Champions League, and with the Premier League undoubtedly the most competitive domestic competition in Europe, United's best opportunity to gain a place in Europe's elite competition in 2015-16 may be via this alternative route. Granted, regularly playing on a Thursday takes its toll physically, but as Bryan Robson recently inferred, a club as big as United should relish this challenge.
Furthermore, Moyes should be publicly asserting that United are still vying for a Champions League spot as long as it is mathematically possible. Everton have a tough run-in, and the Old Trafford outfit are still just seven points behind Arsenal, whose form has been patently erratic lately. Granted, even allowing for these factors, it would take a near-miracle for United to qualify for the Champions League, but the Scot should accentuate the positives regardless. Yet instead, he appears to be meekly acknowledging that United's season is indeed over.
And Moyes' recent behaviour is typical of how he has approached management throughout his career. He is honest, pragmatic and an innate pessimist — a lesser-team's manager on every level, albeit a fairly successful one. Ferguson, by contrast, was an eternal optimist — someone who rarely acknowledged United's weaknesses, who invariably refused to accept that his side were beaten by the better team and who instead directed his wrath almost exclusively towards referees and opposition managers.
On the one hand, Moyes' geniality has been commended because it is so refreshing to witness, but crucially, most highly successful coaches in recent years have followed the Ferguson template — Jose Mourinho, Pep Guardiola and even Brendan Rodgers all to an extent possess the abrasive aura for which Sir Alex was renowned. And while the 50-year-old Scot deserves praise for the dignity with which he has consistently handled United's ongoing crisis — there is a sense sometimes that he is too honest, too disconcertingly negative and ultimately too naive in making his public pronouncements. On more than one occasion, the embattled manager has expressed bafflement as to why United have lost a specific game — while he is ostensibly speaking openly, such talk does not present a good image and inspire confidence in those around him, instead suggesting a man with a failure to understand the complexity of his side's problems.
Even when he insists his side played well following another crushing defeat, Moyes usually fails to come across as convincing and reassuring, while increasingly vociferous dressing-room rumours suggest he is similarly inept at motivating the players at his disposal. In press conferences, he seldom projects the aura of a confident man — his default setting of late has been engaging in conspicuously downbeat talk of rebuilding the club and of the squad being in a transitional period. His recent admission that United should aspire to Manchester City's standards, meanwhile, added insult to injury.
Tim Sherwood recently stated that, unlike some of his contemporaries, he is "not an actor" (the comment was an apparent dig at his main managerial nemesis Mourinho). Yet, ironically, this statement itself is surely somewhat misleading. No Premier League manager would last long by speaking completely truthfully all of the time, though the best ones always at least appear to mean what they say most of the time. Indeed, perhaps more than anything else, management nowadays is about performance and acting, both to placate the increasing millions of TV viewers with an appetite for controversy and premature indignation, and to refrain from upsetting the multi-millionaire players, with their delicate, inflated egos.
Consequently, one of Moyes' fundamental problems appears to be that he is a bad actor. At a club such as Everton, this was perhaps not quite as big an issue, but given the scrutiny that the United boss is normally under, it is an essential part of the role.
Therefore, the all-too-painful truths that Moyes has been spouting with increasing desperation and regularity of late may be the hallmarks of a grittily realistic drama, but they surely have no place in the fantasy world of Manchester United.