THERE IS A common saying in football — 'if you're good enough, you're old enough' — and Aston Villa teenager Jack Grealish certainly backed it up with his performance in the FA Cup semi-final yesterday.
The 19-year-old played an instrumental role in Liverpool's downfall. He laid on an assist for Fabian Delph's winner and also was involved in the build-up play for Christian Benteke's equaliser, while in general, the youngster delivered a performance that was full of energy, intelligent movement and incisive passing.
Grealish has been excellent since starting his first Premier League match against QPR, also featuring in Villa's surprise 1-0 win over Tottenham, with the midfielder benefiting from new coach Tim Sherwood's renowned tendency to place faith in youth.
Under previous boss Paul Lambert, Grealish seldom looked like establishing himself in the side, despite the occasional substitute appearance. There is a mindset among certain coaches in football that young players cannot be risked in big games — and Ireland boss Martin O'Neill appears to subscribe to this mentality.
Grealish has yet to unequivocally commit to the Ireland senior team after taking a year out from U21 duty, though the player has hinted that he is ready to maintain his allegiance to the Boys in Green.
But asked whether it was regrettable that Grealish was unlikely to be available for the side's upcoming vital Euro 2016 qualifier at home to Scotland in June, O'Neill gave a forthright response.
"Well, no it isn't," he is quoted as saying in The Sunday Times. "I'm not so sure I would be ready to put that type of pressure on some young kid just because he made his mind up to play for us. The game [against Scotland] is too big."
Yet is Grealish really not as well prepared to face Scotland as, say, Aiden McGeady, who has not played for Everton since January? Or Kevin Doyle, who has struggled for first-team football at Wolves? While his game time over the course of the season may be sporadic, not many current players in the Ireland squad have the experience of playing, let alone starring in, an FA Cup semi-final.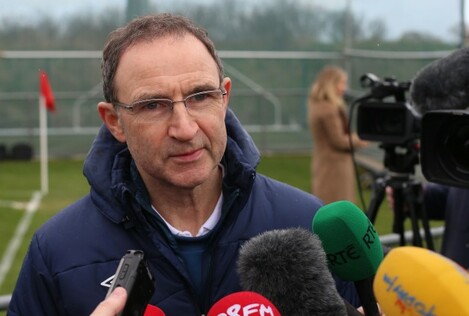 Source: Niall Carson
(Ireland boss Martin O'Neill has expressed doubt as to whether Jack Grealish is ready to play against Scotland should he choose to declare for Ireland)
Be part
of the team
Access exclusive podcasts, interviews and analysis with a monthly or annual membership.
Become a Member
Moreover, the young winger has started Villa's last two Premier League games amid their struggle to avoid relegation, in addition to yesterday's match at Wembley. From Grealish's perspective, these matches surely must seem just as big, if not bigger than the Scotland game.
Granted, after just three matches, it is premature to suggest the Villa starlet is deserving of a place in Ireland's first XI, but surely the Birmingham-born footballer has already shown enough to suggest he possesses the necessary quality to earn a place in the squad at least.
On the one hand though, it is easy to see where O'Neill is coming from. There is considerable hype surrounding the player, and there is a case to be argued that, with his latest comments, the ex-Celtic boss is purely trying to decrease the level of pressure on the youngster, and that he is not necessarily ruling out putting him into the action against Scotland (assuming Grealish is willing to play in the first place, of course). This is the same manager, after all, who gave Aiden McGeady his Celtic debut at the tender age of 18.
Perhaps it was a piece of reverse psychology on O'Neill's part, and if it was, it certainly worked yesterday, as Grealish showed he is anything but unprepared for the big occasion against Liverpool.
Yet it is more likely that O'Neill meant what he said. The 63-year-old Derry native is considered a conservative coach by nature. This perception is highlighted by his suggestion last year that he was reluctant to play one of the Irish team's best attacking outlets — Wes Hoolahan — in away matches.
But Grealish has already arguably undermined one coach's reservations. Much to the youngster's dismay, Paul Lambert also clearly thought the winger was not ready to be thrust into Premier League action on a regular basis, yet the supposedly more reliable first-team players invariably let the Scottish manager down, leading to his eventual dismissal as Villa boss.
Ireland are currently struggling to a degree in their group, meaning this summer's clash with Scotland is effectively a must-win game. A series of uninspired performances and below-par results have left the fans somewhat disillusioned. Rather than the same old predictable fare, the team need energy, skill and spontaneity at the Aviva Stadium in June — and Grealish might just be the player to provide the necessary spark.