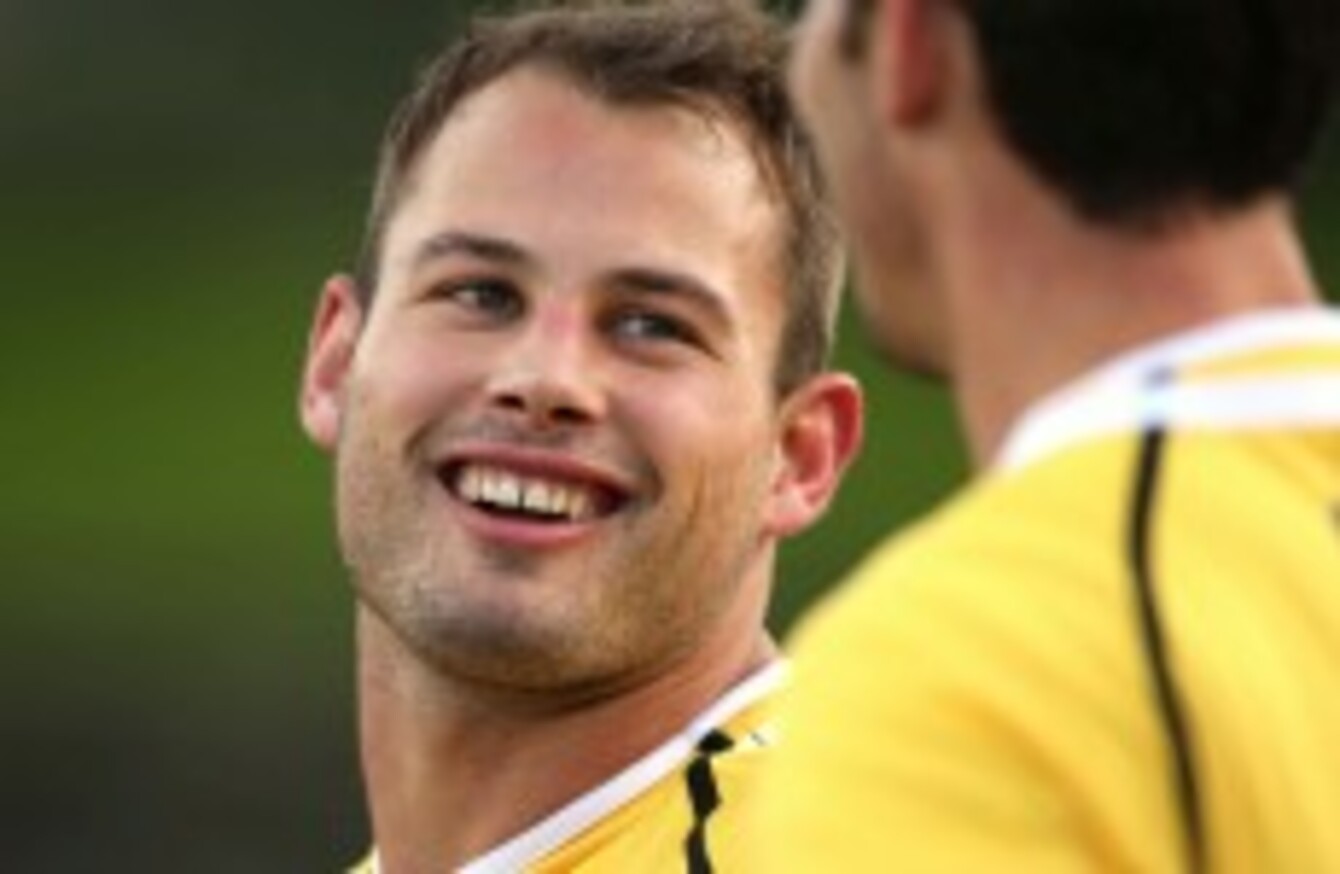 Springbok star Francois Hougaard during squad training at Blackrock RFC.
Image: INPHO/Billy Stickland
Springbok star Francois Hougaard during squad training at Blackrock RFC.
Image: INPHO/Billy Stickland
THE SPRINGBOKS COME here as a team in transition having had a disappointing Tri-Nations tournament.
Ireland on home soil should be capable of securing victory in these circumstances. However I don't think this will be the case.
Although a team in transition all Boks teams play a game based on power, a good kicking game and strong athletic backs who are brought into play once the opposition have been softened up.
They are very focused on getting across the gain line from all phases of play.
This team will do all the same things albeit with new blood, some of whom will add to their game. They have introduced a young fly half, Johan Goosen who can attack the line and will bring some flair to the number 10 position; he reminds me of a young Henri Honiball. This has been lacking in the Boks game for some time.
Another to watch is Eben Elzebeth in the second row. He is both powerful and athletic and has been preferred to flip Van der Merwe long felt to be the heir apparent to Bakkies Botha. Alongside the more experienced Andries Bekker he will be a handful for O'Connell and company.
Ireland will need to at least achieve parity in the set pieces including the kick offs. This will not be easy. The introduction of Strauss will mean new combinations in the lineout putting added pressure on the jumpers. Rory Best will be sorely missed in the scrum as well as his leadership and experience around the field. It is not fair to expect Ricardt Strauss to replace all that Best brings to the party in his first outing.
Much depends on what game plan Ireland adopts. The absence of O'Driscoll and Kearney severely limits Kidney's options. So much of what is done in the three-quarter line is decided at 13 and 15. Kidney has left himself very vulnerable. At this stage of Brian O'Driscoll's career you have to assume that injuries will play a part.
Despite options being available we have not constructively explored any of them. We have many good wingers and at this stage we should have established if Tommy Bowe has a future in the centre, if Ian Madigan has a future in the centre, if Simon Zebo has a future at full back, etc.
Front up
Kidney now finds himself facing the Boks with a makeshift backline. So how does this influence his game plan. I don't think it's a good idea to get into a wrestling match up front. Ideally we would like to move them around and run at them from quick ball. To do this we need a true open side. Sean O'Brien is injured. Last week we were trying out Peter O'Mahony at no 7, a bit late maybe?
So to summarise we don't have a clear idea as to who our second choice is at 2, 7, 13 and 15. This lack of foresight is the same lack of foresight that led to Paddy Wallace being flown half way round the world to be beaten 60-nil by New Zealand.
I am very concerned for Ireland on Saturday. I think I will be watching the game and half way through asking myself what are they trying to do? We must try to move them around and I hope that Kidney picks Eoin Reddan — he is in better form than Conor Murray and is quicker off the floor. It would also be better for Ricardt Strauss in his first international. Combinations and teamwork will be important.
Southern hemisphere teams are more competitive at the breakdown. If we are to win this game all 15 players will need to be prepared to up their intensity in this area particularly without O'Driscoll. Getting sufficient numbers to the breakdown is vital in setting the pattern for the game. The Boks do a lot of picking and driving. They play a much more direct game than the Wallabies or the All Blacks. There is no excuse for getting caught out in this area.
Be part
of the team
Access exclusive podcasts, interviews and analysis with a monthly or annual membership.
Become a Member
Whatever game plan Kidney adopts we need to compete in this area, slowing the ball down and getting them to turnover a percentage of it. We have a new defensive coach. If he adopts a strategy of putting them under maximum pressure at all times this will create the platform to achieve those turnovers.
This also suits the Irish psyche.  The match against Wales last year was an embarrassment defensively. If we do that against the Springboks it will be over by half time.
So we have two teams neither of whom has a settled side but Ireland is at home. Every Springbok demands of himself that he win whether he is good enough or not. I think their belief and their basics will be better than ours. I hope I'm wrong.
By Emmet O'Rafferty,  former second row forward for Leinster and chairman of Top Security which operates a security business in Ireland and South Africa.