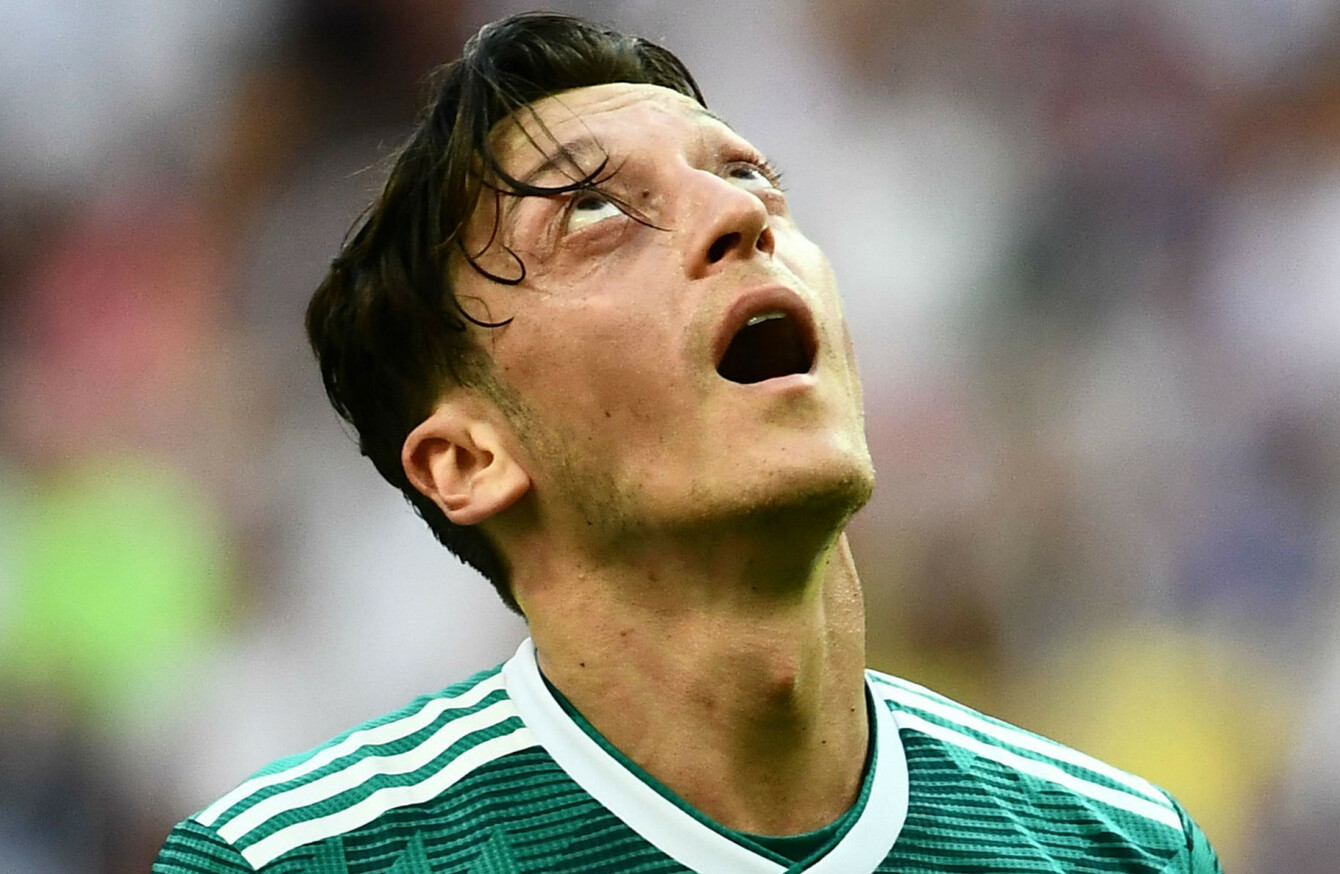 Mesut Ozil (file pic).
Mesut Ozil (file pic).
THE SCAPEGOATING OF Mesut Ozil in the wake of Germany's early exit from World Cup 2018 has been branded "pathetic" by Erdal Keser, with Oliver Bierhoff considered to have hit "below the belt".
The national team's public relations manager is the latest to have criticised the Arsenal playmaker on the back of his disappointing showings in Russia.
Ozil sparked controversy prior to the showpiece event with his actions off the field, which saw him appear with Turkey president Recep Tayyip Erdogan alongside Ilkay Gundogan, while his performances on the pitch saw many uncomfortable questions asked.
Bierhoff has suggested that Germany should have considered leaving the 29-year-old out of their plans after crashing out of a World Cup at the group stage for the first time in 60 years.
Former Turkey international Keser is, however, of the opinion that criticism of Ozil has crossed the line, telling Sport1: "I think it's pathetic.
"That may sound bad, but what Bierhoff did was below the belt.
"It is not fair if the struggles at the World Cup are tied to these players and the DFB allows that to happen, or fuels it. That would be cheap."
Bierhoff told Welt when discussing the furore which has surrounded Ozil: "We never forced any player of the national team to do something, but we always tried to convince them."
"We haven't succeeded with Mesut. That's why we should have thought about leaving him out from a sporting point of view.
I think the fact that Mesut and Ilkay took these pictures did not keep the team busy. But the debate afterwards did. Looking back now, I would try to be clearer regarding this topic."
While condemning those comments, this is not the first time that Keser has hit out at the German game.
A man who took in two spells with Borussia Dortmund during his playing career in the 1980s has previously suggested that players with non-German heritage are the first to be condemned.
He told 11Freunde: "In my time it was even more extreme, there were only two foreign players per team, but in principle it's the same as nowadays.
"If players like Ozil see their standards dip, they are the first to be attacked."
The42 is on Instagram! Tap the button below on your phone to follow us!