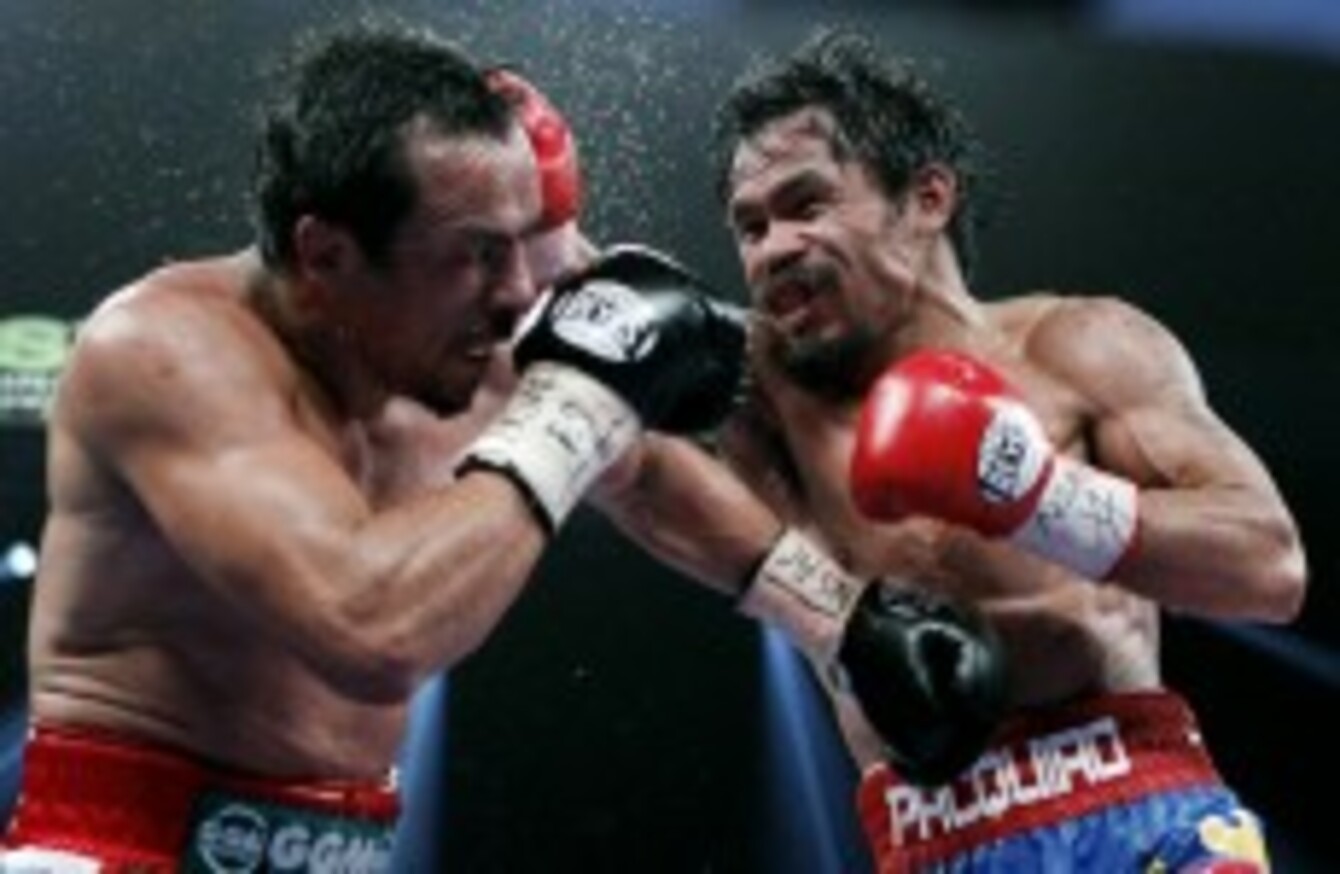 Manny Pacquiao (right) hits Juan Manuel Marquez
Manny Pacquiao (right) hits Juan Manuel Marquez
MANNY PACQUIAO WAS taken to the limit on Saturday night before escaping with a majority decision win over rival Juan Manuel Marquez in their welterweight title fight.
Pacquiao won two scorecards, while the third ringside judge had the bout marked down a draw. It was a narrow escape for the Filipino congressman, who took as much punishment as he got over 12 rounds.
The third fight between the two was as close as the previous two and by the time they finished 12 rounds, the outcome was still in doubt. Pacquiao won some rounds with sheer agression, while Marquez won others with brilliant counterpunching, keeping Pacquiao from getting inside.
Marquez was a 7-1 underdog, but it was clear early on he would be right in the fight. He picked Pacquiao apart with right hands almost every time he tried to get inside and landed good, hard flurries throughout the fight.
Pacquiao was the aggressor throughout and landed some sharp punches of his own. But when the decision was announced, the crowd booed roundly and – once again – Marquez had lost a close fight.
One ringside judge had it a 114-114 draw, while two others favored Pacquiao by 115-113 and 116-112. The sellout crowd at the MGM Grand arena threw bottles and cans toward ringside after the decision was announced. Marquez, who had been bitter about the scoring in the first two fights, stormed out of the ring.
Pacquiao continued his remarkable run with the win, but it didn't come easy. He had trouble finding his range all night and, when he did get inside, Marquez often moved to the side and landed a counter right hand.
"My fans are very happy because they thought I won," Pacquiao said when asked about the crowd reaction.
Marquez fought going backward all night, and that might have been his undoing. While he landed well at times, Pacquiao was in his face most of the night.
"I got robbed," Marquez said. "I don't know what else I can do to win."
Pacquiao earned a minimum $22 million for the fight, while Marquez got $5 million.
Tweeting afterwards, ten-time world champion Oscar De La Hoya was firmly on Marquez's side.
[caption id="attachment_278217" align="aligncenter" width="363" caption="Oscar De La Hoya gives his verdict on Twitter..."]
[/caption]