1. Kildare grateful that Brophy stayed put
Paddy Brophy applied the coup de grace to a stunning performance with that winning point for Kildare yesterday. In an open and high-scoring encounter, the U21 player punched holes in the Mayo rearguard and chalked up six points from play.
The display was an opportunity for Lilywhite fans to be thankful for Brophy's presence as they got their Division 1 campaign off to a flying start. Last October they lost one of their brightest talents when Daniel Flynn signed a two-year contract with Port Adelaide.
Other AFL sides also sounded out Brophy but he resisted the offers and stayed put. NUI Maynooth, Celbridge and Kildare all stand to benefit in 2014.
2. Will the black card lead to a surge in high-scoring games?
The opening of the football league in 2013 yielded 29 goals and 373 points across the sixteen games in the four divisions. The corresponding set of fixtures on the weekend just gone saw 37 goals and 410 points being put on the board. That's a 27% increase on the number of goals scored and a 10% increase in the numbers of points scored.
Is that a coincidence since the black card was introduced? There was reliable testimony from players like Kevin Reilly and Donnchadh Walsh that the new ruling has made players more aware of the need to be more careful in their tackling.
The open spirit in which games unfolded like Meath and Galway's seven-goal thriller in Navan and the Kildare-Mayo clash in Newbridge, points to a greater emphasis on attacking and a creation of greater entertainment levels. The impact of the black card will be better judged when the stakes are higher. But the early signs are not bad.
Meath's Eamonn Wallace and Gary Sice of Galway
Pic: INPHO/Tommy Grealy
3. Dublin players eager to put their hand up this season
With only five players who started on last September's day of glory, Dublin fielded a different side for last Saturday night's league opener.
Yet in fashioning victory by a point over Kerry, they showed that plenty players in their side are eager to put their hand up for selection in 2014. For Michael Fitzsimons, Alan Brogan and Eoghan O'Gara, the quest was to put injury travails behind them.
While Eric Lowndes, Shane Carthy and Cormac Costello are trying to fast-track their graduation from the 2012 All-Ireland minor winning team. In victory Jim Gavin was given further proof of the array of options at his disposal.
4. Patience needed with Cork's style change
"It's early days, and probably what we're asking them to do is a lot different to what they've done before." Cork manager Brian Cuthbert plainly pointed out yesterday how his side will be maintaing their adoption of a different style approach this season.
The kinks were obvious against Westmeath in their tentative first-half showing yet the nine points they reeled off on the trot in the second-half sealed their victory and expressed what they are trying to achieve. Kildare next Sunday will be a sterner examination of a work in progress.
Be part
of the team
Access exclusive podcasts, interviews and analysis with a monthly or annual membership.
Become a Member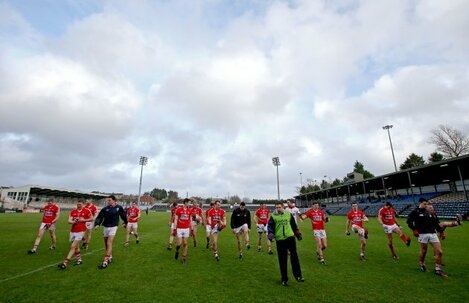 Cork players warm down after their match against Westmeath
Pic: INPHO/Ryan Byrne
5. Donegal explode from the blocks
Last year they were struck down by injuries, relegated to Division 2 of the league, lost an Ulster final and crashed out heavily against Mayo in the All-Ireland quarter-final. But consigning 2013 to the past, Donegal took to 2014 in style yesterday in Portlaoise.
Last July, Donegal's six point win over Laois in the championship in Carrick-on-Shannon was hard-earned but they were in complete control of this tie yesterday. They had only eight survivors from that starting side last summer but crushing their opponents away from home by 13 points must have pleased Jim McGuinness.
6. Leighton Glynn returns to make telling contribution for Wicklow
Wicklow were forced to operate without one of their best-known players last year as ankle problems curtailed Leighton Glynn's involvement. He was back in harness yesterday for their 2014 league opener and was in the thick of the action from the start against London.
By half-time Wicklow were 14 points clear and well on the road to victory. Glynn had wasted little time leaving his mark as he fired home three goals in that time frame. It's a great springboard for Glynn for the season ahead.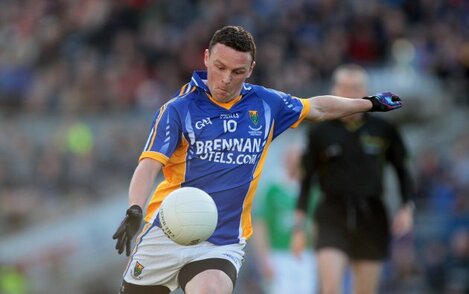 Wicklow's Leighton Glynn
Pic: INPHO/Cathal Noonan