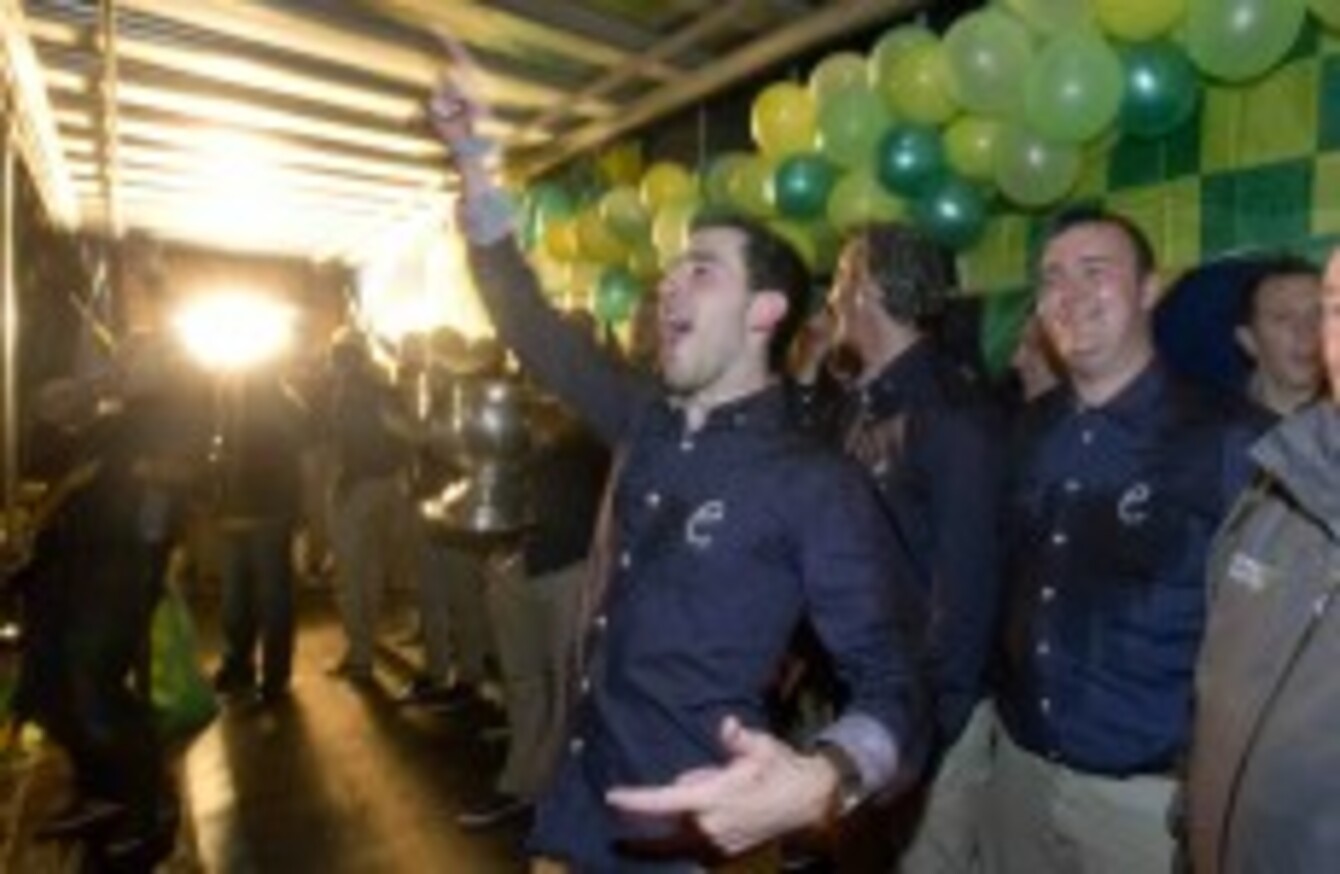 McBrearty celebrating Donegal's All-Ireland win.
Image: INPHO/Morgan Treacy
McBrearty celebrating Donegal's All-Ireland win.
Image: INPHO/Morgan Treacy
PADDY MCBREARTY MAY have lifted Sam Maguire in front of 82,000 people back in September but last Sunday he got a glimpse of what could have been at Wembley Stadium.
As a boy, the Donegal forward was a talented soccer player and was courted by a number of top clubs across the water before being called up to the inter-county team at minor level and setting his sights on a career in Gaelic football. He would travel from his hometown of Kilcar to Killybegs in order to line out for St Catherine's – the same club that produced Everton's Seamus Coleman.
McBrearty, now 19, earned himself a couple of Ireland caps at U15 level, where he struck up a friendship with fellow Donegal native Carl McHugh. The pair were joined by Brian McRory for a week's trial at Celtic and while McRory suffered a torrid time with injuries, McHugh has since gone on to make a name for himself in English football.
Despite their League Two status, Bradford City upset the odds by beating Arsenal and Aston Villa en route to reaching this season's Capital One Cup final – where they lost out to Swansea. McHugh featured at centre-half that day and although McBrearty wasn't one of the hundred-odd people who travelled over to cheer him on, he says they're still good friends.
"I had a Donegal U21 match and we were training the weekend but I got over to the Arsenal game a few months back," McBrearty said. "It's great to see him doing what he is doing now and getting call ups to the Ireland U21 squad and it can only be the start of good things for him."
Gordon Strachan was the Hoops manager during their short-lived spell in Glasgow and, unknown to McBrearty, a future boss was also keeping tabs on the young trio. A member of the back-room staff, Neil Lennon has since stepped up to take the reigns and recently reminded McBrearty of the trial when the two met at a function.
The late Tommy Burns took them through training drills while they even got to feature as ball boys during a Champions League tie with Spartak Moscow.
It was fantastic," he recalls. "The first day we trained with the youth team and the day after we trained with the reserves. Two players I remember who were high profile at the time were Bobo Balde and Thomas Graveson and we trained with them.
"They said they were going to bring us back at the mid-term but Tommy Burns unfortunately got sick with cancer and something happened with the youth system and everything got wiped off.  I wasn't that interested and was just glad to get over  and have the trial and the whole experience. It is obviously a great thing to say you were on trial with Glasgow Celtic."
After that, a trial with Middlesbrough was turned down due to the passing of his uncle and the Tir Conaill Men came calling the following summer.
"My father constantly gets onto my back that 'you should have went here' but last September I could say to him 'Now listen, you are having a good time over this!'.
McBrearty alonside Neil Lennon and Nicky Byrne. Credit: donegaldaily.com
McBrearty also took part in a series of try-outs for AFL last year. After attending a camp in Dublin, he was invited to London last April and while he agreed to go, says it wasn't for him.
"I made my intentions clear that I didn't want anything interrupting my preparations with Donegal because they were my main focus at the time.
"After the Kerry game, I kind of said 'I don't think this is for me'. I was on a trial in London and I didn't like the game personally.
After that I said, 'Nah, it's not for me. I'm going to settle down, get my university and hopefully go on and win a few more provincials, fight for a few more All Irelands.
"It was a good experience. It was also a good thing to be able to say you were in an AFL trial.
And does Ciaran Kilkenny's recent return from Australia reinforce his decision?
"It definitely does. I was actually talking to Ciaran out there. He didn't like the game as well. As I said to him, 'if you win a few more All-Irelands or provincials, maybe it's something you might look at again'."