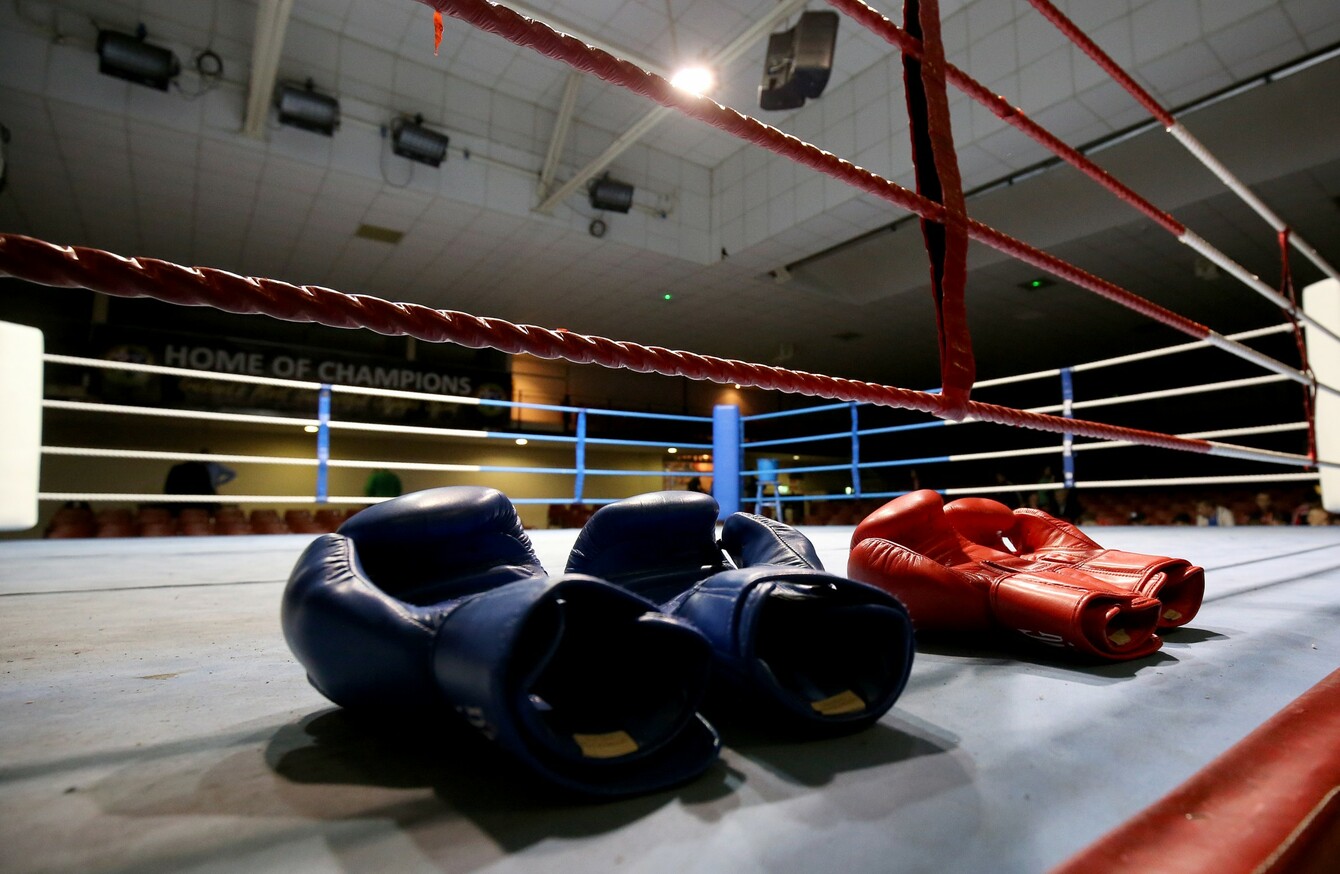 Image: Oisin Keniry/INPHO
Image: Oisin Keniry/INPHO
MULLINGAR'S PADDY MCDONAGH shocked Steve Collins Junior to take home the Irish light-heavyweight title after a compelling scrap at Dublin's National Stadium.
After a ferocious back-and-forth, the superior boxer on the night regained the strap he last held in 2012 on referee David Irvine's scoreline of 97-94.
McDonagh, two years younger, landed flush with a straight left hand in the opening exchanges, sending the colossal Collins crashing to the canvas. The Castleknock man sprung back to his feet unhurt but furious, and fought the rest of the round through gritted teeth, failing to find his range as McDonagh – not renowned for his power – landed at will.
That pattern continued into the second before Collins established himself in the contest with some ferocious body work, and a right hand over the top which put McDonagh on the retreat.
By the third, Collins seemed to have achieved at least parity, imposing his physique on his stylish opponent and finishing the round strongly against the ropes, sending an amalgamation of McDonagh's spit and sweat careening towards press row. He finished the fourth strongly, though the Mullingar southpaw might well have earned the round with his key weapon, that straight left again, this time laser-like in its pursuit of Collins' solar plexus.
Collins spent much of the fifth playing rope-a-dope, luring his opponent inwards but failing to open the trapdoor. Indeed, he probably came off worse for it, as McDonagh frequently foiled his plot with superior timing and head movement. By the turn of the fight, however, Collins – whose shots had failed to make any significant impact upon his opponent to that point – seemed to have loosened up, and began throwing with far more fervour. Into the seventh and an all-out war broke out, with both fighters trading with reckless abandon at centre-ring, much to the guttural excitement of a vociferous crowd.
At this juncture, the pattern of the fight had been determined; somewhat surpisingly, it was the naturally smaller Mullingar man McDonagh who bossed most of the physical exchanges up close, with a somewhat more lethargic Collins digging extraordinarily deep to simply outwork his opponent. Collins' father, no stranger to such wars, spent the last three rounds dashing from the media seats to the edge of the ring, pleading with his namesake to let his hands go. In truth, it seemed the younger Collins was throwing as many shots as he could physically muster.
The pair embraced at the beginning of the final round, McDonagh planting a kiss on his dogged opponent seemingly as a testament to Collins' unadulterated will to win. He needed more in the final three minutes, however, and in spite of a gallant effort with which he marched McDonagh backwards, it wasn't quite forthcoming on the night.
McDonagh was thoroughly deserving of his victory, while Collins too earned the rapturous applause from both sets of fans at a caldron-like Natinal Stadium.
The latter first laced up a pair of gloves just four years ago, and lost a full year of his pugilistic development to injury. A talented former rugby prospect, the Dubliner won an AIL title scrumming down in the front row for Landsdowne back in 2013, and strolled into his uncle Paschal's Celtic Warrior Gym soon afterwards as an alternative means of keeping fit during the off-season. A week later, in spite of having previously earned short-term deals with Leinster Rugby, London Wasps and London Irish, he decided that boxing was his calling despite fighting such a narrative for the bones of his adult life.
As a hooker he tipped the scales at a muscle-bound 102kg, but weighed in at 79kg ahead of tonight's Irish title showdown with McDonagh. Such a cut might well have been a factor in a display which at times seemed void of explosiveness, but in truth, McDonagh was vindicated in his frequent pre-fight assertions that he was the considerably superior pure boxer of the pair.
The slick southpaw proved himself Ireland's finest light-heavyweight, and moves to 11-2, with Collins falling to 10-1-1.
Earlier in the card, Mayo's former European amateur champion Ray Moylette bested Dutch-Nigerian Innocent Anyanwu, 25-21-3, a late replacement for – but marked step-up from – previously scheduled opponent Arnold Martinez.
Bellowed into the ring by a typically vocal Mayo contingent, and sporting iconic 'Sugars' Ray Leonard and Robinson on either side of his trunks, Moylette buckled his opponent with a wide right hook halfway through the second stanza, before enduring a nervy moment of his own with his back to a neutral corner in the fourth. A patient Moylette continued to sting his opponent, however, and had him dancing in the sixth with a nuclear right uppercut from the ropes.
Ultimately, Anyanwu's chin held strong, and Moylette was awarded a deserved decision over six rounds. The 27-year-old Islandeady native moves to 5-0(2KOs) as a pro.