PAT LAM WAS succinct in giving his thoughts on the incident that saw Bundee Aki and a group of his Connacht team-mates track down Robbie Henshaw's stolen laptop and get involved in an angry scene that required the Gardaí to be called.
"It's good to see that the boys look out for each other on and off the field," said Lam yesterday at the Sportsground before Connacht's squad session on the main pitch.
"It wasn't a smart thing to do and the boys know that."
Aki and Henshaw have built a close bond on and off the pitch. Source: James Crombie/INPHO
Asked if the incident had resulted in Connacht disciplining anyone, Lam stated "that's probably all I have got to say on it really," but did then reiterate that his players had not made an intelligent decision.
"As I said, it was good they look out for each other but it was not a smart thing to do. They know that, the boys know that."
That was the extent of Lam's commentary on the matter and certainly Connacht themselves have moved on. Their attention is completely centred on the visit of Glasgow for a Pro12 semi-final in Galway this weekend, a chance to make history.
While the decision to confront a family they believed were in possession of Henshaw's stolen laptop may have been misguided, it does underline the camaraderie and togetherness of this Connacht group.
Certainly, most sportspeople would appreciate the fact that their team-mates have got their back. It will go down as a silly, and potentially dangerous, incident but it's also an odd illustration of how united this Connacht squad is.
That Aki was involved is no real surprise; he is always at the heart of Connacht's most confrontational, high-profile and enthralling moments. The explosive centre is proving to be one of the province's best-ever signings and at the age of 26, he can still get better.
So much has been made of the influence of Connacht's homegrown players in their rise, and deservedly so, but Aki and fellow Kiwi imports Tom McCartney and Jake Heenan have been absolutely pivotal.
"When you get in a foreign player – I consider Dublin players, Dublin boys, the Cork boys, boys from Ulster, they are all foreign," said Lam of the outside influence on this Connacht squad, "as well as the ones like myself that come from offshore.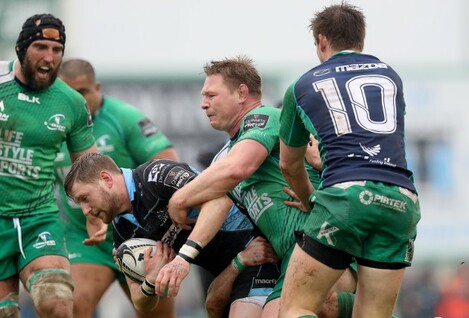 McCartney has been a brilliant signing for Connacht. Source: Ryan Byrne/INPHO
"This is why it's important that the whole organisation has that vision. When I was talking to those guys in particular, because I always knew them at home, I knew the type of characters they were, I knew what they could do.
"But when I talked to them I could sell them a vision about what Connacht Rugby was trying to do. I knew the type of guys they were, that they will play for a cause.
"I don't want to sell lies, I don't want to sell them a story that just sounds good to get them over there, but we talked about 'this is where Connacht is trying to go and this is what we have in place,' and they knew the game that I liked to play anyway.
"That made it very easy for them to then come in, for all the guys to connect with the community and I get a lot of pride when I watch those boys, in particular, and the way they work.
"They've embraced the locals and the locals have embraced them and the work they do in the community, and I think that's why they're playing so well. Because it's more than just playing a rugby game."
Certainly, Connacht will need the trio of Aki, McCartney, and Heenan – all of whom could potentially end up playing for Ireland – to lead from the front again on Saturday as Glasgow visit for the second time in three weekends.
The Scots have been through a rise of their own in recent years, culminating in last season's Pro12 title. Gregor Townsend and the club remain deeply ambitious and Lam admits that he has seen aspects of Glasgow's rise that he can now relate to as Connacht grow.
"I love watching stories unfold, I have been involved in a few in my own playing career," said Lam when asked about those similarities. "You have a good sense of knowing how that happens, so you like to admire what goes on from behind.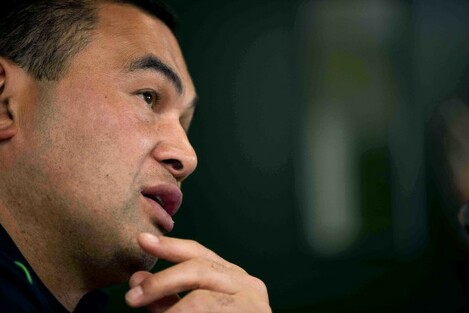 Lam has enjoyed following Glasgow's rise in recent years. Source: Morgan Treacy/INPHO
"You appreciate the work that's gone on, and not just from the head coach. It's the whole organisation.
"I had nine years coaching in New Zealand. I did my home team, Auckland, and we won two championships. One where we broke a record [in the 2007 Air New Zealand Cup] and it's still the only team that went right through undefeated. Then I went to Super Rugby and I got the Blues to a semi-final for the first time in years.
"Yet I am only remembered for my last year, everyone talks, 'it was terrible you got sacked' and so forth, but ironically that last year was my best year as far as my development as a coach goes.
"It's when we lose and things don't go our way, there's your opportunity for big lessons. And the lesson there [at the Blues] was that I would never ever take another job unless the organisation was aligned, unless they had a clear vision about what they wanted do.
"So when I look at Glasgow and what they have done, there is no doubt there was somewhere along the line they said 'right, this is where we want to be' and they put all the building blocks in place.
"I now look at the organisation here and I know I am passionate about what we want to do. When you know you have got your CEO [Willie Ruane], your team manager [Tim Allnutt], two of my assistant coaches [Jimmy Duffy and Conor McPhillips], a legend of Connacht rugby running the domestic game [Eric Elwood], Nigel Carolan [the academy manager] – all of those guys played for Connacht so there is no doubt they are passionate about running this place.
"I am in a real privileged place where I am and where I work at the moment. There are so many people working towards getting them to here."
The42 is on Snapchat! Tap the button below on your phone to add!