CONNACHT HEAD COACH Pat Lam says his team must learn from last night's 24-24 draw with the Cardiff Blues in Galway, after they failed to close out a game they led by 14 points at one stage in the second half.
The western province's youthful energy has been a major positive in their strong early-season form in the Guinness Pro12, but there was inexperience evident in the late collapse against the Blues at the Sportsground.
Mark Hammett's side deserve credit for scoring two tries in the final nine minutes, although Connacht's review of the game will focus on their own shortcomings.
"It's part of the learning for a lot of those guys, just like the Leinster game," said Lam post-match. "They got the learnings from winning then, but there's a lot of learnings out of today.
"We go through the process of reviewing what can we do differently, what can we do better. Ultimately, we're a team that everyone needs to do their job as best they can for us to compete against the quality we come up against.
When we don't quite get that right, everyone suffers. We talk about everyone doing our jobs and we can compete. When they don't, we can see how hard it can become for us."
A critical evaluation of Connacht's performance shows that their line-out simply wasn't of the required standard, kicking from hand was poor at times, and that their decision-making let them down.
Of most disappointment for Lam immediately afterwards was the defensive effort in the closing stages, as Connacht soaked in the tackle and ultimately allowed the Blues to create enough momentum to send replacement prop Sam Hobbs in for a last-minute try.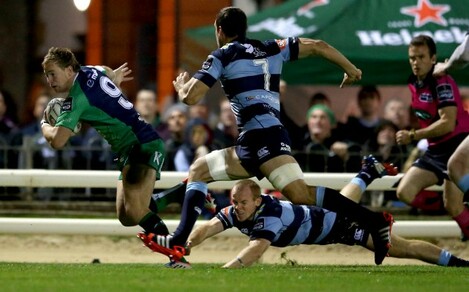 "We got ourselves out to 24-10 and we just needed to put the foot on the throat," said Lam.
"Throughout the game, we were struggling with our line-out and then with the last bit [of the game], for the last three weeks we had defended so well and some of the defence at the end wasn't up to our standard.
We allowed them to ride some tackles. We're very, very disappointed."
While the mood was naturally negative in the aftermath of last night's result, there were clear positives for Connacht too.
The 10-minute attacking blitz early in the second half that brought tries for Kieran Marmion and Nathan White showed Connacht's rising quality in that domain of the game, with Lam crediting forwards coach Dan McFarland with both clever moves.
Man of the match Craig Ronaldson was excellent at inside centre, while Danie Poolman repeatedly showed his ability with ball in hand. Robbie Henshaw grows with each game and Marmion's strong form continued.
Lam just hopes that his talented young squad can learn the right lessons from what felt like a defeat in Galway.
"I think the main thing is that we know we let that game go, we lost points there," underlined Lam.
"That's gutting when this competition is one where you've got to get everything. I told the boys in the changing room that it's all very well talking about it, but it's about how we react now.
"We're going to Treviso, where we lost badly last year, so we need to prepare well."