PUT PATRICK HORGAN over a free within sight of the posts and the outcome is as close to a sure thing as you can get.
The Glen Rovers man propelled Cork into the National Hurling League final with a superb 2-87 — 68 of which came courtesy of frees and 65s.
That dead-ball tally was bettered only by Waterford marksman Pauric Mahony who racked up the same overall total (1-90) but managed three fewer points from play.
Mahony will miss the Munster championship semi-final between the counties as he continues his recovery from a shin break, a cruel blow to the Déise who were the spring's surprise package as they sealed promotion to Division 1A and then stunned Tipperary and Cork en route to the league title.
With his likely deputy Maurice Shanahan also an injury doubt for the game on 7 June, it appears to be advantage Cork in the battle of the free-takers.
"I'd say they'll find someone," Horgan said.
Any one of the six forwards probably take frees for their club so maybe it's just another step up, taking them in the Munster Championship for the first time probably.
"I don't know what way they're going to take it."
For Horgan, the entire free-taking process is second nature — to the point where he doesn't even think about it as a process.
Jonny Sexton and Pádraig Harrington are just two examples of the top-level athletes who have spoken openly about the mechanics of their set-piece execution.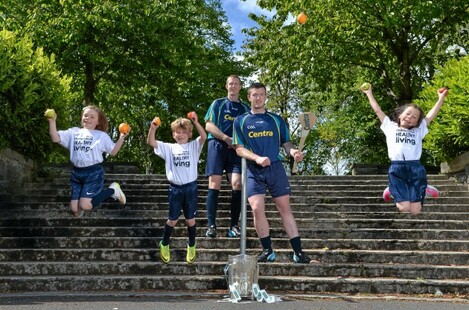 Patrick Horgan and Henry Shefflin were speaking at Centra's 'Champions of Healthy Living' hurling launch. To find out more details, log on to www.centra.ie. Source: Brendan Moran/SPORTSFILE
Both the Ireland out-half and the three-time Major winner work on this side of their game with Dave Alred, the renowned sports performance coach.
But Horgan is different and refuses to get too hung up on the specifics of the routine.
"It's the same thing. When the ball is on the ground, it's a case of the posts are there and you've done it thousands of times before so just do what you did.
"There's nothing that big about it. It's just a case of you're after being given a job and you go and do it."
[There's] a set routine – go over and place the ball a certain way. Tiny things really. I don't go too much into it because if you do and things go wrong, your head would be fried altogether. I just try to play it as it comes.
Rather than study the Sextons and Harringtons of this world, Horgan prefers to just trust his instincts. After all, he's been splitting posts for long enough.
"If you start thinking too far into it and something goes wrong, you don't know where you are gone wrong and your head is…
It's probably not even visualization, it's just about confidence. If you are going up to take a free or any set piece like that and anything is in your mind that you are not going to score, then you won't.
"It's just about trying to be as confident as you can, no matter what has happened before it. Do your normal thing and hopefully she'll go over."