Updated at 11.51
PATRICK MCCLEAN IS proud of his name.
He is proud, too, of his brother James. After all, the older McClean is the current RTÉ Sports Personality of the Year. Despite the disappointing end to the World Cup qualifiers against Denmark, there were certainly some positive results and admirable performances along the way.
And, over the course of the campaign, anyone who watched the matches in question will have struggled to pick out a more influential and impressive performer than McClean, who scored the crucial winning goals in memorable away victories over Austria and Wales. It was the West Brom winger who epitomised the qualities of Martin O'Neill's side, with his relentless energy, work ethic and defensive discipline.
"I've seen first-hand where he's come from and what he's achieved. He deserves everything and more — I'm just so proud of him," Patrick says of his brother, in conversation with The42.
But Patrick is also irritated to an extent, at the tendency of media outlets and others to refer to him simply as 'James McClean's brother'. It is not that Sligo's recent signing is unhappy to be associated with the Ireland star, but he understandably does not want it to define him.
I love being James McClean's brother, but in the papers and on social media [it's] 'James McClean's brother'. My name's Patrick McClean… It does get a bit frustrating, but I wouldn't complain about being James McClean's brother, obviously."
They are, after all, relatively incomparable in a footballing sense.
"James plays left-wing, I'm a centre-half," he explains. "We're two completely different players and people need to realise that. I'm not going to be the same as James and James is not going to be the same as me.
"Whenever I play and people are comparing me to him, it's unfair to me I'd say."
While there are plenty of differences between the two, there is at least one similarity. Both are ferocious competitors. James is certainly not shy in expressing an opinion, both on and off the pitch. He can often be seen roaring on the pitch, whether it is instructions to fellow players or disagreements with opposition footballers and officials who have made a contentious decision. Patrick also clearly possesses the same leadership qualities — after joining Waterford prior to the 2017 season, he captained the side at the age of just 20.
The club subsequently won the First Division title, finishing eight points ahead of runners-up Cobh Ramblers.
"I don't know why the staff of Waterford last year picked me to be captain, but what I thought is that I want to win — I'll do anything to win," he says.
"I think when we won the league and did so well, that showed."
Given what they achieved in 2017, some were surprised to see McClean leave Alan Reynolds' side, for whom he made 23 appearances last season. An exit from the newly promoted club initially appeared unlikely, as Waterford announced he had re-signed for them in November, in the wake of their title win. Yet last month, shortly before the transfer window's closure, his move to Sligo Rovers was confirmed.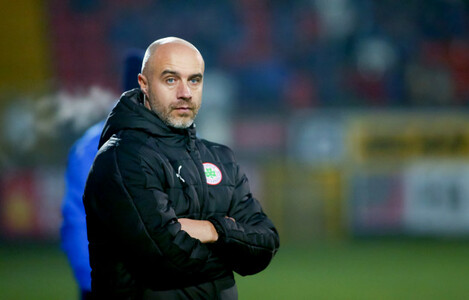 Sligo boss Ger Lyttle has tracked McClean's progress since the player's time at Derry. Source: Presseye/Kevin Scott/INPHO
The Bit O' Red boss, Ger Lyttle, had been tracking the player since his time as manager of Cliftonville and the coach's persistence ultimately paid off.
"To be honest, it was just being closer to home and I was promised more football than I thought I was going to get at Waterford," McClean says, of the reasons for the switch.
"And that's all I really wanted to do — play football. Being closer to home was a bonus.
"It was very tough [to leave]. I had a great year at Waterford and made some great friends.
"But Sligo is a great club. In the past, I used to hate playing against Sligo. They were a great side and I wanted to be part of that as well."
McClean admits it "hasn't been the best of starts". While it is early days, his team currently sit second from bottom, after one win and two losses from their opening fixtures.
Prior to McClean's signing being announced, Lyttle's men lost their opening fixture 1-0 at home to Limerick. Since then, they have experienced mixed fortunes, securing an impressive 2-1 victory over Derry City, in addition to being well beaten 4-1 by league leaders and reigning champions Cork, with McClean completing 90 minutes on both occasions.
"I think we just need to score more goals and have a bit of fight that we didn't show against Cork or Limerick," he says.
The 21-year-old, who is able to play both in the centre of defence and at left-back, also firmly disagrees with those pundits who have predicted that Sligo could be involved in a relegation scrap this season.
"I've bigger expectations [than simply avoiding the drop]. I don't want to be anywhere near relegation. I think this club and these players are too good for relegation."
To be fair, McClean is no stranger to defying the odds, having only decided to seriously commit to football at an age when some youngsters have already spent more than a decade training and competing quite intensively in the sport.
Be part
of the team
Access exclusive podcasts, interviews and analysis with a monthly or annual membership.
Become a Member
"I didn't start playing seriously until I was about 17," he recalls.
"I'd be messing about on the streets and play the odd local game here and there [before that].
I never had an interest in being a footballer until I saw what James had and what I could have. So one day, I just said: 'Right, I'm going to go for it.'"
And what was the reason for his initial reluctance to do so?
"I was just enjoying going out with my mates and enjoying myself at the weekends, when James would have been sitting in watching Match of the Day with his missus or whatever.
"I actually moved over [to England] for a year with James. I started training and just seeing the cars that he had, the houses and the things that he could go and do. I think I wanted [the same].
"I just thought that being with my mates and enjoying life would have been much better, but I'm loving life as a footballer now."
His parents, he says, were the antithesis of the stereotypical image associated with footballing mums and dads intent on pushing their children towards stardom.
"They were always saying 'go to school, get your education'. I was like 'no, I'm going to be a footballer'. James was the same and obviously James has gone on to be a [professional] footballer and fingers crossed for me."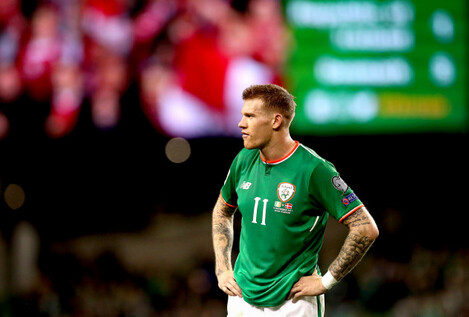 Patrick's older brother James has become a key player for Ireland in recent years. Source: Ryan Byrne/INPHO
McClean has certainly made good progress in a relatively short space of time. The youngster first caught the eye playing in the Foyle Cup, an annual underage tournament in Derry that has attracted a number of clubs from overseas, including Celtic, Norwich and the Tampa Bay Rowdies. He was representing local side Ballymoor, who went on to beat Derry City 1-0 in the semi-final of the competition.
"They just kept coming at us and coming at us and coming at us, and I just defended everything, I did really well and Derry approached me after that game and wanted to sign me for their U19s," McClean remembers.
However, the youngster's career could have worked out very differently — though not necessarily for the better — had he followed another path presented to him.
"I passed up the opportunity to go to Bristol City when I was 18. I signed a first-team contract with Derry and as soon as I signed it, I automatically regretted it.
"I was supposed to sign [with Bristol City], it was more or less done, then I thought 'nah'. I had a change of heart, signed for Derry, didn't get the playing time I wanted and the development, so I had to move on then."
McClean originally did do enough to break into the Candystripes' senior side, but found first-team opportunities limited thereafter. In the 2016 campaign, he made 13 appearances, but was subsequently released by manager Kenny Shiels. A trial with League One side Walsall proved fruitless, before Waterford signed the player ahead of the 2017 campaign.
"The reason it didn't work at Derry — I was too comfortable," he says.
"I was playing U19s and I went up into the first team. It was all my friends playing there as well. I don't know, I [must have] got really complacent or something.
"When I moved to Waterford, it was a fresh start, and I can't thank Waterford enough for that.
I was doing nothing. I was sitting in Derry doing nothing and they gave me a call, asked me to come down, and it worked out for the better."
McClean's dedication for the game has since been intense and encompasses extra training away from the club.
"I want to go as far as I can, test myself at the highest level. But I'm enjoying football in the League of Ireland and that's my main aim," he says.
"I'm just focusing on training, here and at home. I do my own training [when I'm not in Sligo] and just leave myself in the best possible shape for Friday night, so I can perform."
Whether the young defender has the ability and the element of good fortune needed to match his grand ambitions remains to be seen. There will inevitably be people who doubt him, but then that's nothing new if your name's McClean.
"I was actually laughing about this the other day. Me and James made our debut at Derry at the exact same age — 18. We went on to win the First Division title at the same age and now, after his first season back in the Premier Division [in Ireland], he went on to sign for Sunderland.
"So no pressure on me this year," he jokes.