Murray Kinsella reports from Cardiff
THERE WAS A sense yesterday that the whole of Cardiff was in a hungover state after Sunday's incredible events at the Millennium Stadium, and the ill feeling has extended into today with confirmation that Paul O'Connell's Ireland career is over.
The man himself will be keen for the tributes not to dip into sycophantic prose and distract from Ireland's preparation for a World Cup quarter-final, but one of the greatest Test players of them all deserves every eulogy coming his way.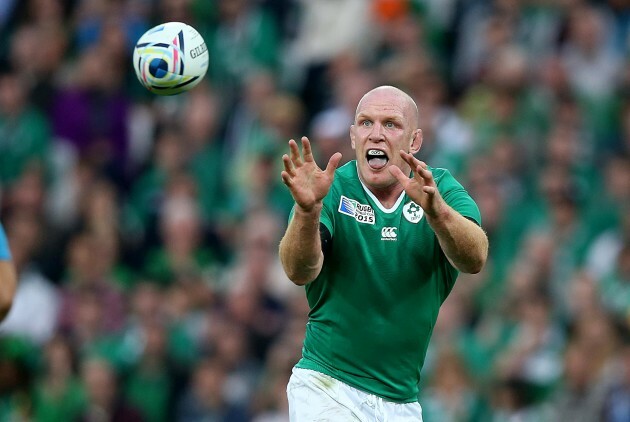 Dan Sheridan / INPHO Ireland lose a genuinely world-class lock. Dan Sheridan / INPHO / INPHO
Conversing with a shop assistant in Cardiff yesterday evening hammered home the point that Ireland are going to greatly miss O'Connell. Not that it really needed to be hammered home.
This man of East African origin has been a Cardiffian for 10 years now, but he never caught the rugby bug. That changed last week as the build-up to Ireland's clash with the French completely captured his imagination. Something special here, he thought.
On Sunday, for the first time in his life, our friend sat down to watch a game of rugby. The rules confused him but he is now another World Cup covert. The brutality and flashes of skill he found exciting.
It's going to be tough for Ireland now though, innit? All those injuries… the captain, the bald one? 
We all know as well as our friend who was only watching O'Connell play for the very first time in an Ireland shirt, the last time too. Even the previously uninitiated can appreciate how much O'Connell brought to the table for his country.
All the greatest leaders have an aura around them, something intangible that comforts and inspires others. O'Connell has that in spades and will bring it to Toulon if and when he makes a recovery from this horrible hamstring injury.
Ireland's other leaders will have to step up in his absence of course, and Joe Schmidt is fortunate that the likes of Jamie Heaslip, Rory Best, Rob Kearney, Johnny Sexton, Sean O'Brien and Conor Murray remain part of his World Cup squad.
James Crombie / INPHO O'Connell attempted to walk off the pitch on Sunday. James Crombie / INPHO / INPHO
In truth, former teammates and coaches will tell you better about O'Connell's leadership value and the words that moved men to tears, but what we can say with certainty is that Ireland are losing a world-class lock.
O'Connell's earlier days had seen him tagged as a man whose ball carrying ability was not a strength, but he has shown huge growth in that area even in the last two years. A mark of the man that he is constantly thirsty to add to his armoury. Better footwork and understanding of where to target the defensive line have seen him eat up more yards than ever.
It wasn't coincidental that O'Connell's injury came with him in the jackal position over the ball, searching for his latest steal. It's an area where he has been pestering opposition for his entire career, his breakdown work always amongst the best in the squad.
At lineout and maul time too, Ireland will have to compensate hugely. The 35-year-old's understanding and intelligence around the lineout in particular are legendary at this stage, his analysis work quite probably deeper than any other second row's.
The positive is that O'Connell has been highly influential on Devin Toner in the last two years, working in a system that has sometimes seen the Leinster man make lineout calls even when his captain is on the pitch. Always planning for the eventual exit, it leaves Ireland in a good place.
Restart work is often overlooked in the assessment of a second row, but O'Connell excels here too. Again, Toner has grown as a regatherer of the kicks of Johnny Sexton and Ian Madigan, but O'Connell's hungry chasing of the drop offs will be missed.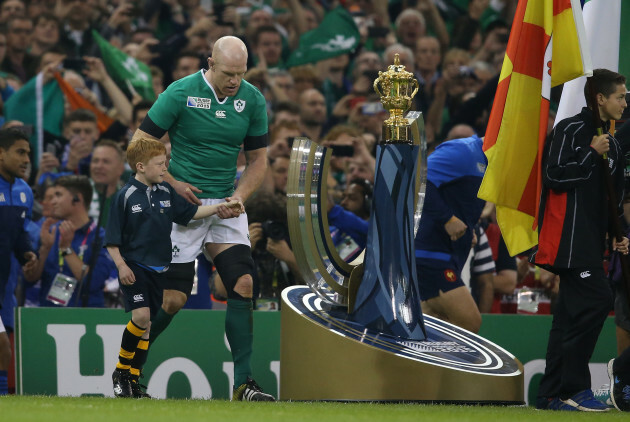 Billy Stickland / INPHO If Ireland are going to claim the World Cup, it will be without O'Connell. Billy Stickland / INPHO / INPHO
When it comes to cleaning away defensive bodies at ruck time, there is no other Irish forward like O'Connell. Technically excellent with a nice dollop of venom in his clearouts, the second row is almost always top of the charts in terms of volume of rucks hit.
There are many other areas where Ireland will lose out on O'Connell's skill set and work rate, but the comfort is that Iain Henderson has shown at this World Cup that he is en route to being a global star too. Big shoes to fill, but the Ulsterman brings his own qualities.
If Ireland look to slot Henderson into the back row in place of the injured Peter O'Mahony, then Donnacha Ryan can expertly fill the locking void. Again, any comparison with O'Connell might be slightly unfavourable, but the Tipp man offers incredible fitness and carrying power to go along with his lineout and handling skills.
Coming into the World Cup, the consensus was that if Ireland were to lose O'Connell it was game over. That doesn't quite appear to be the case right now, however. It's certainly not how Ireland will be thinking about their latest blow.
Few will argue that Ireland are not worse off without him, but there are men ready to assume responsibility.
After masterminding an exceptional emotional high last weekend against the French – Ireland were almost rabid in their aggression – Joe Schmidt now has another powerful motivational tool in his hands.
Do it for Paulie, lads.