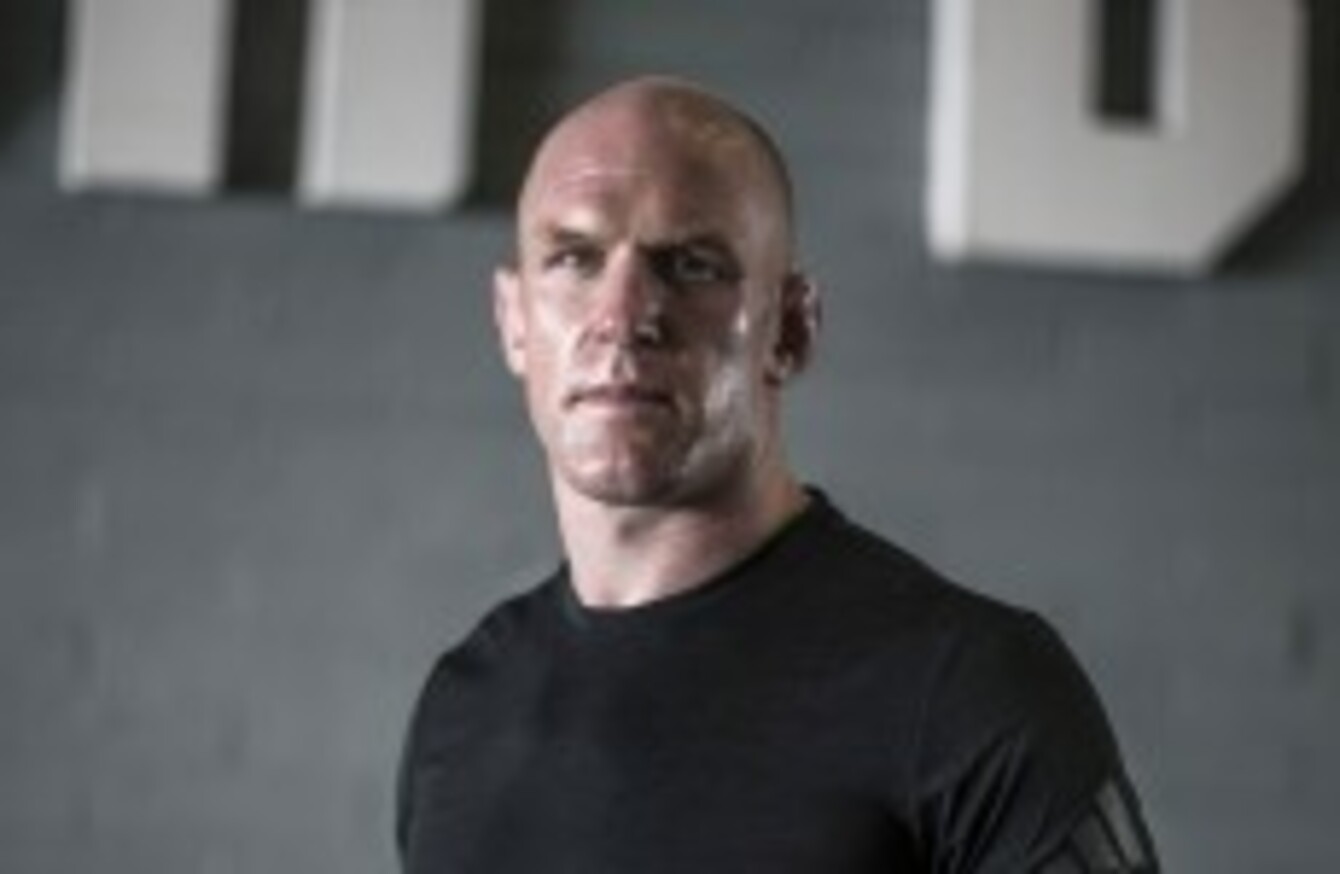 Paul O'Connell is an ambassador for the adidas Climachill range.
Image: Billy Stickland/INPHO
Paul O'Connell is an ambassador for the adidas Climachill range.
Image: Billy Stickland/INPHO
PAUL O'CONNELL'S IMMEDIATE focus is on helping Munster towards their first senior trophy since 2011, as Anthony Foley's men target a Guinness Pro12 title.
In the background, however, the World Cup is something that naturally excites the Ireland captain. This year's version will be O'Connell's fourth and he feels that Ireland are better placed to deal with the expectation than they have been in the past.
The disappointment of the 2007 campaign stands out as one of the major lowlights of O'Connell's exceptional career and he carries the lessons of that tournament with him even now.
The leadership of Joe Schmidt is one of the major reasons that O'Connell is backing Ireland as having an 'outside chance' of winning the World Cup outright.
"I feel very good about it and I'm really looking forward to it," says O'Connell. "I know I say the same thing at every press conference, but I really enjoy the way we handle the expectation.
I'm sure Joe and the management look forward to the bigger picture and that, but as players we're just encouraged to look at what's ahead of you and prepare for that as best you can."
September may seem some way off at this point, but O'Connell and his Ireland teammates are already aware of the details in place that will prepare them for Pool D meetings with Canada, Romania, Italy and France.
O'Connell missed Munster's Pro12 clash with Treviso last weekend due to a "small" shoulder injury, but expects to be back for the remainder of their league campaign.
"I've the rest of this week off and then hopefully I'm into a three-week run-in, if we're lucky it could be a four-week run-in," says the second row. "Four weeks off and we're into pre-season and we're into the big pre-World Cup friendlies then.
"We're put under a lot of pressure in how we prepare for games and it kind of takes away the distraction of the bigger picture. I think certainly in 2007 we got engulfed in the expectation of the World Cup and we felt we had to say we had a chance of winning it to make ourselves believe it.
"I think going into this one we know that we if we do a whole load of things right between now and the World Cup we can put ourselves in with a chance. It's a slim chance and it's an outside chance.
I just think it's a good way of approaching the competition, it's a good way of approaching things. It has worked really well for us in the last 18 months under Joe, not getting too obsessed with the bigger picture and focusing on the here and now."
One of the stark learning points Ireland took away from the 2007 World Cup failure was around their over-training in the months prior to the tournament. A desire to be in the best physical condition possible spilled over into exhausting themselves.
O'Connell says both players and management won't be making the same mistake again.
"One of the things we did in 2007, or I certainly did, was over-train going into it," explains O'Connell. "We were given time off to allow the training to accumulate. I remember chatting to Donners [Donncha O'Callaghan] and Strings and ROG, we never actually took the time off.
"We used to go back home and do our own training at home and I think that is going to be an important thing, that kind of experience, because normally in your pre-seasons we don't spend pre-season with Ireland.
"For World Cups, you spend all the time together in Irish camp pretty much with the rest of the players. You have the top players in the country, so it ends up being very, very competitive. You end up training very, very hard and if you don't take your down time and allow the training to accumulate you can end up over-training.
"We have very experienced guys in [strength and conditioning expert] Jason Cowman obviously up there as well but that would be the big thing for me in 2007, that I kind of overdid it a little bit and a few of us did it."
Another key aspect of the World Cup environment that will need to be managed is the mental intensity of Ireland's camp. Schmidt is renowned and revered for being a relentless task master, with many players mentioning the massive mental demands placed on them during the last two Six Nations campaigns.
With even more on the line in a World Cup campaign, Schmidt's first, there may need to be an awareness of hitting mental peaks at the right time, rather than blasting through the entire period from pre-season in July until the final days of the competition in October at full tilt.
Definitely," says O'Connell. "Even that's been the thing for me, being out of the Champions Cup and not playing because of my shoulder last week, there's been four weekends where you're not preparing for a game, not doing lineout analysis, defence analysis, getting to Thursday or Friday where you're feeling tired and convincing yourself you're not tired.
"And that's the big thing about taking those down weeks. Those weeks when we're in camp with Joe, the players are put under a lot of pressure to learn and to be prepared.
"Taking that half day on Wednesday and making sure you switch off is just as important as the day you're in the gym or the day you're on the pitch, and hopefully that's something we'll be pushing with the players."
********************
Irish rugby international Paul O'Connell launches the new adidas Climachill product range. When it comes to performance, every degree matters, the new Climachill product range makes sure athletes can perform at their best regardless of heat, through new age design and material selection for maximum cooling.
Climachill is the next generation of active-cooling sportswear and is available now from Life Style Sports and www.adidas.ie.
Originally published at 06.30