IT'S A STARTLING statistic.
90% of Irish schools provide less than two hours of physical education per student each week, despite the recommended minimum time being seven hours.
To make matters worse, 58% of parents are finding it difficult to make up the remaining five hours.
Those are some of the key findings of new national research from Irish Life Health as they launched the 2017 Irish Life Health Schools Fitness Challenge on Monday.
The research also found that 82% of PE teachers believe the curriculum needs to be changed, and that's something Irish Olympian Thomas Barr passionately agrees with.
"An initiative like this is so important," he told The42 yesterday.
"When I was younger, in my spare time, myself and my friends used to go out and play football or go for a cycle and I think a certain amount of that has been lost so it's really important to get kids out and to get them exercising and remind them how fun it is to be involved in sport and to feel how good it is to be active.
"It's important for schools to realise they need to increase the amount of time dedicated to physical education, perhaps even making it an exam subject would help.
"I found when I was in school that PE wasn't for everyone and that, if you didn't really want to take part, you didn't have to. But making it part of your exams means you'd have to dedicate more time to it."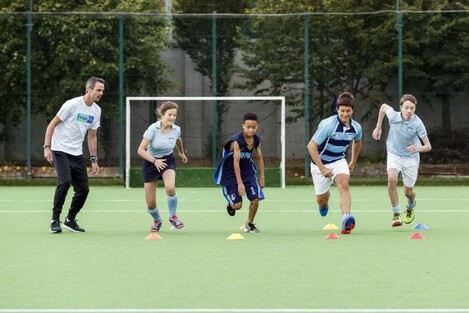 Barr says playing a range of sports could help keep kids interested in their fitness. Source: Andres Poveda
It's an idea that has been floated before and one the state, theoretically, agrees with as last year's Programme for Government stated it would support the "introduction of a new Leaving Certificate PE syllabus, as a full optional subject."
It's a promise Leo Varadkar repeated during his campaign to become Taoiseach but, as yet, nothing has changed.
Barr suggests that, in the meantime, ensuring that sport is fun for kids could well be enough to get them meeting, and surpassing, the minimum exercise time.
"I used to visit schools to give talks and one of the things I tried to reiterate again and again was that there is something for everyone out there and focusing on one sport too early doesn't give you the chance to find it.
"I was lucky that I got to try out lots of sports — I'd very obliging parents — but I got to play soccer, I got to play rugby and GAA. Everything that I could try, I did.
"I joined athletics with my friends and I really enjoyed it because of that social aspect rather than just running, or hurdles and all the different aspects of the sport.
"Even within athletics I tried out loads of sports before I settled on the 400m hurdles. It wasn't until I was 18 or 19 that I specialised. Before that it was high jump and I was still playing rugby right up to that.
"I do think, if you're only playing one sport and then you lose the enjoyment, it might be harder to take up another one when you're a little bit older so that's why it's important to take part in a few."
Enjoyment is something Barr comes back to again, insisting that, if he focused solely on results, then it's unlikely he'd stay competing.
"When you're growing up, you should enjoy exercise," he insists.
"Even now, when I'm training, I'm not focused on results, as such, I'm enjoying the process, enjoying the journey. So I'm not putting all my energy into the results basket because, if that crumbled, then I'd quit the sport or whatever."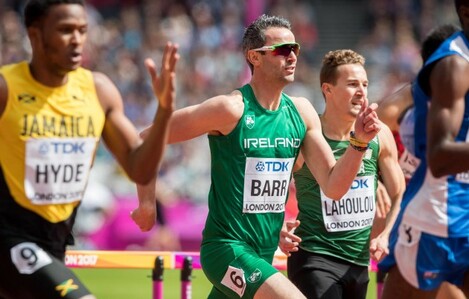 Barr's World Championships were curtailed by illness. Source: Morgan Treacy/INPHO
That positive attitude was put to the test in London last month when the 25-year old's World Championships bid was cut short by illness. It's something he says was disappointing, but at least it didn't happen at an Olympic Games.
"It was frustrating because training had gone really well in the build up to London and we'd ended up almost in the same position as Rio where I was running really well in training and as fast I've been in years over the first 200 and 300m.
"And even if I hadn't been in such good shape, it was frustrating not being able to go out there and put it down on the track. But it was something that was out of my control so there's no point in getting upset over it either.
"I think it would almost have been easier [if I wasn't sick] and if I'd run badly because I would at least know I had done something wrong and I could walk away and fix it. But the fact it was completely taken out of my hands, that was hard.
"I just wouldn't have been able to run though, I was zapped for the three days and it was unfortunate timing but it is what it is and at least I wasn't the only one."
Barr has raced just once since, finishing fourth in Zagreb before taking a well-earned rest that involved a trip to Electric Picnic and a holiday with some friends. He plans on taking some more time off before stepping up his training again.
However, having a break has given the Waterford native a chance to reflect on not just his career, but athletics as a whole and the future of the sport in a post-Usain Bolt world.
"I think athletics is definitely in a transition period but, because there's been such a shaking of the foundations, I think it's only going to get better and stronger.
"Athletics is already trying to show people that it's not just about the stuff on the track and field, but also about what goes on in between, especially with the loss of Bolt who was a massive personality in the sport.
"There'll be a void there so they want to make it more attractive."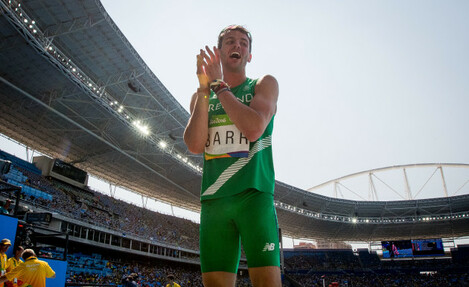 Barr after finishing fourth at the Olympic Games. Source: Morgan Treacy/INPHO
Of course Irish sports fans won't see a lot of athletics on TV, having to rely instead of BBC and Eurosport for coverage of last month's World Championships. Barr says he understands the financial reasoning behind the decision not to show the event, but it doesn't help his sport.
"It's really frustrating because athletics is a minority sport and we need all the coverage we can get. But, for the same reason we need the coverage — that minority status — we're not getting it.
"I know about budgets and all that kind of reasoning for it, but it was weird coming off the track after the heats and walking through the mixed zone and you've Turkish and Finnish and Azerbaijani national television stations there but not RTÉ.
"It felt like there was a void there. I thought to myself 'this isn't what it's supposed to be like' because at any other championships I've been to, RTÉ have been there. It was very strange."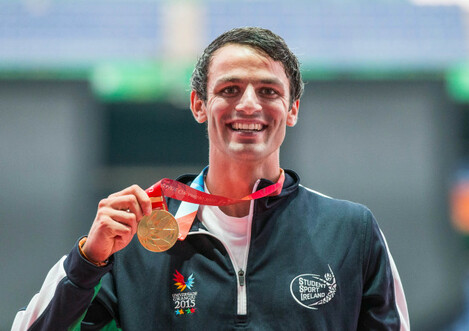 Barr with his World University gold medal from 2015.
However, Barr is also smart enough to know that there are other ways of keeping his name and his sport in the spotlight and believes social media is a great way to show people what athletics is really like.
"I don't think I'm great at it but there are athletes who are brilliant at documenting their training and making it interesting for their followers and, if you get that momentum and those followers, you can tell your own story.
"I think you can have a lot of fun on Twitter too and it's a good way of interacting with people. It's definitely become a lot bigger for me."
Reality TV is another way and while he'd love to get involved at some stage, he's not sure if something like 'Strictly' is for him.
"I got asked to do it," he laughs.
"I would love to do something like that but it would take eight weeks out of training and that's something I can't give up at the moment but, say in a down year or when I retire then maybe I could give it a go.
"I'd love to do something off the wall, but maybe not dancing, I wouldn't be so good at that."
Thomas Barr was speaking at the launch of the 2017 Irish Life Health Schools Fitness Challenge, which has been developed in collaboration with Prof. Niall Moyna in the Centre for Preventive Medicine, DCU and aims to help secondary school students adopt a healthier lifestyle by becoming more physically active. PE teachers can register their school to take part before 22 September here.