WHILE THE OTHER three provinces have plenty to get excited about in January, most Leinster players have to offer reminders that the European fixtures still house real targets to be hit.
For the more inexperienced players among Leo Cullen's squad though, there was a genuine thrill to be felt today. It was a taste of things to come in the Six Nations as the group was whittled down thanks to the large portion of the squad getting called to Carton House by Joe Schmidt.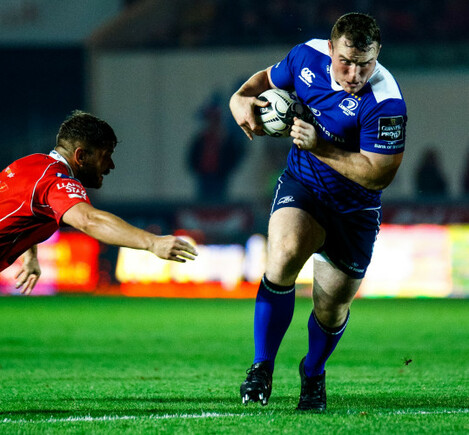 Source: Simon King/INPHO
Loosehead prop Peter Dooley is certainly one man who doesn't mind being left behind and won't have any trouble getting focused whenever he's called upon.
With Cian Healy suspended and away in the 24-hour international mini-camp today with Jack McGrath, Dooley has every right to feel that Friday's trip to face Ospreys might give him a first start to go along with his eight senior appearances off the bench. Seven of those caps have come this season, the 21-year-old only kept off the starting XV by Michael Bent while Leinster's two neck-and-neck Irish looseheads were away.
"You could never expect it to be this good," Dooley said in Leinster's UCD base today.
"Coming into another period where there'll be a few boys missing with the Six Nations, we kind of have to gel as a squad like we did in September again. That'll be easy enough, we all get on fierce well together.
"Hopefully we get a good bit of game time and hopefully I get that first start.
"It's up to the men inside, I put all my trust in Leo. He'll know the best time. There's three matches now (before the Six Nations) and the two boys (Healy and McGrath) will be there for the European games, so we'll see."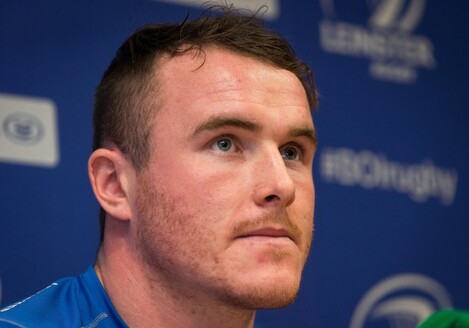 Source: Ryan Byrne/INPHO
If Dooley doesn't sound too impatient to get the number one jersey, it's down to more than just respect for the incumbents. The prop knows he is still in the early stages of his development curve, but on top of that, he hasn't been a one-sport man for very long.
As a proud Offaly man, Dooley naturally found himself with a hurl in his hand throughout his formative years and could be regularly seen patrolling the centre half back slot until minor level in Birr. 
That is about as far as an aspiring professional can go on trying to serve two sports however. The rugby seed planted in his head by his father Jerry 10 years earlier drew him to the oval ball rather than the sliotar.
"I was about five or six stone lighter," Dooley says wistfully of his glory days at number six.
"I took up the rugby and when I got heavier they just threw me in full forward, so it was a bit different.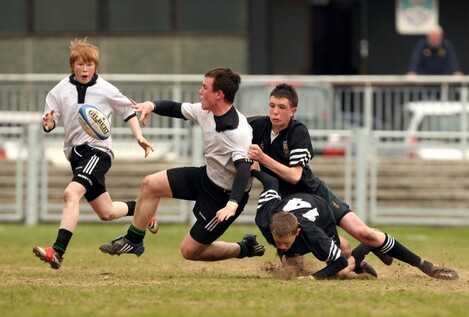 Dooley offloads in U14 action for Birr against Kilkenny in 2009. Source: James Crombie/INPHO
"When I was just turning 18, playing under 18 or 19 with Leinster, that's when I made the decision to go with rugby. My father kind of pushed me down the right route, so it was for the best alright."
Dooley was speaking within hours of his fellow Faithful man Brian Carroll announcing his retirement from hurling. Different sports, different eras and very different body types. Yet even a brief brush with the county's star forward, a teacher by trade, might just have had a subliminal impact on Dooley's attitude to training and striving to improve.
"I had him for a maths class a few years ago. I think I was in third year at the time and he was the big deal. He was one of Offaly's finest hurlers, nominated for Allstars and all that.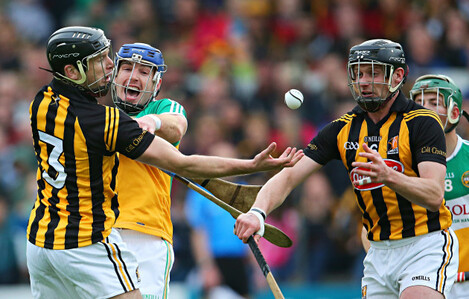 Carroll getting to grips with JJ Delaney and Jackie Tyrell in 2014. Source: Cathal Noonan/INPHO
"He would be a sports star you'd look at in Offaly and fair play to him, he's done wonders for the county and I know from talking to the boys that he's the ultimate professional."
The Birr man is attempting to fit that description himself now too, and when speaking. seeks out that fine balance between confidently staking a claim while respecting the men currently holding the jersey. If he can take hold of the number one shirt this weekend, who knows what doors will suddenly be opened?
"It'd be nice to get an aul' European cap as well as the experience… we'll see. We've a lot of pride to play for."