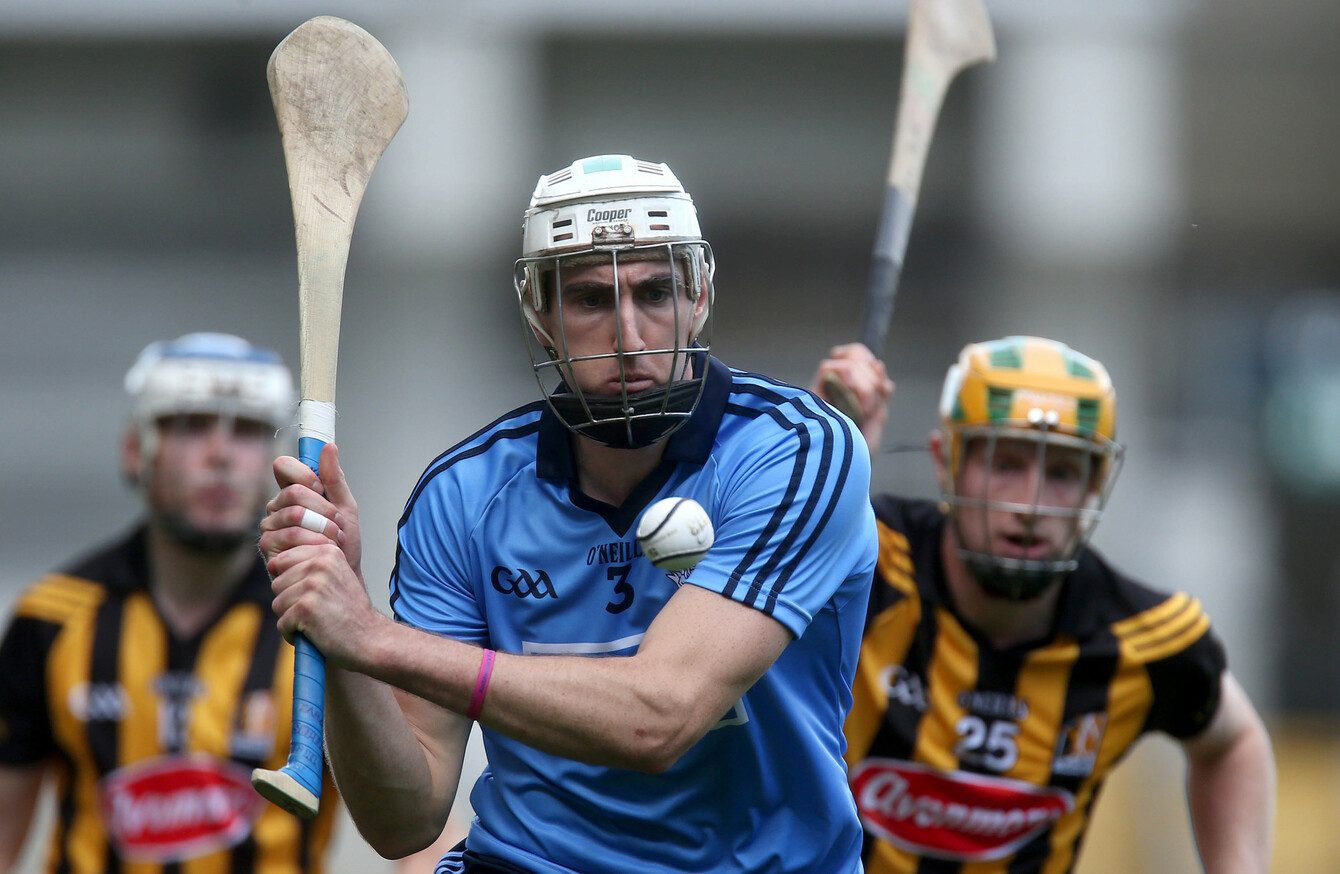 Kelly announced his retirement last month after a decade with Dublin that saw him claim a Division 1 title, Leinster title and an All Star.
Image: Ryan Byrne/INPHO
Kelly announced his retirement last month after a decade with Dublin that saw him claim a Division 1 title, Leinster title and an All Star.
Image: Ryan Byrne/INPHO
THE FINAL WHISTLE confirmed what many thought they'd never witness as a sea of blue descended onto the field in O'Moore Park. David had just beaten Goliath.
Dublin defeated Kilkenny in the Leinster Hurling Championship for the first time in 71 years on a historic evening and would go on to provincial glory just a week later.
The summer of 2013 was the culmination of years of hard work under Anthony Daly. At the heart of defence, the towering figure of Peter Kelly would claim an All Star at full back that year.
"It springboarded us into a different realm of who we were as hurlers," the Lucan Sarsfields man told The42.
Kelly announced his inter-county retirement at the end of last month after a decade of service. He made his debut in 2008, a year before Daly took over from Tommy Naughton.
A time when Westmeath and Wexford were the foes and anyone who even dared to dream of one day beating Kilkenny would be sent away from Parnell Park on fears of delusion.
Then the tide turned, underage success became regular and the 'rough diamonds', as Daly liked to call them, broke through to senior level. Liam Rushe, David Treacy and Johnny McCaffrey to name a few were ready for Daly to polish off.
"It was definitely a journey in the upward curve, it made us believe that we could dine at the top table rather than just be knocked out every July and have your whole summer to yourself. It just changed the mindset in Dublin hurling massively," Kelly said.
What followed was a renaissance of sorts in Dublin hurling, with the highlight being a 2011 National League title victory over Kilkenny and a summer that saw Daly's men push All Ireland Champions Tipperary to the brink in an intriguing All Ireland Semi Final.
The lows came too of course, an 18-point humbling dished out by Kilkenny the following championship well and truly stopped Dublin in their tracks.
"We were put back in our box down in Portlaoise that summer by Kilkenny, that was the game that everyone was pinpointing that Dublin would beat Kilkenny in!"
Heading into 2013, Daly's side were at a crossroads with many of the panel in their prime, something needed to change. Kelly quickly pointed out exactly what did change.
"We approached things a bit differently, we focused a lot more on ourselves," he says. "It really gave a lot of lads belief that we could beat them (Kilkenny)," Kelly explained.
And believe they did, when a 21-year-old Danny Sutcliffe sidestepped the great Tommy Walsh to rifle home the game's only goal late on, you knew there was something special happening.
Back of the net then; back on the panel now! Watch this #GAANOW Rewind throwback to Danny Sutcliffe's magical goal in the 2013 drawn game between @DubGAAOfficial and @KilkennyCLG's hurlers. pic.twitter.com/mXLbEkMiBG

— The GAA (@officialgaa) May 10, 2018
The game was Dublin's fourth in as many weeks. It took a replay in Parnell Park to get over a stubborn Wexford challenge before a late TJ Reid score ensured Brian Cody's Kilkenny got another crack at it in Leinster semi-final, Kilkenny's replay record signaled that Dublin may had missed their chance.
"The fact that games were coming thick and fast, we drew with Wexford and then beat them in the replay. So we didn't really have time to focus on the opposition because we were busy getting ourselves physically and mentally ready," Kelly said.
Dublin hadn't missed their chance, they just needed one last lesson. The intensity was ferocious and no Kilkenny man got an inch of space in O'Moore Park that day. A week later, Daly's charges blew away Galway in the Leinster final to set up an All Ireland semi-final with Cork.
If there was ever a time for Dublin, this was it.
"The Cork game, that was our time to make the step forward," says Kelly.
"It's one of the few games I've watched back and I just kind of forgot how high quality both teams were. It was massively free scoring, looking back from a somewhat neutral point of view now," he said.
If Dublin could bring what they did against Kilkenny and Galway, the result would look after itself. And for 60 minutes of a thriller in Croke Park, Dublin did just that. The game slipped from Dublin in the closing stages after a Patrick Horgan goal put Cork in the ascendancy  and they held on and broke Dublin hearts.
A summer with so much promise, minutes from the holy grail, it remains one of the biggest regrets of Kelly's career. Dublin hurling has never truly recovered from that day, failing to reach those heights of 2013.
"You'd love to just play the last 10 minutes again because it was quite a complete performance.
"Hurling by its very nature is frantic and especially in the second half of the game, the shape kind of goes out of teams and I'd just love to restart the whistle and for 10 minutes play a bit differently," he said.
2013 proved to be somewhat of a false dawn for Dublin, Kelly and his teammates were convincingly beaten at the All Ireland quarter-final stage over the next two years before Ger Cunningham's reign ushered in a new generation of Dublin hurlers in recent seasons.
This young team, a lot of which have been U21 and minor stars, they're coming to a crossroads themselves. In the Leinster Championship opener on Sunday. Dublin will look for inspiration in their 2013 victory over the Cats and their failure to convert it into something bigger as they look to follow in their footsteps, five years on.
"It would be more than two points on the board, a win on Sunday, it'll give belief, it'll take I suppose an element of pressure off them.
"This summer, any team you'll see that gets a win under their belt and momentum, momentum is a huge thing in hurling and everyone loves playing games and I think that stood to us in 2013 and it will stand to somebody this summer as well," Kelly said.
Kelly pinpointed intensity as the key to competing with Kilkenny on Sunday. The new round-robin championship format can help Dublin gain momentum and perhaps replicate their 2013 run, the lessons are there to be learned.
"Matching Kilkenny's intensity and beating it will be a tell-tale sign what way the points will go on Sunday.
"Once your intensity, once that is at where it should be, the rest of it usually takes care of itself," he said.
The Lucan Sarsfields man knows how important a victory over Kilkenny was five years ago and feels it could be just as important to this Dublin team.
"Beating Kilkenny, there'll be so many positives to take from it. I think they'll really be earmarking this game for a massive performance and an opportunity to start the year."
The42 is on Instagram! Tap the button below on your phone to follow us!