THERE IS AN obvious waiting for buses connection here but, suffice it to say, there are now three Irish outhalves operating in Paris this season.
While Racing Metro's new 10, Jonny Sexton, is dominating the Parisian sports pages and Ronan O'Gara is in-situ as his skills coach, a young Irish outhalf is carving out a name for himself at Stade Francais.
Peter Lydon, formerly of Kilkenny College and Seapoint RFC [Killiney], has featured twice for the Top 14 side this season. He played 20 minutes against Bayonne last month and came off the bench against reigning league champions Castres on Wednesday. He told TheScore.ie about settling in Paris, kicking practice with Diego Dominguez and battling it out with Morné Steyn for the 10 jersey.
"I've been with Stade since 1 July and was expecting to play more Academy matches. However, with Morné over with South Africa in The Rugby Championship, it has led to some competitive games," he said.
"Morné came back for our first game in our new stadium, against Biarritz, and he was with us in out pre-season training camp. It's great to have a fella like that in the squad. He is really willing to work with the younger lads, myself included, and give them advice."
The move to France came about, Lydon explains, as Nigel Osbourne, who was coaching at Seapoint, knew Stade's director of rugby, Richard Poole Jones. A skills and kicking session was arranged on the pitch at Stade de France before a league match and Italy's Argentinean born kicking, legend Diego Dominguez put him to the test.
"He was impressed with what I did," said the 21-year-old, "so I was brought back over for a physical screening — strength and speed work — and given an Academy contract."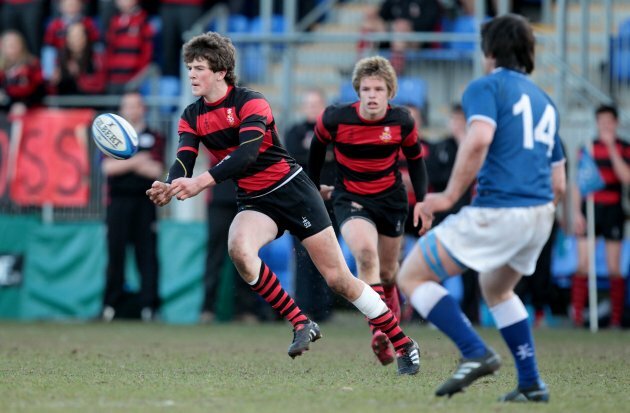 Lydon in action for Kilkenny College in the Schools Senior Cup two years ago. INPHO/Cathal Noonan
Leinster fans may be asking, with Sexton at Racing and Jimmy Gopperth brought over from Newcastle Falcons, why a talented, young outhalf is playing his senior rugby over in France.
Lydon commented, "I came through the schools system and played through the age grades with Leinster, up to U20. I was always one behind Cathal Marsh [who made his senior Leinster debut against Zebre in April]. I was not going anywhere with Leinster and they didn't seem too interested in me.
"My family are very multicultural — my mother is English, my father grew up in Northern Ireland and I was born in The Netherlands. So, when it came to looking to play rugby, I had no problems with playing in England or France. Luckily, Stade came forward."
Lydon targeted progress at the Academy and, with Stade in the Amlin Cup against minnows, some European experience. The promotion to the senior ranks was a pleasant fast-forward but one that did not faze him. Both games, Bayonne and Castres, were played in front of packed stadiums and Leydon was close to real heroics on his debut. He said:
I was concentrating on doing the basics well against Bayonne but I did put in one nice grubber. I chased it in and tackled the fullback. The fullback lost the ball and our scrumhalf touched it down. Unfortunately, the ref ruled I had knocked [the ball] forward in making the tackle."
By the time Lydon entered the fray against Castres, the win and points were in the bag and Stade were reeling. He recalls a kick to touch and a couple of restarts in a 38-10 defeat but is hoping for more game-time to make a greater impression.
He reveals that his teammates are all very eager to learn more about the illustrious Irish outhalves that have arrived at Racing this season. "Jonny and Ronan are in the papers a lot over here," he said. "All the lads are asking me questions about them. They're big names over here."
Lydon is hoping to be in the Stade squad to face Racing on 26 October at Stade Yves Du Manoir. To do that, he may have to hold off a certain World Cup-winning outhalf.
"I have to keep my head down and play as well as I can," he said, "so even when Morné comes back, I will have made an impression and made it tough for [the coaches] to leave me out."