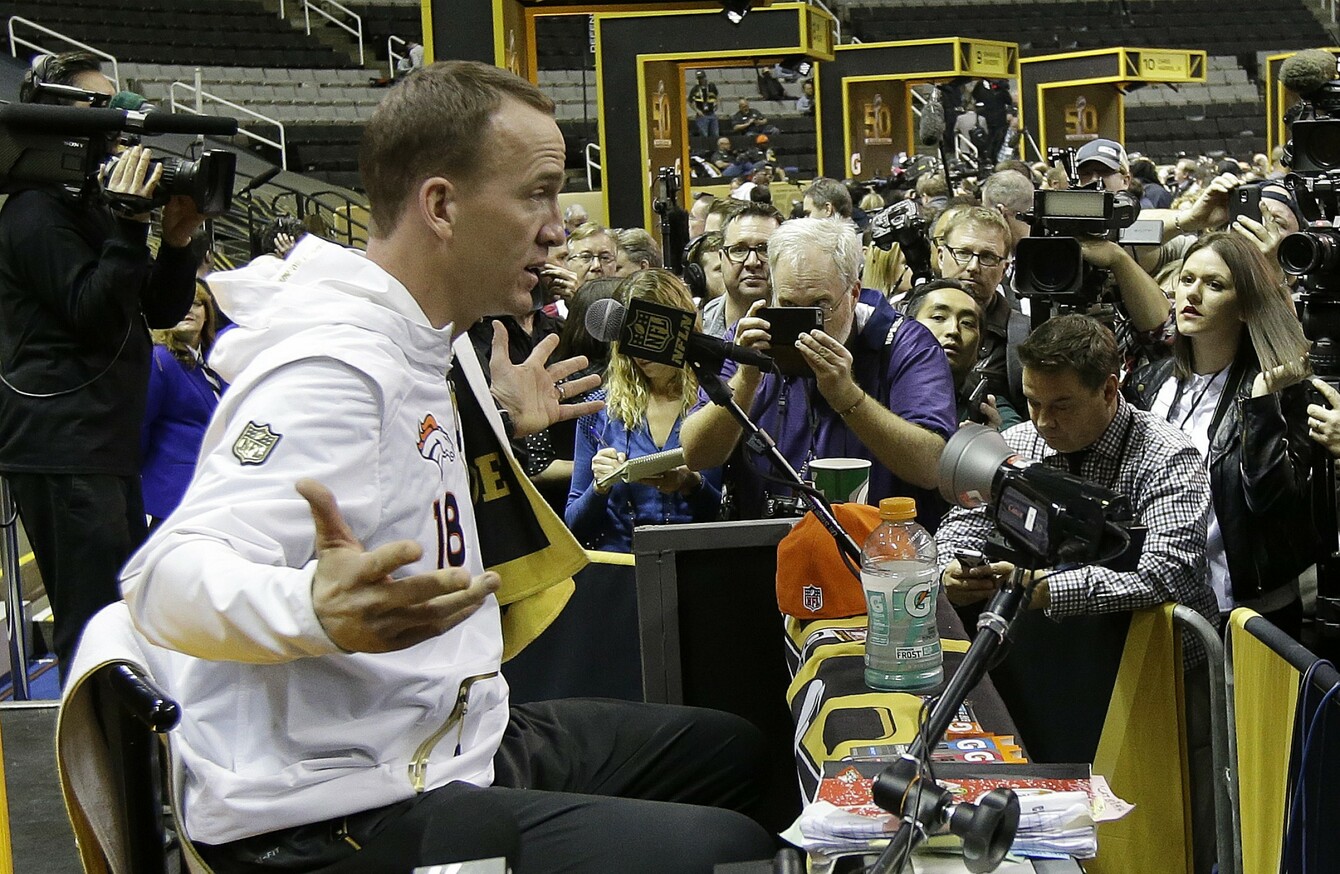 Manning; Al Jazeera report sparked NFL investigation.
Image: Jeff Chiu
Manning; Al Jazeera report sparked NFL investigation.
Image: Jeff Chiu
PEYTON MANNING BRUSHED off concern about an ongoing National Football League investigation into allegations linking him to banned performance enhancing drug human growth hormone (HGH).
Manning will become the oldest starting quarterback in Super Bowl history on Sunday when he leads the Denver Broncos into battle against the Carolina Panthers.
The 39-year-old is widely expected to call time on his career after the finale and fresh reports said he had already told friends and family that he plans to retire.
But there is a cloud hanging over him following an investigative report by Al Jazeera America which alleged that his wife Ashley received shipments of HGH in 2011 — the same year in which Manning was recovering from neck surgery.
"I welcome this NFL investigation," he said at the Super Bowl 50 Opening Night extravaganza.
"I know the rules of the NFL and I respect the rules, they're important to me.
"What this report alleges that I did is simply not true. It's fabricated. It's junk. It's garbage. I could give you a long list of other words for it.
I can guarantee what this investigation will find — a big fat nothing.
Manning insisted he remained undecided on his playing future and would not address the issue until after Sunday's game.
Be part
of the team
Access exclusive podcasts, interviews and analysis with a monthly or annual membership.
Become a Member
"I haven't made my mind up and I don't see myself making a decision until after the season.
Whatever cliche you want to use — I just want to stay in the moment, focus on the task in hand and concentrate on this week.
"That's the way I've approached everything this season … It's served me well up to now and I'm going to stick with that. Obviously I have a big task in hand," Manning added.
Manning was caught on film telling New England Patriots coach Bill Belichick that their clash in the AFC Championship Game "might be my last rodeo."
"I just wanted to tell him man-to-man how much I had enjoyed and respected our battles over the years," Manning said.
"I said the same thing to [Tom] Brady. Brady's going to play until he's 70, Belichick's going to coach until he's 90. Maybe I'll play for another 10 years.
"But I just wanted them to know, that if this was the last time, how much it has meant to me," he added.