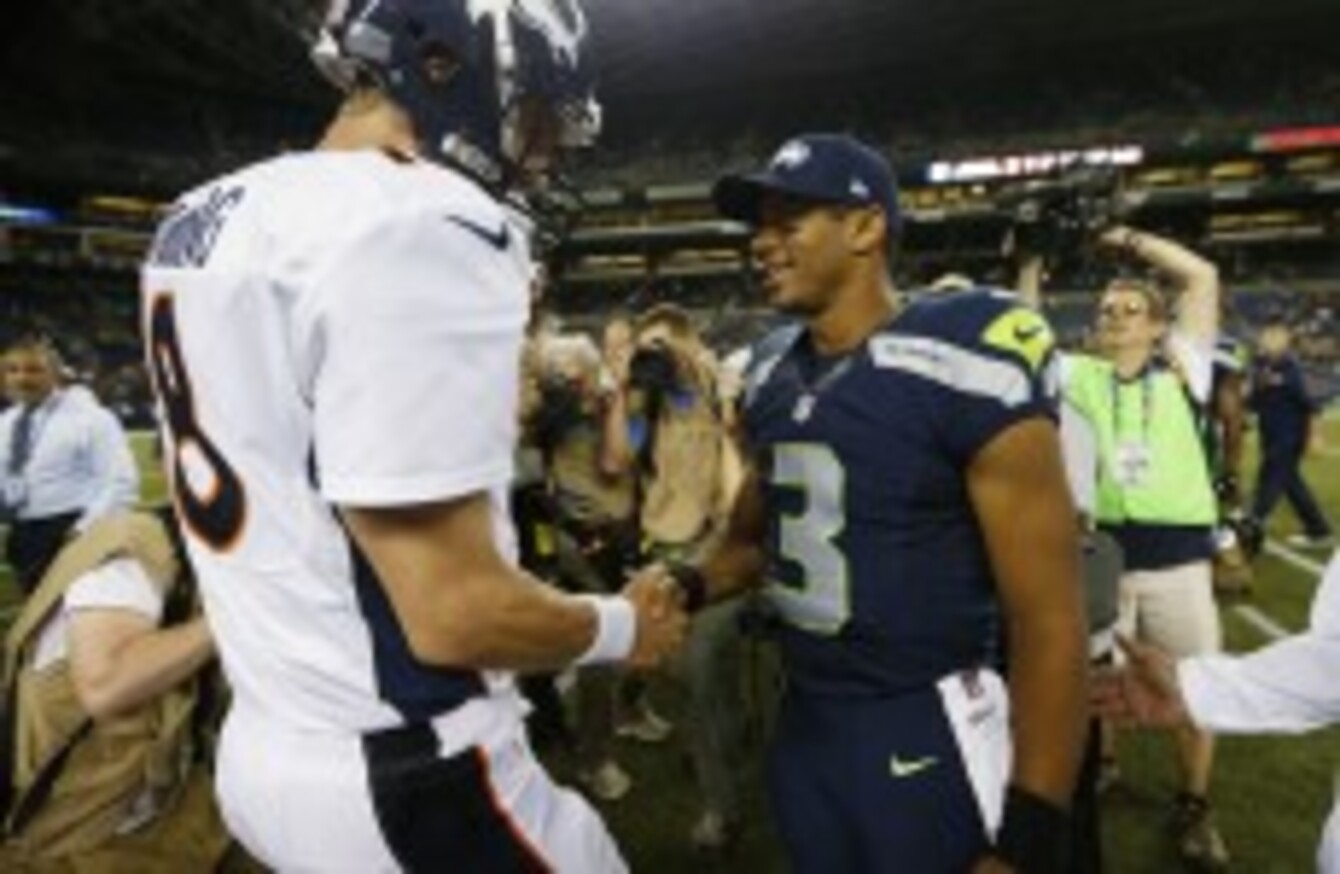 Petyon Manning and Russell Wilson will battle it out for the Super Bowl next week.
Image: John Froschauer/AP/Press Association Images
Petyon Manning and Russell Wilson will battle it out for the Super Bowl next week.
Image: John Froschauer/AP/Press Association Images
THIS SUNDAY, THE second oldest quarterback to play in a Super Bowl — 37-year old Peyton Manning — will lead his side against the sixth youngest — 25-year old Russell Wilson. The gap in ages between the two, 12 years and eight months, will be the largest in Super Bowl history. However, age is not all that separate these two.
Expectation
Peyton Manning was almost ordained a quarterback. One of three sons of longtime NFL quarterback Archie Manning, success at this level seemed inevitable from almost the moment he first touched a football. After a standout college career at Tennessee, where he arrived as one of the most sought after recruits in the country, he was the first pick in the 1998 NFL draft.
Russell Wilson wasn't so loved. Picked by the Seahawks after a punter (Bryan Anger, Jacksonville Jaguars) in the third round of the 2012 draft, many felt he was too small for the NFL. If football didn't work out for Wilson, he was also a highly touted baseball player and many believe he could have made a career in the MLB.
Experience
This was Peyton Manning's 16th season as an NFL quarterback. In that time — and it must be noted he missed the entire 2011 season — Manning has played in 240 regular season games, winning 167, losing 73 and drawing none. That's a win rate of 69.5%.
Manning has played 20 playoff games, winning nine and losing 11, a win rate of 45%. Indeed, despite making the playoffs on 12 occasions before this year, he has just one Vince Lombardi trophy to his name, Super Bowl XLI.
Wilson, on the other hand, has just 32 regular season starts to his name, his 75% win rate coming from 24 wins, eight losses and no ties. He has led the Seahawks to the playoffs in both of his first two seasons, going 1-1 last year and his two wins this time around gives him a postseason win percentage equal to that of his regular season one, 75%.

Image: Jack Dempsey/AP/Press Association Images
Style
At 6′ 5″, 230 lbs, Manning remains the prototype traditional dropback passing quarterback and he has continued to show — despite the emergence of option type quarterbacks — that the NFL rewards those willing to commit to pass first offences. Indeed, Manning has thrown an amazing 92 touchdowns and just 21 interceptions in his 32 regular-season games as a starter in Denver.
Wilson on the other hand, is just 5'11 and weighs in at 206 lbs and is just as dangerous with his feet as he is with his arm. Indeed, while Wilson set the NFL record for most passing touchdowns in a rookie's first two seasons, 52, that doesn't even surpass the number, 55, Manning threw this year. And while Wilson throws the balls ten times fewer per game than Manning — 25 to 35 — his 5.4 yards per rushing attempt dwarfs the Denver quarterback's 's 1.74.
Conclusion
Quarterbacks, of course, don't play against each other but, after the last piece of ticker tape has been swept from the field at MetLife Stadium, we will undoubtedly be talking about how these two matched up and who led their team to glory in Super Bowl XLVIII.
For Manning, this is a chance to prove he is a legitimate contender for the title of the best quarterback ever. Having just one Super Bowl to his name — especially when his brother has two — is a stain on his record and a loss on Sunday would just add to the host of questions that hang over his ability to win games in the playoffs.
For Wilson, he has nothing to lose really. Most pundits expect, if Seattle are to win, they will do so thanks to Marshawn Lynch and brilliant defence. This gives Wilson more freedom than Manning and he has given no indication up to now that big occasions phase him.
These two could hardly be more different but they have one thing in common, both are immensely watchable.