"UNREAL," PHIL HEALY beams as she reflects on a rather memorable Wednesday evening in Santry.
Source: Tommy Dickson/INPHO
The Cork star produced a blistering run to break the Irish female outdoor record for 100m, etching her name into history with a time of 11.28 seconds.
The previous record, 11.40, was long-standing, one which Ailis McSweeney set in 2011 and Amy Foster equaled four years ago, but Bandon AC's Healy admits that it's not something she was chasing by any means.
It just happened.
Herself and her coach, Shane McCormack, weren't even targeting the race. Early on in the week, they decided why not. Conditions looked great, she says, and that they were. The sun glistened down and the winds were nothing but calm.
Her eyes were on the 400m. She's contesting that distance in Geneva this weekend — straight back to work — so she wanted to be confident going in. It would just be an execution of her race plan, if you like.
"The 100m was just before the 400m so we just said we'd treat it as a warm-up run," she tells The42, more than happy to take some time out of her hectic schedule the following day.
"Conditions looked great — a warm night in Santry with calm winds, you can't beat it. I ran underneath the record three times already this season but the wind has been over the legal limit.
"Last night, when the wind looked favourable, we said, 'We might as well go for it'. It was just about executing the race. If the time came, it came and it was a bonus but if not, the focus was moving to the 400m.
"It was kind of ticking a box on the night and just jumping into both and treating it as a training session all round."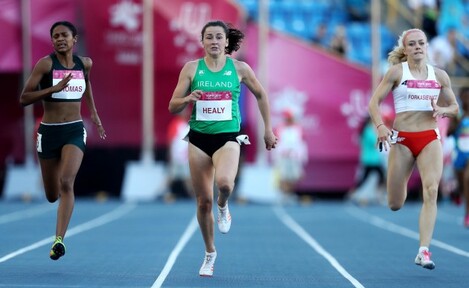 Source: Tommy Dickson/INPHO
She says it herself — in hindsight, her early form indicated that she could reach those standards, and break that record. In early May she ran 11.24 (+2.5) and 11.16 (+3.0), but while the potential for something major was there, her focus was elsewhere
"The signs have been there, the signs have been there in training but we weren't chasing it or we weren't focusing on it," she continues.
"Like we could go all 100ms and 200ms, go that way and just chase the record and chase standards but we were like, 'No, the 400m is the main aim'.
"The 100m was just about dropping down, having a bit of fun, using it as a speed session more than anything. If the time came it was a bonus, as I said, and if it didn't, we'd be just moving on."
And 15 minutes after taking the crown as Ireland's fastest woman, Healy went and clocked an outdoor personal best time of 52.63 seconds in the 400m.
It's the main one, she insists, and has been the target throughout the whole year.
She was obviously chuffed with her effort across the extended distance but refuses to get too carried away:
"It was just about going and executing that race then ahead of Geneva because I didn't want to go to Geneva without running a 400m beforehand.
"It's a high level that I need to be at and that was my practice run as such."
The 23-year-old speaks enthusiastically about her training, and how mixing it up and making it more versatile is reaping its benefits and leading to improvements.
She grins that 200m is her favourite 'at the moment' but that's liable to change. It's all about switching things up and keeping it fresh. Back in 2014 and 2015, for example, it was just 100m and 200m all the time and the technicality and monotony of such left her frustrated.
Healy gives nothing but glowing accounts of her coach Shane McCormack — 'the man with the plan,' as she tweeted after clocking 11.28 at Dublin Athletic Board's Graded Meet 4 — and how he has brought her on leaps and bounds.
Thrilled to break the @irishathletics National Record tonight In Dublin with 11.28 🤣🤣 Topped off with a 400m outdoor pb of 52.63, straight after. Onto @atleticageneve this weekend. All thanks to the man with the plan, Coach @mcwexford 🤴🏽 pic.twitter.com/ZUgEw7CnYF

— Phil Healy (@philhealy2) June 6, 2018
Based in Waterford now for her Masters studies in Enterprise Computer Software, she's close to his set-up in Wexford and that all helps.
"Shane sees me every day, he can tweak sessions, add things in. He's down monitoring, [has] eyes on me the whole time and that's where the improvement has come.
"We get on really well. He knows exactly what works for me and there's an absolutely super squad around us.
"Everyone is feeding off each other and that's the atmosphere he has created for everyone — everyone fulfilling their potential based on the programme he's set out for all of us."
That confidence has well and truly peaked off the back of a busy, and successful, indoor season. In Vienna in January, she ran 52.08 and subsequently scooped the accolade for European Athlete of the Month.
"Things just went rolling after that," she smiles, playing it down slightly. The following week she impressed at the World European Tour, up there with the likes of Olympic medalist Natasha Hastings.
"That gave me momentum, the confidence that I can compete with all these really good athletes. It's just building on it. It's my first year focusing fully on 400m. It's a long-term game and just building year on year.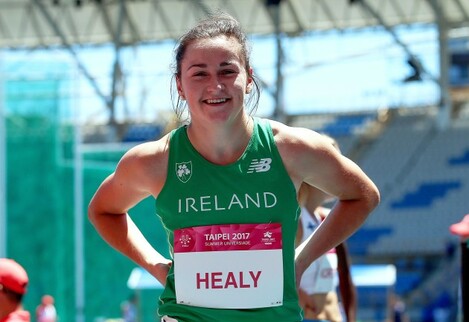 Source: Tommy Dickson/INPHO
"It makes the future very exciting as well. This is the first year that I've a proper training partner. I've got so much out of them, they're getting so much out of me as well. It's working together as a unit and everyone's improving overall."
The future of Irish sprinting is obviously looking bright and that subject comes to the fore in the latter stages of our conversation. It crops up in a slightly different light though.
On Wednesday evening, The42 published a video of Irish student Alannah Neff's sensational finish in the 1500m steeplechase final at the Irish Life Health All-Ireland Schools at the weekend.
She had a crash fall at one of the final barriers but showed true heart, grit and determination to recover and stun the field as she powered to victory.
Interestingly, two years ago, another dramatic finish to a race in Ireland went viral online — Healy the star of the show 'from the depths of hell,' with commentary from Cathal Dennehy, who was also a voice behind Neff's edition.
Source: nTrai/YouTube
Healy smiles when it's put to her. She was there to see the weekend's action in the flesh and was more than impressed: "Absolutely super, some finish!
"It's great to see the young crop of athletes coming up and not giving up as well. You've Cathal there again and he was commentating so it was great.
"It's great to see that it's got coverage and that athletics is being put out there in a positive light again."
The reaction to her own viral video was insane, it nearly spiraled out of control. What about the messages and phone calls — were there as many this time around, was her phone hopping just as much after her record-breaking evening this week?
"Even waking up this morning, the amount of notifications," she continues, but is quick to dim the spotlight as her confident modesty shines through.
"It's great to see the support out there, it's absolutely super and it shows that Irish sprinting is progressing. That record's been there since 2010, it's now stepping up and 11.28 puts you highly ranked in Europe and the world stage as well. It's breaking into that 11.2 mark and hopefully transferring that over 200m and 400m as well.
"It's all about raising it. Ailis McSweeney had a tweet that she played her part in making progress for Irish athletes and she had the 60m record and the 100m record and now that's lowered further — it gets everyone to raise their game.
Check out @philhealy2 's record run here! Proud to have played a part making progress in Irish sprinting - 60m, 100m and relay records all now moved on, as they should. Proud to pass the baton to a fellow Corkonian! https://t.co/STIP8EtKCO

— Ailís McSweeney (@AilisMc) June 6, 2018
"It's great to see a great crop of junior athletes coming through so that record could be broken by a junior again this summer, it gets everyone to up their game and bodes well for the relay as well this summer for Europe.
"It's absolutely super to see the standard rising. It's putting Irish sprinting back out there again. It's always the middle distance, but now that we see Irish sprinting rising — if that feeds into relays it bodes well for everyone."
From here, she has a busy summer of competing ahead.
Geneva this weekend, France the following and then back to race the Irish circuit in July. The big one is the European seniors in Berlin in August, and she's already hit the standard in the 100m, 200m and the 400m.
As per her previous plan, the 400m is the main aim but she's open to change as the season goes on. Her options are always open.
"Having the standards ticks the boxes there and it gets rid of any pressure so it's just about executing the races, enjoying it and competing against top athletes," she concludes.
Watch this space.
The42 is on Instagram! Tap the button below on your phone to follow us!