PHILIP DOYLE STANDS down as head coach of Ireland Women after today's third place play-off against hosts France at the World Cup [KO 3.30pm Irish time, TG4], but the IRFU would be smart to lean on his experience as they move forward.
The man those close to him call 'Goose' has led Ireland to their best-ever performances, a Grand Slam in 2013 and a semi-final in this World Cup – goals that had seemed unrealistic as recently as four years ago.
Doyle is insistent that the IRFU must build on this success, must look to drive further progress and, perhaps most importantly of all, join the world's other leading nations in appointing a professional coach.
From 2003 until 2006 and then 2010 until the present day, Doyle has balanced his "passion" as Ireland head coach with his regular day job running an electrical contracting business.
I work incredibly long hours. I do a double day, run the business and do the rugby," says Doyle. "I won't tell a lie, my business has suffered horrifically. I'm in the electrical contracting business, so the recession nearly wiped me out anyway.
"I've been doing this balancing act for too long. I don't think it's fair to my family to do it anymore. My business needs attention now. Running a business takes time, and I've been running two.
"I wouldn't swap it for a second though, I'm glad I did it the way I did it."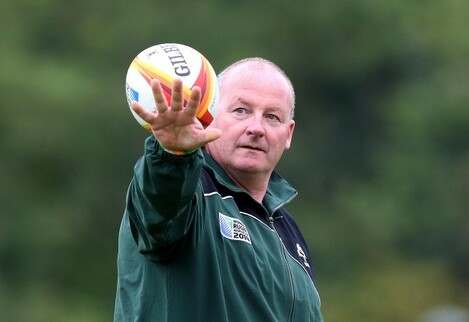 Doyle is a Blackrock man. Source: Dan Sheridan/INPHO
Those demands on his time make the job Doyle has done with Ireland all the more remarkable. From the humblest beginning, he has helped to build this squad from the ground up.
Listening to the Blackrock clubman talk about creating a high performance culture is fascinating; here is a mind with valuable lessons for any ambitious rugby coach. Inspired by the "professionalism" of his Dublin club in the mid-1990s, Doyle set about creating a positive environment within the Ireland set-up when first appointed.
"It's come from complete and utter rock bottom. When I became head coach back in 2003, we barely had a bag of balls and cones. Myself and Mick Kelly, the first bagman, we were both Blackrock men.
If we act professional and make it an environment the players want to be in, make them want that jersey, then the rugby will come next was the thinking, to a certain extent. The whole thing was about showing professionalism and that would filter down and down. It started with that."
11 years later, the results are clear. While Doyle stepped away from the Ireland position in 2006, "completely burned out," he returned in 2010 reinvigorated and having rekindled his love of the game.
A visit to Ireland's World Cup camp during this tournament shows the professional mindset Doyle has helped to manufacture, one that has been wholly embraced by Ireland's players.
"I think every year or every camp we go into, it's got to be better. The girls really do believe that and they see it," explains Doyle. "Standards have to improve all the time, right from organisational through to actually on the pitch.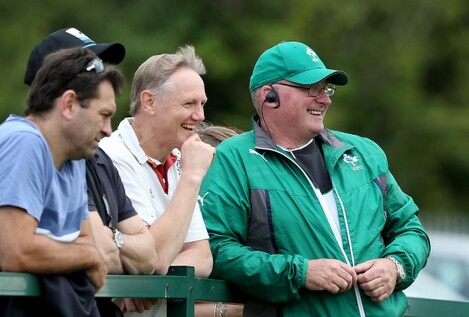 Doyle with Joe Schmidt last month in Malahide. Source: Dan Sheridan/INPHO
"The management team take pride in their professionalism, hugely. It's very important to make sure that everything is in order. The players cannot see that the management team is disorganized, it just can't happen.
"It's all about making the player more comfortable in the environment. You get more comfortable players, you get enjoyment. You get enjoyment, you get a happy player running out onto the pitch and at the end of the day, you'll get a better performance."
From the outset, Doyle set himself a target of earning a ranking improvement at every World Cup Ireland went to. 14th after 2003, eighth in 2006, seventh in 2010 and now either third or fourth in 2013; mission accomplished.
He takes great amounts of pride from having led that improvement in results, as well as the obvious highlights of the 2013 Grand Slam and this year's semi-final. But those moments aren't what he will remember most fondly as he leaves.
So what gives him most satisfaction from the last 11 years?
"Undoubtedly, seeing the players play at the top level. If I don't improve a rugby player after a training session, I'm not coaching," answers Doyle. "The player has to be a better rugby player.
"I just loved the way that the girls have improved and become better rugby players. I think they've fulfilled what we wanted to do, and that for me is the best by far.
Doyle has overseen major improvements in Ireland's performances. Source: Dan Sheridan/INPHO
"It's not the Grand Slam, it's not the World Cup semi-final; they're great memories but to know that when I step away, we can be incredibly proud of what we've done. We've got women's rugby to this level, and let's just hope it goes from here to even greater heights."
Doyle first began coaching in women's rugby when his wife, Nicola, dragged him out of bed one morning and "told me I was going to coach her and teach her how to play rugby."
From there, the former second row moved through DLSP, Blackrock, Bective Rangers and Leinster Women on his way to the Ireland job. Now his 19-year-old daughter and two sons, 17 and 13, are playing with Gorey, where the family are based.
Doyle expects to dip in and out of helping with his children's teams, but stresses that he is "definitely going to take time out from coaching."
He has agreed to help the IRFU with "promotional stuff and back things that they're doing for the women's game," something he feels passionately about. Building on what Ireland have done in the last two years is essential, Doyle stresses again.
I'd like to think that I've put in a good, decent base to step on from this and I genuinely don't see why Ireland can't get back into another semi-final or final. The IRFU have got a chance to really build women's rugby.
"They have to put in the steps the whole way up, pathways through representative U20s rugby. Ultimately, it's also about getting decent coaches into the women's game. The next coach that takes over from us will have to be strong."
Doyle underlines the fact that the jump from inter-provincial rugby to international level is still "colossal, absolutely colossal" and points to this is another area for the IRFU to focus on, as well as bringing the provinces further into line with the national team in terms of coaching content and goals.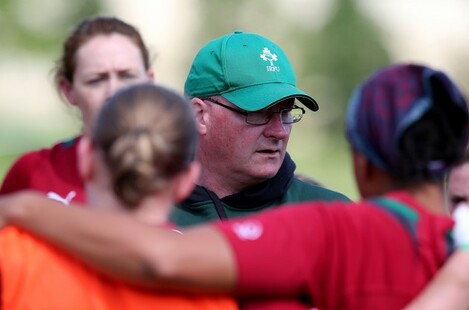 'Goose' hopes to meet his successor, sit down and spend time imparting the lessons he has learned, the subtleties involved in a position that entails getting results at the same time as developing the players' core skills.
Most of all, he hopes that the next coach is a professional, just like in England, Scotland, Wales, France and many other nations.
"For me, it's not an amateur job anymore, it's too big. Everyone else in the Six Nations are fully pro. I'm the only amateur coach in the Six Nations, yet we're boxing so far above our weight.
It's logical, because you can't do a half-arsed job anymore. There has to be autumn internationals. You can't survive with five international matches a year and maybe one friendly. If they want to bring on, it's got to change and they are changing.
"If you go into the IRFU with a kango hammer, you'll just get bounced out. I like to think I went in there to chop down a tree with a tooth pick. I just chipped away, chipped away and eventually that tree just slightly bends. It hasn't fallen over yet, but it's getting there."
What if Ireland come calling again in two or three years' time?
"No, I couldn't," replies Doyle. "No, I've done it. Women's rugby is a big passion, so I want it to go places from here. It has to grow, because I'm not coming back this time! I'm not coming back!"
What if the IRFU were offering the job on professional terms?
A pause.
"Ok… well then I would think about it. I would think about it if it was."