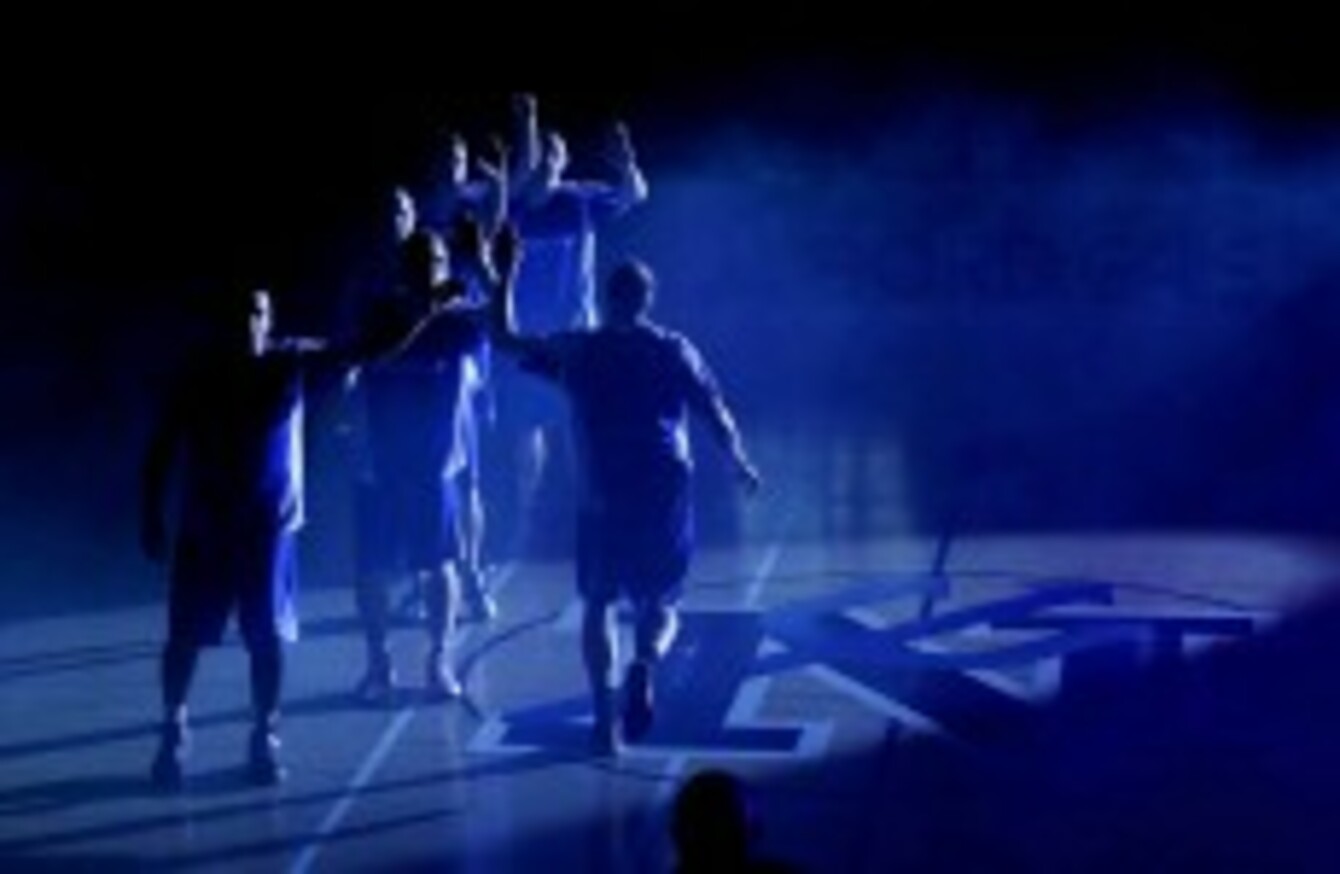 The Neptune team take to the court.
Image: ©INPHO/Dan Sheridan
The Neptune team take to the court.
Image: ©INPHO/Dan Sheridan
HERE'S HOW IT works. Every week, we choose six of the weekend's biggest sporting events. Then we ask six of TheScore.ie's finest minds to have their say. Come Monday, everybody looks and feels a little bit sillier than usual.
Ladies and gentlemen, it's the Pick 6.
Meet this week's pickers *drumroll*:
Tony Cuddihy: the QPR of Pick 6.
Steven O'Rourke: waiting for the axe to fall.
Adrian Russell: fancies a shot at the Leinster 10 slot.
Fintan O'Toole: promising a breakout week.
Paul Fennessy: undercover Racing Metro scout?
Niall Kelly: just making up the numbers.
Basketball: Neptune v UL Eagles, Men's SuperLeague Cup final
TC: I'm going for Neptune, if only because they remind me of Liverpool. Once a dominant force, now looking for a first SuperLeague Cup since 1992.
SOR: I once went to a cup final in the National Basketball Arena and couldn't get over the height of one of the players. Turns out he was standing on a chair which I didn't see until after I embarrassed myself by pointing out his size to everyone around me. I think he played for Neptune so, for that reason, I'm going for UL Eagles.
AR: As a Blackpool lad, I'm not going anywhere but Neptune here.
FOT: Legendary commentator Timmy McCarthy tipped Neptune to win on Newstalk last night. If it's good enough for Timmy, it's good enough for me.
PF: Neptune will roll back the years and emerge triumphant here.
NK: Neptune's a planet, right? These Eagles will soar rings around them.
Rugby: Irish Wolfhounds v England Saxons
TC: There won't be much between the two sides, but England will just have that bit more experience so it's going to be a Saxons win.
SOR: You always get the feeling that England take this level of rugby much more seriously than anyone else. Why exactly, is beyond me, but I still think it'll be enough for the Saxons to run out winners.
AR: The English always seem strong at this grade but I'm going for another homer call; the Wolfhounds — with the likes of Luke Fitz lining out — to make it a winning start to the international season for Ireland.
FOT: Go Wolfhounds has a nice ring to it. Let the canine forces unleash rugby hell.
PF: Despite the strength of the English side, I fancy the Wolfhounds in this one. Players such as Luke Fitzgerald and David Kilcoyne have impressed for their respective provinces of late, and will be eager to make their case for inclusion in the Six Nations starting XV.
NK: If in doubt, abandon all professional objectivity and go with your heart. Wolfhounds it is.
GAA: Dublin v Kildare, O'Byrne Cup final
TC: I'm basing this on tribal loyalty and the performances of both sides in the semi-finals (there's little else to go on so early in the season). Either way, it's coming up Dublin.
SOR: With Seanie Johnston in sparkling form for his adopted county, Kildare will fancy their chances against a Dublin team who lost to Wicklow just two weeks ago. However, home advantage will be enough for a narrow Dublin win.
AR: New Blues boss Jim Gavin's an impressive guy and you suspect this side may still be standing come September; expect him to see the Dubs will get it done at Parnell Park.
FOT: The Dubs to revel in Saturday night fever at Parnell Park.
PF: Dublin can be unpredictable and tend to underperform far too often, but they'll have too much for Kildare in this instance
NK: See above — but replace Wolfhounds with Dublin.
Australian Open: Victoria Azarenka v Li Na
TC: There's really been nothing to pick between these two players, with Azarenka only losing one set so far and Na, pretty much, indestructible. She won't have been many people's favourite going into the match but I'm choosing Na.
SOR: Azarenka will probably need more than a convenient medical time-out to overcome crowd favourite Li Na in this one. However, I still think the defending champion has what it takes to repeat last year's success.
AR: I haven't watched one set of women's tennis over the past fortnight… and based on that I'll go with Azarenka.
FOT: Azarenka. Because she won it last year.
PF: It's very difficult to pick a winner here, given that they're both in tremendous form. I'm going for Azarenka, largely owing to her status as the current world number one.
NK: If Azarenka doesn't win this one, I will LMFAO (see what I did there?)
Australian Open: Novak Djokovic v Andy Murray
TC: At time of writing, Murray has just broken Federer in the fifth set of the semi-final, but it's all moot – neither will have the stuff to beat Djokovic.
SOR: So confident am I that Djokovic will win the Australian Open, I'm making this pick before the second semi-final is even complete. It's about time the world's number one tennis player changed his name to Nobodycanbeat Djokovic.
AR: Murray to make an early claim for Sports Personality of the Year — the only trophy that really matters — by picking up his first major of the year. He was a machine at times against Fed in the semis.
FOT: It's time for Murray mania to descend on Oz. The Scottish lad, that England try to claim, can do the job.
PF: Murray may have beaten him at the US Open, but I think Djokovic is the better player overall, so he seems the more likely to prevail.
NK: Murray's good and all but Djoko's a machine. Revenge for Flushing Meadows.
FA Cup: Leeds United v Tottenham Hotspur
TC: Everything, apart from home advantage, is in Tottenham's favour here, especially now that Luciano Becchio seems to want away from Elland Road. The Premier League side to progress.
SOR: To research this, I asked my one Leeds supporting friend to see how he thinks the home side will do this weekend. His response of 'not a feckin' chance' would make me think that Spurs will emerge victorious. It's a bit mad that he still supports Leeds. I thought they were all Chelsea or Man City fans now?
AR: Draw. Can I say draw?
FOT: The magic of the cup. Lowly Leeds try to rise again. But Spurs will be too strong in their path.
PF: Tottenham could only get a draw in the FA Cup away to Leeds a few years back, but they've improved since then, so they should win this game comfortably.
NK: Magic of the cup etc etc. Leeds, purely because nobody else is giving them a shot.