THE USE OF the black card in Gaelic football has been called into question once again after a series of controversial high-profile decisions in the All-Ireland final last Saturday.
Referee Maurice Deegan dished out black cards to Jonny Cooper, Lee Keegan and Rob Hennelly, while John Small was blessed to avoid a similar outcome for a blatant trip in the first-half.
The application of the rule is the major issue as referees often apply their own interpretation. As a result, black card offenses can vary from game to game, causing confusion and frustration for players and supporters.
A black card is supposed to be issued for the following five offenses: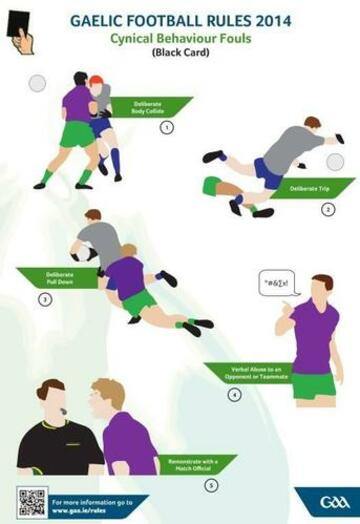 Source: Twitter/officialgaa
Judging by the rules above, Keegan can consider his dismissal unlucky, as he pulled Diarmuid Connolly back, rather than dragging him to the ground.
Connolly went down after he felt contact, but it's important to note the difference.
Followed by a black card for goal scorer Lee Keegan #DUBvMAYO pic.twitter.com/0ZfNJZYdgh

— SportsTalk (@Sportstalkdotie) October 1, 2016
Both All-Ireland final managers have called for changes to the ruling in the aftermath of Saturday's replay.
Stephen Rochford suggested the introduction of a TMO like in rugby to help the referee make decisions.
"To my knowledge, there is maybe up to 10 or 12 people on interaction ear pieces and microphones," Rochford said. "Out of those 12 there is definitely scope for somebody to be looking at a video clip saying: 'Maurice, it's not as clearcut as we thought here'. Or it is."
Jim Gavin has long been an advocate of the sin bin, as he feels it is a better option than the black card, where he says the punishment doesn't fit the crime.
"The black card itself is harsh in that a player, in any game, can be sent off for that type of infringement," Gavin said. "It is time to have another look at the sin bin. I would advocate that, I always have advocated it."
There is also an argument that the rise in the scoring rates over recent seasons is down to the black card.
What do you think should be done about the black card?

Poll Results:
Replace the black card with a sin bin
(2796)
Give referees the aid of a video review
(1662)
Get rid of the black card altogether
(1628)
Leave the black card as it is
(249)
The42 is on Snapchat! Tap the button below on your phone to add!