WITH THE 2014 World Cup approaching its climax, we've decided to take a look at the players likely to make a difference in the coming week.
Keep in mind that in determining these particular power rankings, we've taken into consideration a combination of talent alone (Philipp Lahm) and players who have performed particularly well in recent weeks (Mats Hummels).
So while Thomas Müller has undeniably had a better tournament than Sergio Aguero, all things considered, the Manchester City man is probably the superior player.
Similarly, Pablo Zabaleta is one of the world's best right-backs, but his performances over the past few weeks haven't quite been good enough to earn him a spot on the list.
Injured stars also were not considered, hence the absence of some highly accomplished players such as Neymar and Angel di Maria.
10. Toni Kroos (Germany)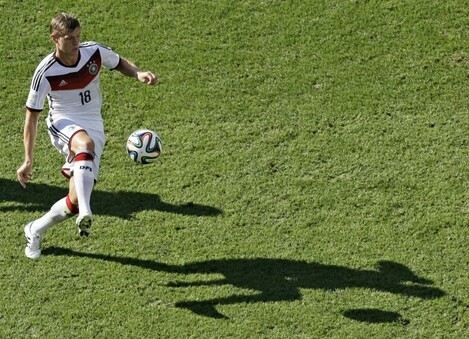 Source: Matt Dunham
Like Germany in general, Kroos was imperious during their opening group game with Portugal and has looked solid if not spectacular ever since. Whereas other attack-minded midfielders in the German side such as Mesut Özil and Mario Götze have tended to be inconsistent, Kroos can usually be relied upon to produce a 7/10 display at worst. His influence was limited in two cagey recent games against France and Algeria (even if he did set up the winning goal on the former occasion), yet with the onus on Brazil to attack as the home side, the Germans' upcoming semi-final could be made for the Bayern Munich midfielder to produce one of his customary killer through passes or inch-perfect set-piece deliveries.
9. Philipp Lahm (Germany)
Source: EMPICS Sport
It has hardly been a vintage tournament for the 30-year-old Bayern Munich star. Deployed as a defensive midfielder, as he often is with Bayern, in the opening few games, Lahm looked far more comfortable against France in his more natural full-back role. And while he may not have been one of the big names to catch the eye in this tournament so far, he remains an integral part of this German side — as is the case with Robben for the Netherlands, Thiago Silva for Brazil and Pablo Zabeleta for Argentina, Lahm provides a young enough Germany team (the sixth youngest squad in the competition overall) with considerable leadership, and accordingly, his experience and game intelligence is likely to prove crucial in these climactic stages.
8. Manuel Neuer (Germany)
Source: Martin Meissner
Widely considered as the best goalkeeper in the world on recent form, the Bayern Munich stopper has lived up to his big reputation with some consistently assured displays over the past month, excelling in a manner that is reminiscent to Germany's last genuinely great goalkeeper – Oliver Kahn — who consolidated his own legendary status at the 2002 World Cup. Neuer, similarly, has been flawless all tournament, seeming particularly adept at sweeping up balls played in behind the defence — an especially vital attribute, given that the German back four are not the quickest.
7. Thiago Silva (Brazil)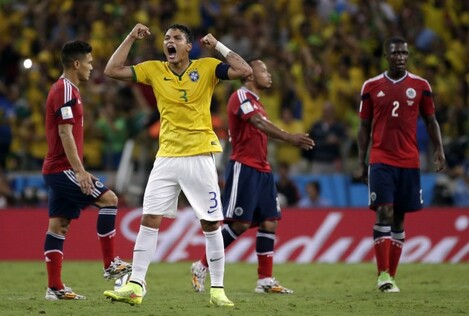 Source: Felipe Dana
For all their attacking limitations, Brazil have been strong defensively for the most part at this World Cup, conceding just four goals in the tournament so far and never more than one per game. The PSG man has been a huge part of their success throughout, with his imposing presence and impressive physicality. The 29-year-old's partnership with David Luiz has looked increasingly steady as the tournament's progressed and provided it's not overturned, his absence through suspension in the semi-final against Germany will be a big blow for the hosts.
6. Thomas Müller (Germany)
Source: Nick Potts
While other young stars such as Neymar and James Rodriguez have grabbed the headlines, Müller has invariably been as impressive as either, with a number of highly effective displays. He has scored four goals so far — the same number as Messi — largely owing to his intelligent movement and ruthless finishing ability, which were evident, in particular, during the 4-0 thrashing of Portugal. Moreover, he is also one of his side's most creative players, producing assists for goals against Algeria and Ghana. So with Brazil weakened through Thiago Silva's absence, Müller could well be the man to unlock their makeshift defence.
5. Mats Hummels (Germany)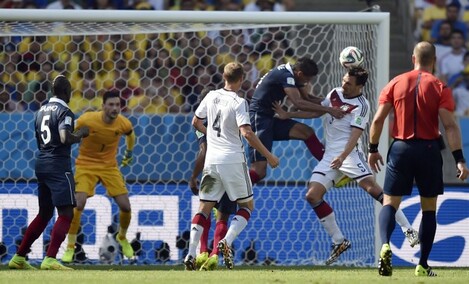 Source: Martin Meissner
It has been no surprise to see the Borussia Dortmund centre-back linked with Manchester United of late, as apart from one or two shaky moments against Ghana, Hummels has had an excellent tournament. Having established himself in the side with some impressive displays at Euro 2012, the 25-year-old now appears to be among the first names on the team sheet for Germany, owing to his reassuring presence in the back four — they have kept clean sheets in three of the four games he's played (Hummels missed the Algeria match through illness). Moreover, he is a significant attacking threat too, having scored vital goals against both Portugal and France, showing his supreme strength by memorably bullying Raphaël Varane off the ball in the latter instance (see pic above).
4. Sergio Aguero (Argentina)
Source: Sergei Grits
Definitely one of the stars on this list being judged more on talent than form, Aguero was as poor as all the other Argentinian players (apart from Messi) for much of the group stages. He failed to show his customary ruthlessness in front of goal, and has consequently wasted the rare chances he's been afforded in the tournament. Injury means he has yet to play in the knockout stages, though the Argentines are hopeful his tournament is not yet over. And while he has failed to perform thus far, on his day, Aguero deservedly continues to be regarded as being among the world's best strikers. The Dutch will consequently be hoping the Manchester City star won't be ready come Wednesday, in spite of his indifferent displays thus far.
3. Robin van Persie (the Netherlands)
Source: Christophe Ena
Having endured a disappointing season by his standards for Manchester United (scoring 12 goals compared with 26 the previous campaign), Van Persie has shown something like his best form at this World Cup. The striker was fantastic in the group stages, particularly against Spain, where he scored one of the goals of the tournament with a beautifully executed header for the all-important equaliser in that game. He's due another moment of magic however, having delivered slightly underwhelming displays against both Mexico and Costa Rica of late.
2. Arjen Robben (the Netherlands)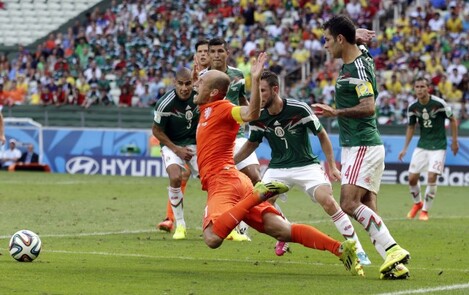 Source: Wong Maye-E
Along with Messi and Neymar, the most consistently impressive star player in Brazil over the course of the past few weeks. In addition to scoring some vital goals as well as constantly posing a threat to the opposition with his peerless pace, stamina and footballing intelligence, Robben has consistently demonstrated his oft-overlooked leadership qualities of late. The 30-year-old attacker has invariably been visibly vocal and seemingly demands the same standards of his teammates that he sets himself. And most importantly, he has risen to the occasion at vital moments — inspiring his side's comeback against Mexico and consummately converting his penalty in the shootout against Costa Rica.
1. Lionel Messi (Argentina)
Source: Martin Meissner
The Barcelona star has met the considerable expectations on his shoulders thus far at the World Cup. Even in his quieter games, he has produced at least one ingenious moment, such as the much-discussed defence-splitting pass in their most recent match with Belgium. Without Messi, it's almost inconceivable that Argentina would have gotten to this stage — his mere presence alone is crucial for the team's confidence and with four goals so far, he has made exactly the type of decisive impact that was expected of him.
Who do you think are the 10 best players left in the competition? Let us know in the comments section below.