IT'S A QUARTER of a century since English football was rebranded and we took our first gentle steps into the Premier League era.
So, we're taking a nostalgic trip to reminisce about the good, bad and ugly shirt designs from that inaugural top-flight season in 1992.
Some got it so right. Others, well…not so much.
Do you have a favourite? Let us know in the comments section.
The Good
(Manchester United, home)
Umbro had a litany of club contracts at the time, and quite rightly too. They implemented the old-school collar on quite a few shirts for the 92/93 campaign and all of them are gorgeous. It was fitting that United won their first title in 26 years in a jersey that's a classic.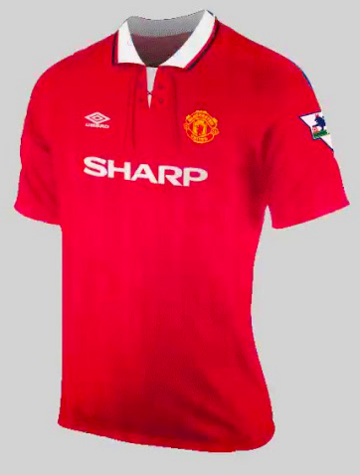 Source: Premier League
Liverpool (away)
An iconic shirt and it's just all about the colour. Owing to how revered this jersey is, the green was copied in later years and is making another comeback for the 2017/18 season. Note the new sponsorship deal on the front as Liverpool moved from Candy to Carlsberg and the three-stripe detail on the shoulder. An excellent job from Adidas.
Source: Premier League
Chelsea (away)
Umbro's old-school collar design again on show as they had some fun with this Chelsea away kit. The pin-stripe design and colour scheme creates a lovely continental feel – this could almost be a vintage France away shirt. A slight difference in the collar – the grandfather look is used here, in contrast to the more traditional United home shirt.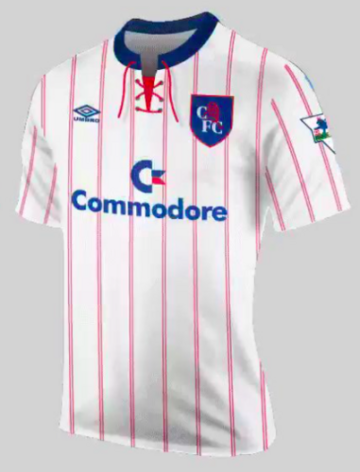 Source: Premier League
Manchester City (home)
Like their design for the United home shirt, Umbro kept it simple for City too but went with a modern collar and diamond on the sleeve. The colour scheme is just outrageously good – baby blue with a darker navy – and works so well here.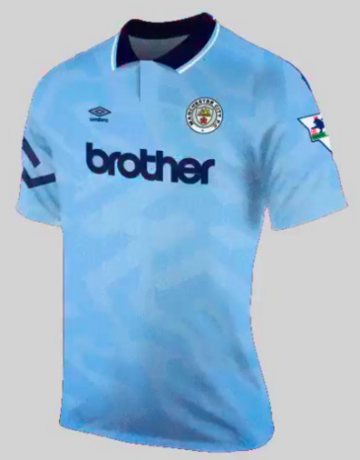 Source: Premier League
Aston Villa (home)
For one of the founding members of the Football League and one of the oldest clubs in England, it was fitting that Umbro put together a very old-school design for the club's debut Premier League season.
That burgundy band on the sleeve is a superb touch.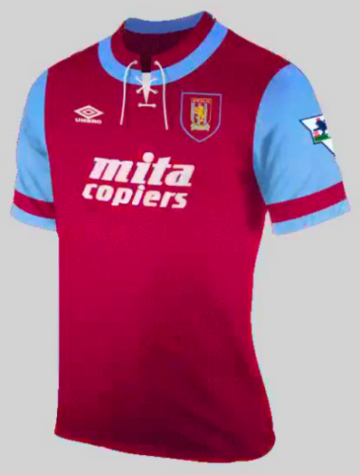 Source: Premier League
Sheffield Wednesday (home)
The addition of 'Sanderson' across the front in red capitals really gave this shirt an injection of colour and really complemented the blue and white stripes. And those black shorts were a great shout too.
Source: Ross Kinnaird
Tottenham Hotspur (home)
Again, a simple and effective approach from Umbro. They had some more fun with the yellow away kit and it backfired so there are no real tricks here outside of the 'Spurs' carried on the sleeve.
Source: Premier League
Manchester United (third)
To celebrate the 100th anniversary of Newton Heath (the club it was founded as) first playing in the Football League, Umbro designed this magnificent third strip that United would wear occasionally throughout 1993 and 1994.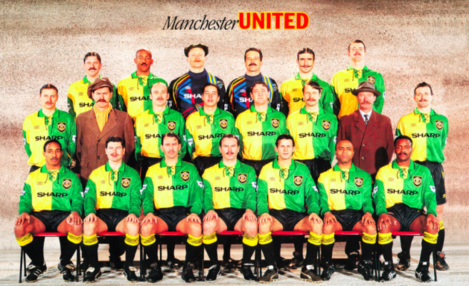 The Bad
Southampton (away)
Admiral went through their heyday in the 1970s and early 1980s with a collection of iconic, generation-defining football kits (told in the excellent Get Shirty documentary that can be viewed right here). But soon, the small midlands company that started out manufacturing underwear, were struggling to compete. Umbro and Adidas had the monopoly, higher budgets and better marketing. They did manage a return to high-profile design in the early 1990s but some of their work left a lot to de desired, like this Saints away strip.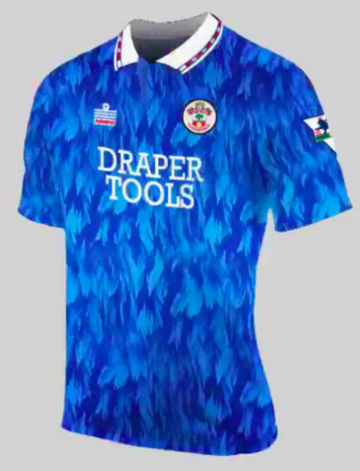 Source: Premier League
Manchester United (away)
It wasn't just Admiral that fell short. Sometimes, even Umbro got it wrong, and it was usually with some away shirts that were too much of a gamble. They attempted to be a bit hi-tech with this but everything about is wrong. Fittingly they wore it on the opening day of the Premier League and subsequently lost 2-1 to Sheffield United. Considering how well Umbro did with United's third shirt, this was a big disappointment. It was replaced the following year by the classic black shirt.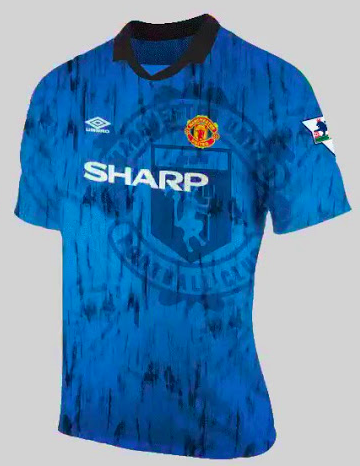 Source: Premier League
Everton (away)
For Everton's away shirt in 1992, they decided on a navy and salmon pink striped design. Inevitably, it didn't last.
Source: Premier League
Tottenham (away)
As lovely as Spurs' home shirt was, Umbro erred with the away version. We're still not quite sure what that shoulder design is about.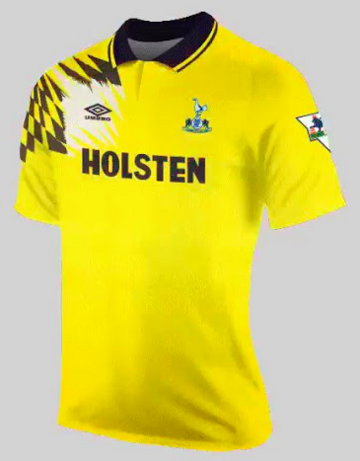 The Ugly
Arsenal (away)
The Arsenal home strip is a classic and they have managed to conjure some terrific kits down through the years. However, this isn't one of them.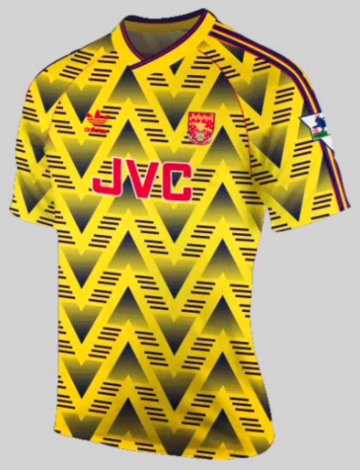 Source: Premier League
Norwich City (home)
Norwich were hit with a double-whammy in 1992. Despite performing superbly in the league (in contention for the championship until the final few weeks), their shirt game was beyond poor.
You know you're in trouble when you look at a shirt and the first think that comes to mind is 'vomit'.
But, some of their greatest triumphs happened while wearing this abomination. And that should act as a warning for any manufacturers.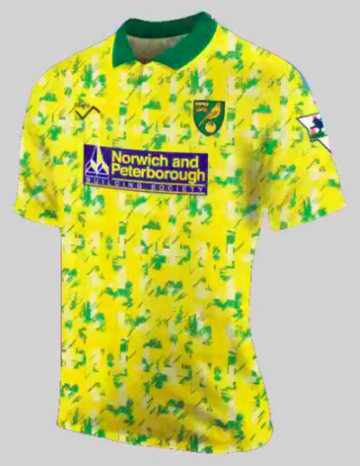 Norwich City (away)
Speaking of abomination, here's Norwich's away kit. Logically, when your team's home colours are yellow and green (pretty difficult to work with), the addition of purple and white is a good idea.
The following season, manufacturers Ribeiro apparently went bust.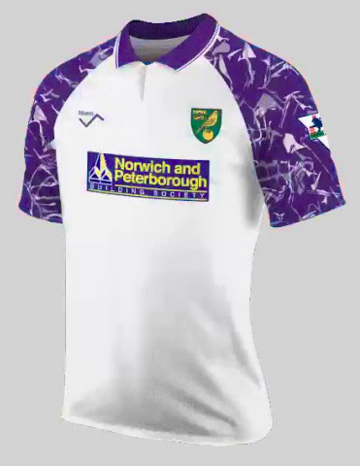 Source: Premier League
Coventry (home)
Interestingly, Ribeiro also took on the contract for Coventry. And you've probably already guessed the rest…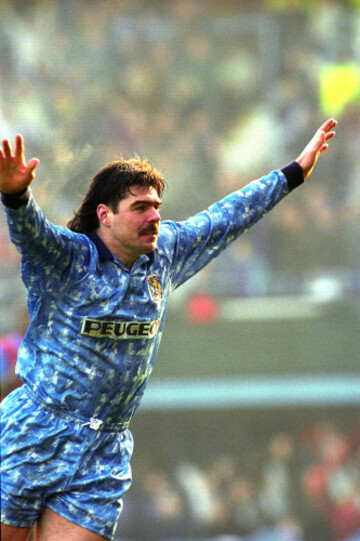 Source: Ross Kinnaird
Coventry (away)
Good grief…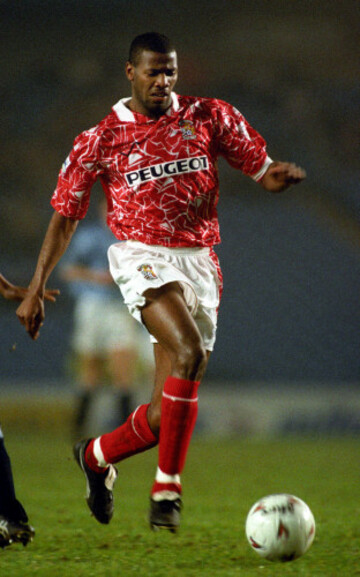 Source: Barry Coombs
Oldham Athletic (away)
This is not Ribeiro – Umbro were responsible for this. Maybe they just lost interest after a while? Who thinks that 'shades of different colour greens' works as a football shirt? There is not a lot of evidence that this kit actually existed, thankfully. But it did. And we'll never un-see it.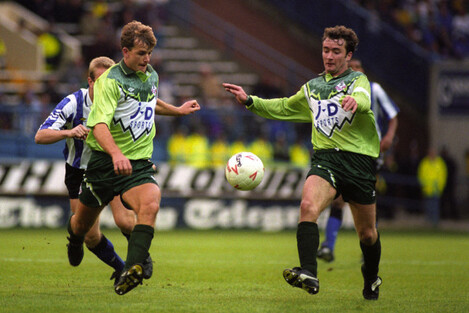 Source: Graham Chadwick
The42 is on Instagram! Tap the button below on your phone to follow us!