Send us your thoughts and comments on this afternoon's action. E-mail  paul@thescore.ie, tweet us @thescore_ie, find us on Facebook, or leave a comment below.
Fulham 1-0 Liverpool (FT)

Hello, and welcome to the liveblog of the evening's Premier League game between Fulham and Liverpool.
This will be an important match for both sides, with Liverpool looking to leapfrog Newcastle into sixth place and Fulham aiming to put some breathing space between themselves and the relegation zone.
Here are your teams for this evening:
FULHAM: Schwarzer, Kelly, Hangeland, Senderos, Riise, Dempsey, Murphy, Etuhu, Ruiz, Dembele, Zamora. Subs: Etheridge, Johnson, Kasami, Gecov, Hughes, Frei, Briggs.
LIVERPOOL: Reina, Johnson, Skrtel, Agger, Jose Enrique, Henderson, Spearing, Adam, Bellamy, Suarez, Carroll. Subs: Doni, Maxi, Coates, Kuyt, Downing, Carragher, Kelly.
A well-observed minute's applause for Gary Speed has just taken place.
In case anyone's wondering, Damien Duff is out with a calf injury. On the plus side as far as Ireland fans are concerned, Stephen Kelly has been handed a rare start.
Liverpool, meanwhile, have adopted a 4-3-3 formation, with Suarez and Bellamy either side of the recalled Andy Carroll.
Let off for Liverpool! Dembele is played straight through on goal but he shoots straight at Reina. At the other end, Charlie Adam's volley is deflected just over the bar.
Suarez crosses to Carroll, who shoots straight at the keeper. If it was either side of him, that would have been a goal.
Great, fast-paced start to this game.
The Telegraph's Henry Winter pays tribute to the Craven Cottage faithful: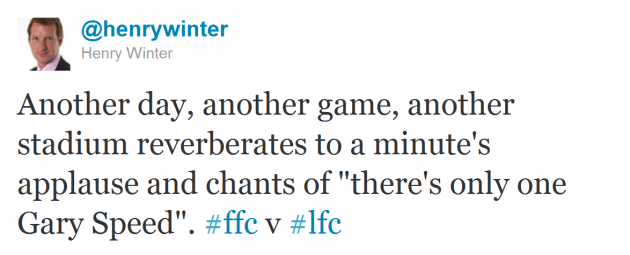 Well-struck shot by Charlie Adam, who has started well. He forces Schwarzer to have to dive down to make a decent save.
Dembele blasts a powerful shot, which Reina can only parry away.
Both sides have had chances in these opening stages, with neither really imposing themselves on the game as of yet.
So how do you reckon tonight's game will turn out?

Liverpool currently have the best defensive record in the Premier League, which means Jamie Carragher can't even get in the team at the moment and can only watch anxiously from the sidelines tonight.
Brilliant, driving run and shot from Jordan Henderson. His sublime, curling effort hits the inside of the post and somehow stays out.
Very entertaining game so far, with both sides looking to attack at will.
Great play from Suarez, who uses his pace to beat Kelly. He crosses to Carroll, who is prevented from shooting thanks to a superb last-ditch tackle/block from Hangeland.
Martin Tyler has just highlighted an incredible statistic – Fulham haven't conceded a penalty in 49 games. It's no wonder they have a reputation for fair play.
Not sure whether he means the new new Torres, or the new old Torres. I'll assume the former, given that Carroll hasn't started particularly well.
Roughly five minutes left in this first half. Don't let the scoreline fool you, it's been a relatively entertaining opening forty minutes.
Dembele has just been booked for kicking the ball away in protest against a free-kick being awarded against him. Pointless yellow card for the Belgian international.
HALF TIME: FULHAM 0-0 LIVERPOOL
A draw is probably a fair reflection of the first half. Both sides have tested the respective goalkeepers, while neither have ever really controlled the game. Jol will arguably be the happier of the two managers, given Liverpool's recent form, but there isn't too much between the two sides at the moment.
Of Liverpool's three strikers, Suarez has easily been the most influential. Carroll, in contrast, hasn't offered too much and could have made more of a chance from Suarez's cross a few minutes before the break.
Gary Neville – who is once again on analysis duty presumably to the dismay of Liverpool fans – believes Kenny Dalglish's men have a "balance problem" playing with three up front.
Here's one of the few heart-in-mouth moments in the first half for Liverpool.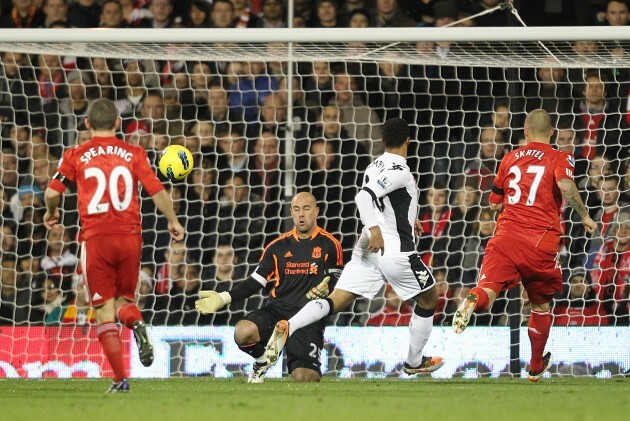 And the second half is underway…
Meanwhile, in other news:

While both sides have tried to play attractive football, it's descending into a bit of a midfield scrap at the moment.
Wonderfully struck volley from Jose Enrique, which is parried away by Schwarzer, after a corner is only half cleared. Great technique.
Liverpool are beginning to establish some dominance now, and look the more likely side to score.
Phew! Great defending from Agger, who throws himself at a Zamora shot.
Adam then carries the ball up the pitch and is fouled just outside the penalty area. Liverpool claimed it was inside the area, but replays prove referee Keven Friend made a good decision.
Bellamy's subsequent free kick is deflected away.
Bellamy looked livid with Adam there – the ex-Blackpool player chose to take on his man instead of playing the simple square pass to the Welsh international.
Henderson plays a clever through ball to Bellamy, who shoots well wide from a difficult angle.
I know I'm probably jinxing it, but I can't see this game ending 0-0. It's being played at such a frenetic pace, and chances have hardly been at a premium.
Suarez has just had a goal ruled out – rather questionably – for offside. He still finishes superbly, chipping over the keeper, which reminds Ray Wilkins of Messi "against Arsenal a few years back". Actually Ray, it was last season.
Andrew Johnson has just replaced the disappointing Bobby Zamora.
RED CARD FOR JAY SPEARING!
It's a two-footed challenge, though he won the ball, so it's a tad harsh in my view. However, the referee will legitimately claim that he was following the letter of the law.
Disaster for Liverpool! They've now reverted to a 4-4-1, with Bellamy and Suarez occupying the wing positions.
Many Liverpool fans will share John Kelly's view.

Kuyt and Downing have replaced Carroll and Bellamy. Another disappointing display from the £35million man I'm afraid.
With the sending off and the highly questionable offside goal, the referee really hasn't done Liverpool any favours tonight.
Great play from Dempsey, who beats Johnson and launches a snap shot, which comes off the cross bar and goes out for a goal kick.
Dembele also has a golden opportunity, after being found in the box by Danny Murphy, but he hits it straight at the keeper.
Fulham are beginning to make the man advantage count now.
Danny Murphy beats Glen Johnson and Reina can only parry his shot into the path of Clint Dempsey, who slots the ball home.
That goal came just after Schwarzer's fingertips had narrowly stopped a Downing rocket from going in.
It has to be said that both Reina and Johnson could have done better for that goal.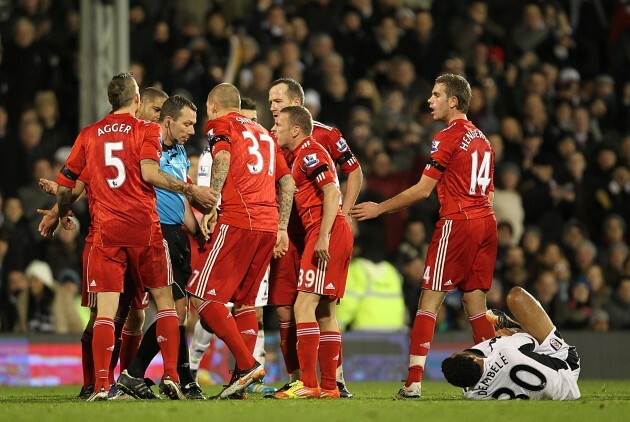 Liverpool players may end up pointing to the sending-off as the turning point in the match.
Free kick for Liverpool just outside the box, with just over a minute left.
Danny Murphy looks to have picked up a bad injury and is replaced by Gecov.
Suarez shoots right into the wall and Fulham clear the ball away.
FULL TIME: FULHAM 1-0 LIVERPOOL
Liverpool will be gutted with that result. They'll point to the debatable sending off and the controversial disallowed goal, but in all truth, they didn't really do enough to merit winning the game, even with 11 men on the field.
Fulham, meanwhile, rode their luck on occasion, but were inspired by fine performances from the attacking trio of Dempsey, Murphy and Dembele. It was thus no surprise that the former two players played pivotal roles in the Fulham winner.
Fulham have moved away from the relegation zone up to 13th place, but on the basis of that performance, they have no need to worry about finishing in the bottom three.
Liverpool, on the other hand, remain in seventh position, having missed an opportunity to go ahead of both Newcastle and Arsenal.
Stephen Kelly, through numerous sniffles, praises Schwarzer for his saves and hands Clint Dempsey the man of the match champagne.
Gary Neville claims the sending-off wouldn't have even been "a foul 20 years ago" and says Senderos should have been sent off for his foul on Charlie Adam (see 21.20).
There are a lot of unhappy Liverpool fans on Twitter tonight:

Here's the player ratings (N.B. subs weren't on long enough to rate):
FULHAM: Schwarzer 6, Kelly 6, Hangeland 6, Senderos 5, Riise 5, Dempsey 7, Murphy 7, Etuhu 6, Ruiz 6, Dembele 7, Zamora 5.
LIVERPOOL: Reina 5, Johnson 5, Skrtel 6, Agger 6, Jose Enrique 6, Henderson 6, Spearing 5, Adam 5, Bellamy 6, Suarez 6, Carroll 5.
Martin Jol, speaking on the Spearing sending-off, admits "when I was playing it would have been a great tackle".
Okay, I'd love to stick around, but unfortunately the Luas doesn't run all night. Thanks for reading and commenting, and don't forget to check out our Champions League liveblog tomorrow night. Laters!