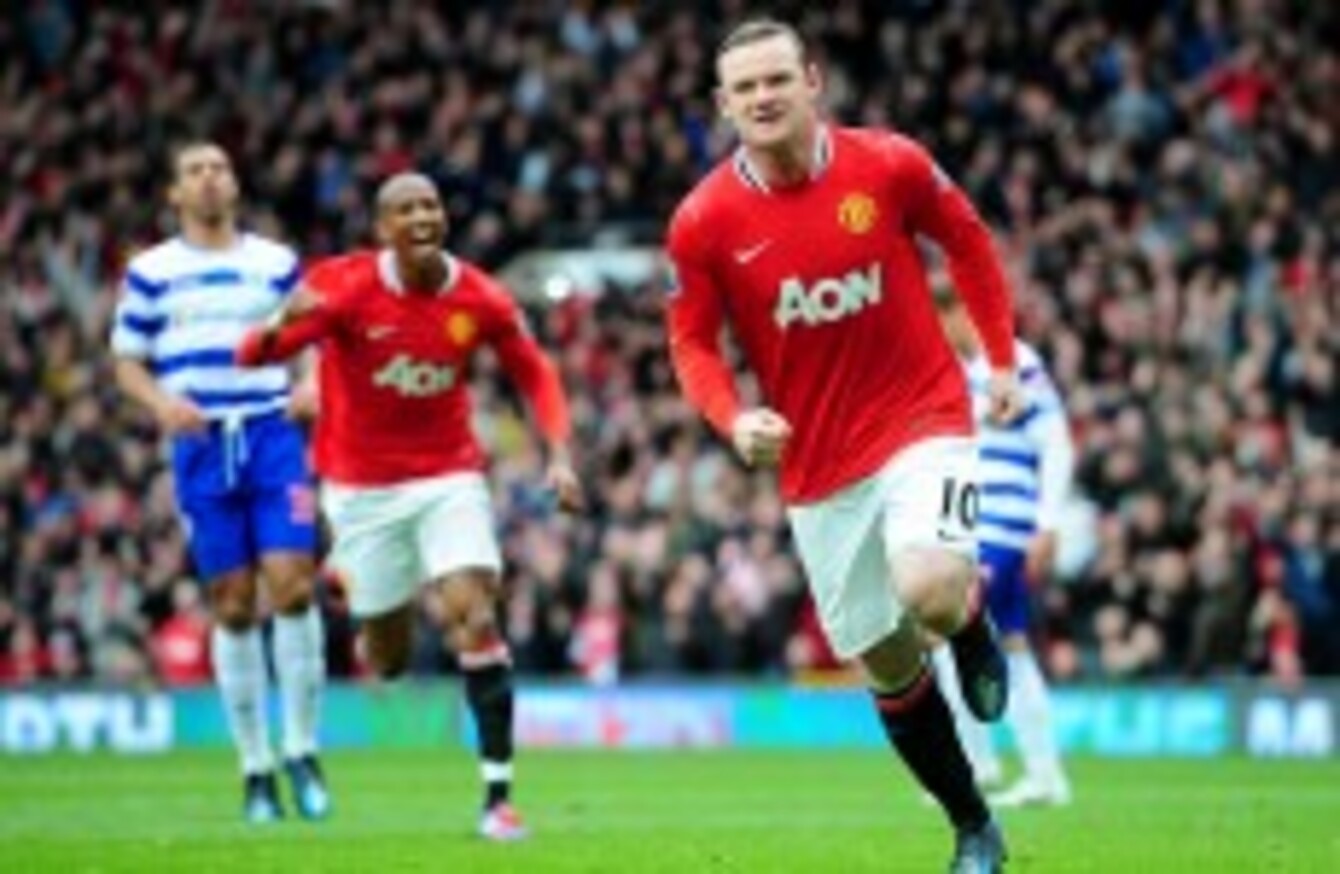 Wayne Rooney celebrates his penalty... and quite possibly a 20th United title
Image: PA
Wayne Rooney celebrates his penalty... and quite possibly a 20th United title
Image: PA
A DEFINING AND potentially decisive Easter Sunday in the Premier League. Manchester United beat QPR 2-1 at home while Manchester City fell 1-0 to Arsenal late on to create a massive eight-point gap.
Of course, that didn't happen without a significant degree of controversy: United's opening goal after 15 minutes only came thanks to a very contentious penalty for which Ashley Young was offside and then made the most of contact with Shaun Derry, getting the defender sent off; Mario Balotelli capped a dreadful afternoon by also  receiving red for a second booking although, in truth, he should have been dismissed much earlier on for a disgraceful studs-up challenge on Alex Song.
None of that, however, should conceal the ultimate truths: both teams kept up their recent form – United  winning, City stumbling. In the end, it will be that which decides this title.
United didn't complete their job without some degree of anxiety though. Although they were 1-0 up from so early on thanks to Wayne Rooney's penalty and completely dominated the match, they squandered a series of chances with QPR looking like they may well catch them. Eventually, though, Paul Scholes secure the three points with a brilliant strike from outside the box, bringing to a peak a superb run of form. It can't be doubted that he's been a huge factor in United's post-Christmas surge.
On the other side of things, it's going to be hard to argue that Balotelli isn't as big a factor in City's downfall. Aside from his disgraceful challenge today and general ill-discipline he was also plain irresponsible, frequently refusing to do his part in defensive work. That played a part in Arsenal's dominance of this game although, even aside form Balotelli, City simply resembled the team they've been for the past two months: flat and without ideas. They never seriously threatened the Arsenal goal, with Mikel Arteta's 87th-minute low winner well deserved. For that, Mancini should receive more blame than Balotelli.
While United's superb run of victories signal that they've definitely done their best to take this race by the scruff of the neck, City have also done their best to lose it.
The results also had consequences for some of the other races in the Premier League: QPR failedto take advantage of the fact that all of their relegation rivals lost yesterday, but Arsenal leaped back over Tottenham into third.
Be part
of the team
Access exclusive podcasts, interviews and analysis with a monthly or annual membership.
Become a Member