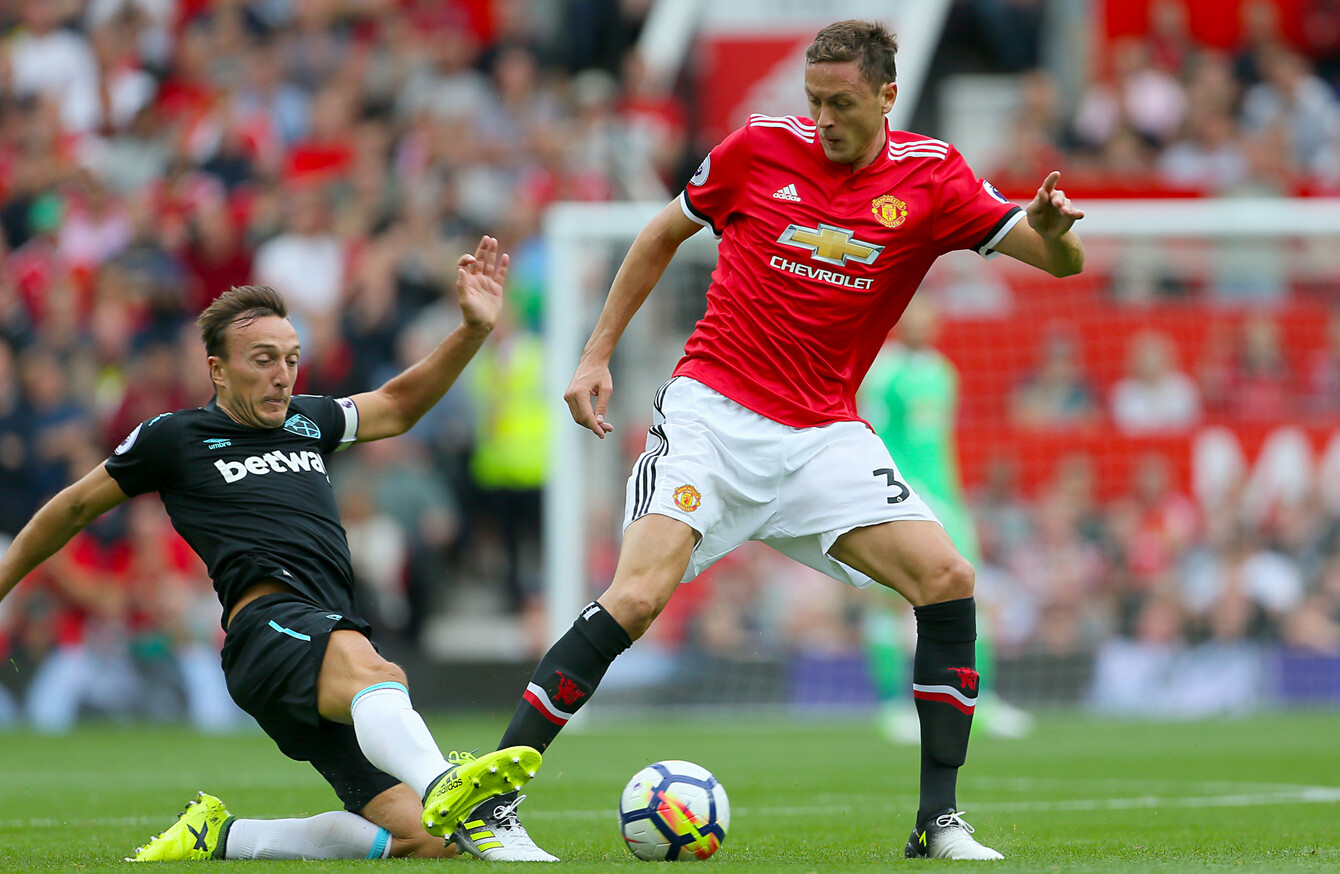 Image: Richard Sellers
Image: Richard Sellers
Nemanja Matic looks the part already at Old Trafford
IT'S RATHER INEVITABLE that Romelu Lukaku will grab the headlines tomorrow after his brace but it was the performance of the Serbian midfielder than really stood out on an afternoon when Manchester United made a firm statement of intent.
Granted they weren't up against much – a limp and lifeless West Ham seemed to have no Plan A, never mind a Plan B. But this was an energetic display, with Matic at the heart of it.
There had already been some delightful touches – most notably an inch-perfect 30-yard pass from left to right to get United in behind – when he played a crucial part in Lukaku's first goal. Matic brilliantly won the ball in midfield and raced alongside Marcus Rashford to offer a critical dummy run and open up the space for Lukaku to run in behind.
He was a measured presence in the middle of the park and it was one of the most composed and efficient Premier League debuts at Old Trafford in living memory.
Of course, he will always remain an unheralded player because of his personality and demeanour and the attention will always be focused on Lukaku and Pogba.
Not that Matic will care. He, and particularly Mourinho, knows his worth. And today was a firm reminder – if we needed it – of how big a mis-step it's been for Chelsea to let him go in the first place.
Eoin O'Callaghan
Outside of his goals, Lukaku shows the added extras he brings to United
Before Lukaku had found the net, he already displayed just why he offers this United team something different.
He has an ability to drop short, involve himself in build-up play but then stretch teams with his movement.
He's not just big and strong. He's also quick – something that Zlatan Ibrahimovic, who brought a lot to United last term, wasn't.
There was a great moment early in the game when he effortlessly took a great first touch to push the ball out of his body and away from a West Ham defender before he rampaged down the left side and moved United up the pitch in a matter of seconds before forcing a corner.
United looked laborious in attack at various times last season – not necessarily only because of Zlatan but he didn't exactly help matters with his general lack of mobility. Lukaku is a powerful guy and has the fleetness of foot to offer more. When he turns a defender, he can also get clear of them and can open up a defence as a result.
Obviously, the question is whether he can offer more in front of goal too. But he certainly gave a firm response to that today.
Eoin O'Callaghan
Shelvey lets his team-mates down
Jonjo Shelvey's talent has been obvious for a long time. From the early on, the player was earmarked as a footballer of great promise. He captained England U19s, also lining out for the Three Lions at U16, U17 and U21 level, before graduating to the senior side in 2012 and making his international debut at the tender age of 20.
He looked to be on the way towards fulfilling his rich potential in 2010, when he joined Liverpool from Charlton for an initial fee of £1.7 million.
Yet Shelvey has never really kicked on from there. He failed to establish himself at Anfield, before some promising moments in a three-year spell at Swansea were marred by regular disciplinary issues.
Still only 25, he has impressed since joining Newcastle last year, and was handed the captain's armband for today's match at home to Tottenham.
However, this afternoon, Shelvey showed why his career has not panned out as well as he could have hoped so far.
For all his talent, the midfielder's temperament is suspect at the best of times. A moment of madness, encompassing a stamp on Dele Alli's ankle, resulted in his sending off on the Toon Army's return to the top flight.
It was needless in every respect, and it was no surprise to hear the player immediately apologised to team-mates after the game. Before the incident, Newcastle had frustrated Tottenham and were well in the match, but after Shelvey's dismissal, they collapsed amid increasingly intensive attacking pressure from the visitors and were beaten 2-0 ultimately.
At 25, Shelvey urgently needs to cut such behaviour out of his game. Otherwise, he won't survive long in the Premier League, as Rafa Benitez will start to perceive the star as being more trouble than he's worth, just as others did before him.
Paul Fennessy 
Tottenham's attacking trio looking formidable
In recent years, Tottenham and Harry Kane in particular have tended to start the season slowly.
Remarkably, Spurs' star man has never scored a Premier League goal in August.
And while that stat remained intact after today's match, Tottenham's attack still looked formidable, particularly as the game wore on and there was more space to exploit.
Kane was unlucky not to score, hitting the post in second-half injury time, while Christian Eriksen and Dele Alli each had a couple of dazzling moments to inspire Spurs to their 13th win from their last 14 Premier League games.
The understanding Alli and Eriksen have worked up in particular is a joy to behold. The Dane — who has assisted more than any other Premier League player since the start of the 2015-16 season — almost seems to have a sixth sense, such is his uncanny ability for knowing exactly when Alli will arrive in the box.
Eriksen curling the ball for Alli to head home has almost become a Spurs trademark at this point — they scored this type of goal twice against Chelsea last season, while the pair linked up again brilliantly for the opener at Newcastle today.
Shortly thereafter, the attackers again produced some lovely interplay, which led to Ben Davies' goal making the game safe on 70 minutes.
It has been a difficult week for Tottenham in light of Danny Rose's much-publicised and controversial midweek comments, but their players certainly gave the fans reason to cheer today.
It was a far from vintage display from Mauricio Pochettino's side, but it featured enough exhilarating moments to suggest Spurs can be a force to be reckoned with again this season.
Paul Fennessy 
Subscribe to The42 podcasts here: