Updated at 11.00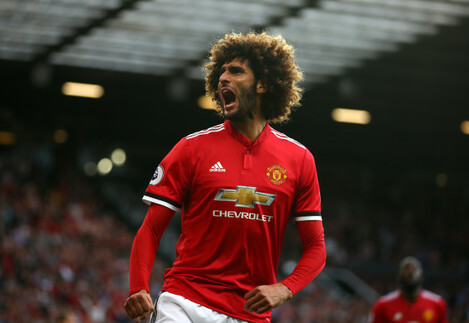 Marouane Fellaini scored a brace for Manchester United on Saturday. Source: PA Wire/PA Images
1. Fellaini's redemption shows a player of perseverance
Marouane Fellaini and Juan Mata entered this season as proud relics and perhaps even survivors of the David Moyes era at Old Trafford, having been the only two players the Scot bought during his tumultuous 10 months in charge.
General convention held that Mata's proven pedigree across Premier League, La Liga and international football would hold firm regardless of the manager in the United dugout, however many were surprised that Fellaini has remained on during the Mourinho era.
Transfer speculation saw the Belgian heavily linked with a move to Turkey during the summer, and many supporters were happy to let the elbow-swinging engine with an afro leave following three seasons of highs and lows in Manchester.
But Saturday's brace against Crystal Palace has shown Fellaini to be a player of extreme perseverance.
The Belgian has endured years of criticism for his limited and unaesthetic style of play, with his role in a United team building towards a title challenge under Mourinho entirely unimaginable alongside team-mates like Paul Pogba and Nemanja Matic competing for a role in central midfield.
Saturday's 4-0 victory at home to Palace, however, saw Fellaini the big winner with two goals and a performance to match seeing him earn the praise and, dare suggest, respect of supporters and rivals alike.
Remaining true to the no-nonsense, physical, anti-football style which has been his hallmark since arriving in the Premier League almost a decade ago, Fellaini seems to have found his place at United, and most surprisingly of all, the sympathy and consideration of supporters.
A scapegoat who for many represented the worst of the Moyes era is now a championed magnate of the successful Mourinho generation at Old Trafford.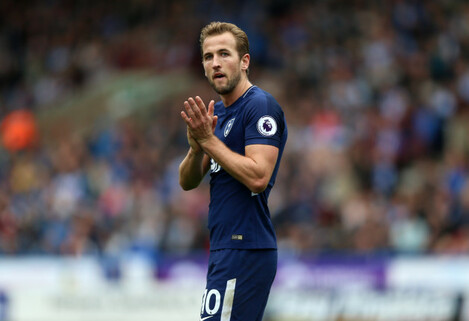 Source: Nigel French
2. Tottenham's unexplainable form away from home
The old saying goes that if you win your home games and draw your away games, you'll get Europe.
Tottenham will certainly be aiming for a top four spot again this season, but are going about it in the opposite way to the proven formula, curiously struggling at home and beating teams easily when on the road.
Saturday's 4-0 defeat of Huddersfield only further highlighted Spurs' ability to play well and perform anywhere that isn't Wembley.
The extent of their hoodoo at the national stadium has been overstated since moving in this season, but Mauricio Pochettino's side's consistent performances on the road raises a strange pattern.
The side have won three away games in a row with West Ham, Apoel Nicosia and Huddersfield all falling by the wayside, with all four of Spurs' Premier League wins this season coming away from home too.
They have lost one and drawn two at home meanwhile, with their sole win at Wembley this season coming against Borussia Dortmund in the Champions League.
All of this creating a dizzying conclusion that Tottenham would be top of the Premier League table based on away form, have yet to win at home in the league this season, but at the same time possess the capabilities to beat a side such as Dortmund at Wembley.
Tottenham finished runners-up to Chelsea for the title last season due to their incredible home record which saw them go unbeaten at White Hart Lane.
This season, however, they seem most comfortable, versatile and solidified when playing on the road — keeping three clean sheets from four away from home and all the while averaging an incredible three goals per game.
3. Does Roy Hodgson immediately regret this decision?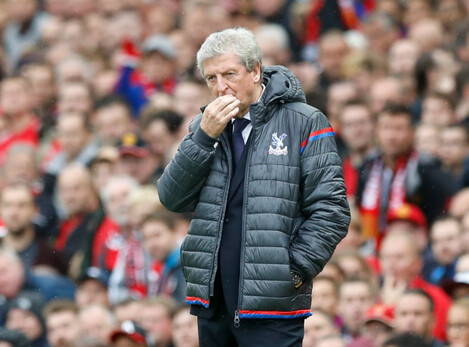 Source: Martin Rickett
The expressions strewn across Roy Hodgson's face on Saturday afternoon as his Crystal Palace side limped to a 4-0 defeat at Old Trafford made for grim viewing.
A man damaged by a disappointing term in charge of England which lasted two years longer than it should have, appeared even more broken.
At 70, Hodgson was brought in as Palace manager in the wake of Frank de Boor's sacking with the simple mission of keeping the side in the Premier League following five straight defeats which left them bottom and already heavy relegation candidates.
Recent spells in charge of Liverpool and the national side have damaged Hodgson's previously successful CV, which included prosperous spells in Denmark, Sweden and at Fulham.
But the manager must now be asking questions of himself as to whether or not he has what it takes to keep Palace up given the task at hand, and whether or not he should have taken the job in the first place.
"We just have to accept that we are a boxer that is in a weight category that he's not able to handle at this time," he said after Saturday's defeat to Manchester United.
Palace looked far better than the 4-0 scoreline reflected on Saturday and, as the manager himself rightly points out, his side will not have to face teams of United and Man City's quality each and every week.
However, still bottom on no points, without a goal in 450 minutes, with Christian Benteke and Wilfried Zaha injured and champions Chelsea to come after the international break, it seems likely that it could get much worse before it gets better for both Palace and Hodgson.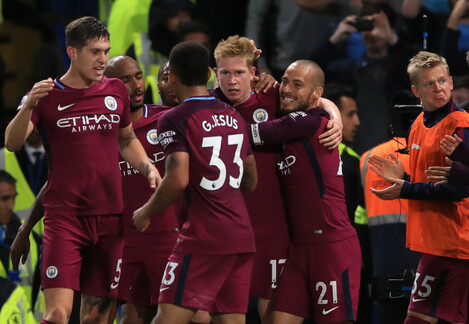 Source: John Walton
4. Title hopefuls Man City earn significant win at the home of the champions
In a world of hypotheticals, were Manchester City to be crowned Premier League champions in May, Pep Guardiola may look back to Saturday's 1-0 win at Stamford Bridge as a significant milestone.
A hard-earned win highlighted the fact that swashbuckling City, no matter how impressive their forwards or tactically brilliant their manager is, simply won't win every game by a scoreline of five or six goals when they face opposition of higher quality.
The absence of Sergio Aguero was significantly felt after the striker was involved in a car crash in Holland during the week.
The Argentine's chemistry with Gabriel Jesus had been the backbone of City's 5-0 win against Crystal Palace, 6-0 win away to Watford and 4-0 Champions League victory versus Feyenoord.
But in spite of his absence City still provided a performance worthy of three points and a 1-0 win on Saturday.
Kevin De Bruyne scored a magnificent winner, however the manner of the win and the dominance City showed with 17 shots to Chelsea's four only further strengthened their credentials as many's title favourites this season.
Chelsea are not the same animal they were last season and a second defeat at home will be serious cause for concern for Antonio Conte. For City, however, travelling to Stamford Bridge and the home of the champions without their talisman only to come away with a deserved three points is significant.
Come May, should City be crowned champions, Guardiola may be bold enough to point to 30 September 2017 and Saturday's win, and claim it was a passing of the baton, from champions to champions — a seismic win and a milestone looked back upon fondly with hindsight.
Subscribe to The42 podcasts here: